I didn't wake up this morning thinking I'd write about anything remotely political.   And, as you will see, this isn't, for it's just a call to personal responsibility.
The political dust after this election will take time to settle, but settle it will, for all the name calling will eventually be forgotten. And in it's place will be the healing of the indomitable American spirit. But there is one spark of political thought I'd like to fan into a flame for a moment with you. It comes directly from John F. Kennedy's 1/20/61 inaugural address:
And so, my fellow Americans: ask not what your country can do for you — ask what you can do for your country.
I'm asking you to think of your current healthcare in the same light. The Patient Protection & Affordable Care Act (ACA) was signed by President Obama in 2010 and was upheld by the Supreme Court in 2012.   Folks, in some form it's here to stay, even with the changing of the political party guard this coming January. I'm just saying it's really time for us, as individual citizens of the United States, to own our individual healthcare AND to be a model to others to do the same.
Randy and I just came back from attending the Missouri Hospital Association's conference. Dr. Donald Berwick, former Administrator of the Centers for Medicare and Medicaid Services from 2010-11, appointed by President Barack Obama was the keynote speaker.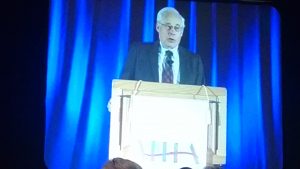 Dr. Berwick had an enormous influence on the ACA's (A/K/A ObamaCare) policies that are the medical law of the land today. In his address last week, he outlined 3 Eras in healthcare:
Era 1- This is best known as the Doctor Knows Best Era. This was the day of the old-fashioned doctor visiting individuals in their homes, including home baby deliveries, day and night.
There was a high level of trust between all healthcare workers and their patient, without a lot of inquiry by the patient.  Dr. Berwick alluded to the "Doctor is God" stereotype to summarize this era.
Era 2 – This is the current medical environment we live in. Better known as The Carrot and Stick approach to medicine where healthcare providers are encouraged to see a greater amount of patients in a smaller amount of time because of decreasing reimbursements, with additional incentives being offered for cost-cutting, i.e. vaginal vs. more costly caesarean section deliveries.  Proving a doctor's or hospital's value by reporting that the services are safe, high quality and at a reasonable price are paramount.  Naturally, this translates to more regulations and documentation.  In short, it's the application of manufacturing standards to health care.  This was in answer to the skyrocketing costs of overall medical care and a drive to decrease variation in outcomes for the same problem. Enter the electronic medical record, which has helped gather large amounts of statistical data for national medical analysis but has had the unintended consequence of reducing face time between the patient and the healthcare provider while adding hours of daily documentation time to the healthcare provider's daily routine.  The big positive in this era is the shared decision making now taking place between the healthcare provider and the patient. In some places, safety and quality have improved.  But not without a cost.
The big negative in this era, to paraphrase Dr. Berwick:
The over reliance on incentives and the carrot and stick approach in this era has led to healthcare workers being both confused and demoralized….
Era 3- This is Dr. Berwick's hope for the next era of medicine. His key points were: stopping excessive measurement, decreasing the focus on finances, abandoning complex incentives, embracing transparency and protecting civility. Unfortunately, Dr. Berwick did not talk about the current malpractice environment that still remains throughout the entire healthcare network and remains a significant cost add-on.  Medical industry analysts put the cost of "defensive medicine", which translates to unnecessary care and expense, at 30% or more.  He did however have a very emotional conclusion to his speech, for his dearest wish was to end the demoralization of current healthcare workers in trying to comply to the new healthcare laws, along with asking for a stronger partnership between all healthcare workers, with a team approach being the preferred method of helping future patients.
Bottom line:  Healthcare is in a state of flux.  Some in the trenches call it organized chaos.  And despite the promise of reform of the reform, the future appears to be uncertain.  Almost assuredly however, you and I will be paying more out of pocket, and with doctor and nurse shortages…not to mention demoralization for many…isn't it better to stay healthy than get better after being sick?
So what can we all do as consumers of healthcare? I was reminded of a powerful message I learned when we interviewed two inspiring guests from SHARE on our  "Healthy U" radio program on KMEM 100.5 in Memphis, MO.  SHARE is a non-profit organization that helps women in all stages of ovarian and breast cancer deal with their disease by being paired up with other women suffering from the same stage of their disease. What struck me about these two women that suffered from breast and cervical cancer was the sense of empowerment they had over their disease and their wonderful exuberance to share what they had learned, thus helping other women. EMPOWERMENT is the word I want you to key in on. We all can be EMPOWERED with our healthcare with these tips:
 I. Embrace a healthy lifestyle and get others to join in on the fun! Chronic diseases, according to the World Health Organization are still the leader of pack, WORLDWIDE of all diseases. Chronic diseases are heart disease, stroke, cancer, Alzheimer's and Type II Diabetes. They represent 60% of all deaths, with ½ of that number being people under 70 years of age. In the U.S., just the chronic diseases of heart disease and diabetes now tops $560 Billion in healthcare dollars.   So not only is chronic disease a killer and disabler, it also comes with a stratospheric price tag!
We all need to do everything we can, to play the best hands of cards we all were all genetically dealt . Enter the field of epigenetics.
Epigenetics, or "above" or "on top of" your genes, is the switch (yes, like a light switch) that we all have the power to turn on or off based on lifestyle choices (see "A Perfect Day" in the "Game of Life")  and environment.
For regular visitors to DrTobler.com, you all know the drill: Healthy lifestyle choices involve the trifecta of nutrition, movement and recovery.
A.Nutrition– I recommend you hone in on just three areas:
1) Ramp up your vegetable love!- Yes vegetables even more so than fruit! Non-Starchy vegetables don't have the sugar load that fruit does PLUS their fiber and antioxidant punch fills you up while arming you with defenses to fight off chronic disease (yes, even more so than fruit)! See Vegetables are a Well Kept Secret, SUPERFOOD RECIPES: Allium Vegetables and SUPERFOOD RECIPES: Cruciferous Vegetables for vegetable preparations and recipes.
2) It's okay to be a snob….. when it comes to choosing starchy carbs- If you talk to my kids you'll know that they were harshly corrected by Randy and I if they at anytime thought or showed they were superior to anyone or anything in any pursuit….even if they won. However, I'm making an exception here. Being a snob by being choosy about the starchy carbohydrates you eat is imperative to your overall health! Just think of your body as a finely tuned car, like a Jaguar. It runs best on premium gasoline. The human body's main source of energy is carbohydrates and the "premium" fuel in that category is vegetables, fruit, ancient/whole grains and legumes (beans) for it offers a wallop of fiber and key nutrients that keeps the body humming:
See SUPERFOOD RECIPES: Whole Grains and Legumes for recipe ideas. This is a pic of a very flavorful combination of ancient grains and legumes: Pork Chimchurri Kabobs With Quinoa & Red Beans.
On the other side of the carbohydrate coin is relying on sugary starchy carbs like white potatoes, instant oatmeal, soda or white bread products as our main source of fuel. These foods are best described as a fat cell fertilizers by Dr. David Ludwig   in his book Always Hungry for the negative effect they have on our master hormone insulin, leading us to overeat and putting us in a state of inflammation, a precursor to chronic disease. See Warning: Instant Oatmeal May be Hazardous to Your Health! for a more in-depth discussion.
That DOES NOT mean you can never have a sugary treat for they are one of life's little pleasures. Witness the baklava I make every Christmas season:
Just always use the mantra: N.W.T.C (Not Worth the Calories) or W.T.C (Worth the Calories) as your snobby measuring stick! (See "N.W.T.C." Should Be Everyone's Mantra!).
3) Remember the motto: You are what you eat, eats!- When it comes to choosing healthy animal protein, ask yourself, "Do I know what source of food, my food has eaten?" The animal protein nutritional profile tells the story, be it beef with grass, fish with algae or anything in between, choosing meat that primarily consumes it's natural source of food has a superior fat, protein and nutrient profile, as in more of those inflammation fighting Omega 3s- EPA/DHA. See The Grass-Fed vs. Grain-Fed Beef Debate: You Are What You Eat, Eats! and A Healthy Acronym: CYH with EPA/DHA.  AND, as an added bonus, naturally fed-animal protein has more flavor! See MAN INNATELY KNOWS THAT DELICIOUS equals NUTRITIOUS!
 B. Movement- We are ramping up for "that time of year" when time is at a crucial premium. First remember to take time for yourself in the form of exercise, you are worth it! It is not only good for your health but it really helps you distress! Aim for 150 minutes per week or a little more than 20 minutes per day of moderate activity. Note I said activity, not exercise. That would include gardening and outside chores, or really anything that gets your heart pumping! This was one of the keys for centenarians' long life in the Blue Zones by Dan Buettner: constant movement! See Anti-Aging vs. Graceful Aging-Which Will You Choose?  for a more in depth discussion.
I personally love to exercise daily, partly because of that great feeling you get, but it didn't start out that way. I was an overweight kid who never exercised. It wasn't until my Dad started a walking program with me when I was a teenager that later turned into my own personal running program. But everyone is different, for some people don't receive any type of mental lift from exercising, it all depends on your genes. In a recent clinical trial (See Genes May Dictate Your Love—or Hate—of Exercise) of 3,000 adults, dopamine, the brain chemical that gives us that feeling of well-being, pleasure and motivation when we exercise was absent in some of the study participants. That is a missing piece to the exercise puzzle we didn't have before, explaining why some people drop out of exercise routines. That's why, when you start an activity/exercise daily program you have to customize it to YOUR desires, not anyone else's. Make it easy on yourself!
Here's my recommendations for quick (and effective) movement hits to cover aerobic, weight lifting and core exercises:
1) Set the timer for 20 minutes (per day) and move!-do 20 floor exercises rotating with 20 standing exercises (i.e. small weight, running in place, lunges). That will get you going!
2) Yogis Anonymous- Yoga is synonymous with core strength and balance, something we all need, no matter what age! This is an absolutely terrific online yoga site that I discovered when we had the owner, Ally Hamilton as a recent guest on "Healthy U".
For $15 per month, you get your pick of any number of categories of yoga routines you'd like. There's a Busy Moms, Beginners, Yoga for Lower Back Pain and many more sets of routines, PLUS, they hand-pick some routines for you based on what categories you've done already. These classes are anywhere from 5 minutes to an hour, you pick based on the time you have!!! If you suffer from any type of injury or nagging pain (my feet are my big problem) AND/OR want to shore up your core, these are absolutely the classes for you! See Here's A New Year's Resolution With a Multi-Faceted Payoff: Yoga for more discussion on yoga's healthy benefits.
C. Recovery-This covers the healthy stress response and sleep:
1) Get in a deer stand!- Climb up there without a weapon and just SIT AND ENJOY! You can't answer emails, clean the house or even pay your bills, all you can do is just sit there and quiet your mind! I did it for 30 minutes and, I'll be honest, at first I was fidgety, but I got over that in a hurry and took in the beautiful scenery and chilled out! For more discussion on stress tips see Turning Unhealthy Stress into Eustress!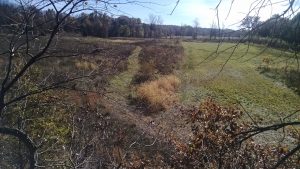 2) Turn in early on your not so busy days!– The hormones leptin (made by fat cells, decreasing your appetite) and ghrelin (produced by the stomach and causes hunger) seesaw back and forth for a perfect balance. However, if you start to slight yourself on sleep, less leptin is produced and ghrelin goes in overdrive production, making your more apt to grabbing those junky sugary carbs, so…. put away all of your electronic devices and turn out the lights as soon as you can at bedtime!
II. Bring homework and understanding to your healthcare visit. Healthcare workers chose their field because they really want to help people get better, however, with the increased documentation mandates, patient-healthcare worker visit time is at a premium.  Doing a little homework before your visit will pay off, now, more than ever! To address that, Randy recently recorded a video titled, "The Perfect Office Visit".   In it he describes how to get the most out of your healthcare provider visit:
A. Define your goals-Is this a wellness or prevention visit? Just plan to talk about a couple of problems and reschedule additional problems for the next visit.
B. Bring a snapshot of critical medical information-  Bring a list of current medications and supplements (take a phone pic and bring it) you are taking, and your health history.
C. Is this a Problem Visit?  Think like a detective- Your healthcare provider needs all the "clues" leading to your problem before they can help you:
1) Be super descriptive and detail of all you feel and experience:
a) Is pain dull or sharp?
b) Does the pain worsen with a particular position? Does it shoot to another location?
c) Is your urine pink or red, or cloudy?
d) When did the issue start?
III. Be a model and mentor to our youth for they are our nation's future! Yes of course we should be a stellar model to our own children, for God has given us that blessing for life. However, what about the kids that are in our community? Does our youth responsibility magically stop when our own kids are raised? I truly don't believe so! It is on all of us to not only model a healthy lifestyle to all those around us, including kids of our community but it's on us to also mentor them! Whatever interest or profession we individually have been blessed with should be shared, in anyway that we can, so that the next generation can have that sense of purpose and direction that they might not be receiving in their own home! Below is a picture of Randy and a young boy on a recent radio satellite show of  The Randy Tobler Show in St. Louis, before the recent presidential election:
This was just a two minute segment but this little boy will remember this opportunity for life! I'm also looking forward to a new set of kid's cooking classes this coming year for the youth of our community at our church!  This is a picture of last spring's Kidz Can Cook class :
Randy and I also started a non-profit this last year for culinary education called MACA, or Midwest Ambassadors for the Culinary Arts.  The goal with this non-profit is to support culinary education and create awareness of the nobleness of the culinary profession at the college and high school levels in Northeast Missouri and Southeast Iowa.  This is a picture of the students and the Director of Culinary Arts at Indian Hills Community College creating and serving a spectacular dining experience for paying MACA guests at our lake house.   All profits go directly back to supporting college  and future (high school) culinary students!:
Randy absolutely loves being a physician and hosting a radio show, so mentoring kids about that business is the best fit for him. He also loves the restaurateur side of helping the culinary students.  For me? I just think the duo of cooking and kids/students is absolutely magical!  That is my absolute passion and why I chose to help kids in that area.  You all need to ask yourself, what is my passion and how can I share it with a child or young adult?
You might ask, what does this have to do with healthcare? And I say, EVERYTHING, for our youth are truly our future! If we send them off into this world with a sense of empowerment and purpose they are much more likely to step up in this world, in all aspects of their lives (that is including health!) and yes, pass that goodness onto future generations!
And so, my fellow Americans: Ask not what your country can do for you — ask what you can do for your country…..
RECAP OF: "ASK NOT NOW WHAT YOUR COUNTRY CAN DO FOR YOU":
I. Embrace a healthy lifestyle and get others to join in on the fun!
II. Bring homework and understanding to your healthcare visit.
III. Be a model and mentor to our youth for they are our nation's future!
Recipe Time!!! If you like Risotto, you HAVE to try this! The first time I made this vegetable rendition of a standard very calorie dense Arborio rice dish, Randy thought I used a smaller version of the rice and he LOVED the flavors! What he didn't know was that I used cauliflower instead of rice! The best compliment ever in my book! Try this out on your family, see if they are fooled too!!!
CAULIFLOWER "RISOTTO"
 Ingredients:
2 T. extra-virgin olive oil
1 head cauliflower- grated into "rice" size with a box grater
1 cup onion
2 cloves garlic
¼ cup dry white wine
½ cup chicken stock
1/3 cup "lite" coconut milk
2 tsp. lemon zest
¼ cup toasted pine nuts (or cashews)
¼ cup freshly grated parmesan
3 T. parsley
 Directions
Preheat a large, high sided sauté pan over medium heat. Add the oil and sauté onion until softened and translucent. Add cauliflower and garlic and season with salt and pepper. Saute 2 more minutes.
Deglaze the pan with white wine and stir constantly.
Bring the mixture to a simmer after adding chicken broth and heavy cream. Cook until the cauliflower is tender, usually another 6-8 minutes.
Remove from heat and add lemon zest, parmesan, pine nuts, parsley and a drizzle of olive oil.
*Adapted from "The Chew"
**Nutrition Info per serving: 192 cal./16g carb./12.3g fat/
6.8 g protein