I was mulling over the constant media exposure we've all been deluged with this past month and now, this past weekend, the hour-by-hour, up close and personal coverage regarding the marriage of Prince Harry and his new bride, now Princess Meghan Markle.  I know, I know, technically they are the Duke and Duchess of Sussex, but for the purposes of this blog, I'll take the license to name this fairytale couple Prince and Princess!
And I must admit to you; I also loved hearing every juicy detail about their courtship, wedding dress, food to be served and who's-who guest list!  BUT, what captured me the most was seeing the obvious love Harry and Meghan have for each other in their engagement and wedding pictures. So I was asking the question to myself, "Why are we so captured with these royal weddings? And I had a "Eureka" moment answer for myself:
Every little girl, and there is a little girl in everyone of us, no matter our age, wants to be a princess!!!
 Our girls were in dance when they were little and I know part of the attraction for them was wearing princess-like clothes at recital!:
Now please note, I did not say we all wanted to be a queen!  No, that job is shackled with all kinds of responsibility! You all can relate to the fact if you're a Mom with kids, you are the Queen of the household, making sure things get done.  And being a Mom for me, has been the most awesome blessing I've ever had (you can see the Mommy love in my eyes here, even though the kids don't look quite as enamored!):
However, that doesn't mean I don't have a little princess-longing inside of me too!
We all remember that time in our lives when we were young and fell in love and we relive that through our children when they fall in love and get engaged/married, as my husband and I did this past year:
And I, have been so blessed these past almost 37 years to be married to an amazing man!  But as you know, those that have lived to midlife and past, life is really tough sometimes.  Issues come up with our kids, our parents, our friends, our jobs and even our material possessions that you have NO CONTROL OVER!! I remember our house in St. Louis caught us totally off balance for it was flooding with water downstairs on the day we bought it in May of 1994 (which happened also to be one week before our third child, Sammi was born), and Randy was standing in the pouring rain on a ladder, feverishly trying to unclog the downspouts of our gutters to overcome the non-stop downstairs flooding, but to no avail!
So today, I'm going to discuss what WE can control to capture back some of that princess spirit:
 I. Think and Act Like a Princess-What do all the famous princesses you know have in common, including the Disney ones like Snow White and Cinderella? They all were very positive, most of the time having a smile on their face (even when things weren't going too well) and they all were meeting pre-existing and deep challenges, meeting Prince Charming.  Let's go through the history of some of the well-known princesses: Grace Kelly was an accomplished American actress before meeting Prince Ranier and becoming Princess of Monoco; Diana Spencer came from a divorced home and endured a less than optimal childhood with her  stepmother teaching at a nursery school before becoming Princess of Wales:
Meghan Markle was another accomplished American actress, coming from a divorced home with an absentee father before meeting Prince Harry and now the two of them have the title Duke & Duchess of Sussex; Snow White was taking care of the 7 dwarves before eating the poisoned apple from the wicked Queen; leading to the Prince Charming kiss that lead to happily every after; and even Cinderella; who obviously was in a bad home situation, had a very positive attitude and cheerfully did the work assigned to her before the Fairy Godmother granted her wishes that led to her Prince Charming moment: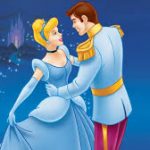 So what can we learn from these princesses? Keeping an upbeat attitude, even when the "stuff of life" throws your princess tiara off balance and with that, plant a smile on your face. It will go a long way toward capturing that princess spirit.
II. Take Action to Recapture Your "Princess" Dreams- So are you starting to feel princess-like? No?  Okay, it's time for you to start re-thinking your mindset and take action to correct it!  Last year when our girls were married and we had to create two different venues for them at our farm (please note, this was truly just a farm that didn't get a lot of TLC on a regular basis), my princess-dreams were put on hold for a year because we wanted our girls to realize THEIR dreams.  And I have to tell you, those weddings were totally tailor made and executed by each daughter, and absolutely worth every minute of preparation!  But as I explained in Time To Think About A New You?, I noticed, during the wedding preparations, some medical problems of my own that needed addressing, with brewing hypertension being on the top of my list.  So my action was to first get my health in check after the weddings.  I wanted to make some corrections because: I was not always eating optimally (splurging too much on weekends), a little burned out with my "aerobic on steroids" exercise routine, not looking like someone I could be proud of to motivate others and I wanted to do everything I could with lifestyle before taking prescription medicine.  I signed up for my daughter's lifestyle program, Sammi Gregory Fitness:
the day after our second daughter's wedding in October of last year, and I haven't looked back yet!  I've lost 15 pounds and 12 inches yet I'm not hungry (I eat a boatload of healthy food) and have the added "lift" weight lifting gives you, both physically with calorie burn and mentally, with mindset! I did, however start taking prescription medicine for my hypertension, because weight loss and lifestyle correction wasn't enough to address the genetic link I have on both sides of my family.  But I absolutely know I'm in a better place health-wise than I've been in the last decade! I feel terrific!
Now I'm working on pursuing those princess dreams I've had for a while because I got rid of a HUGE mental roadblock for me, which was improving my lifestyle so I can in turn do a better job in helping others, be it in on radio show Healthy U, this Drtobler.com blog, the Kidz Can Cook Cooking Class series I founded, or events for MACA (Midwest Ambassadors for the Culinary Arts), a non-profit for culinary education Randy and I started. This is a picture of three IHCC college culinary students getting a pre-event briefing from Chef Gordon Rader before they served a 6 course meal for 2 dozen Ambassadors this past January at our MACA event at the Willows in Downing, Missouri.  To date, MACA has raised more than $7,500 for culinary scholarships and high school programs!:
So my advice to start re-capturing your princess dreams is to totally eliminate the word CAN'T when it comes to making changes that you've been putting off.  You can always modify those dreams to fit what you can do!
III. Make Your Own Castle– If you currently live in a palatial castle like Windsor and have servants that take care of your every whim, good for you! However, if you are a commoner like most of us  and spend time taking out your dogs a myriad number of times per day, do the laundry for your family, fix and clean up after all of the meals, pay the bills and prepare for taxes, take care of maintaining your lawn, and as you know, the list really never ends.   Please remember, you can make your own castle in your own house, even when times are seemingly crazy or your house is not in perfect order. I'm talking about taking out special time, with your loved one or ones in your own sweet abode.  For Randy and I that is meal time at the end of a long day.  You will see, at the end of this blog, a healthy yet palate-pleasing meal that I've fixed for the two of us.  What I would like to now on focus on is the setup.  You can see this is a typical table layout for us at night, a little candle, a limited amount of wine, flowers and tableware setup that is pleasing to the eye: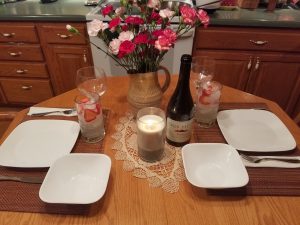 Now I'm going to tell you something I don't tell everyone, I also get dressed up on some nights, like I'm going out on a date, yet my date is AT HOME with my husband:
I don't do this everynight, but I promise, it really makes you feel like a princess with your loved ones,  living in your castle, just right there in your kitchen, no matter how much more chaos is going on in your house!
IV. Recapture Your Princess Youth While Helping Others- I'm often amazed and delighted by certain people I've run across in this life. Those select few that have had those big time life challenges, yet they still have a smile on their face and they still find a way to give back to others, no matter their age.  Two such examples come to my mind for these are women that are truly young-at-heart: Maryann Troutman, a cancer survivor who still works for the Scotland County Hospital Auxiliary and has been a part of gifting the hospital with non-funded needs like special pillows for young patients.  She also shows up almost daily at the Scotland County Fitness Center to keep staying on her toes: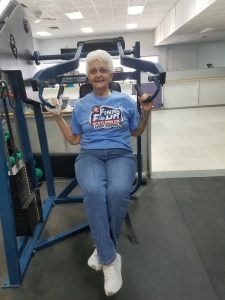 and Ann Luther, pianist extraordinaire. She keeps playing almost daily for the nursing home residents in our area, giving the gift of happiness with both her playing and sunny attitude:
So I have made an observation that can serve you well too: STAY IN THE GAME OF LIFE BY GIVING BACK, in someway, no matter what your age.  I put these two women in the category of maintaining their princess-youth for not only are they happy, but they are absolutely doing a service to everyone they meet!
V. God Planned For You To Be His Princess!– It wasn't until 2010 that I developed a daily relationship with our Lord. God got my attention when I couldn't just say a couple of passing prayers, as I had in the past, to fix a problem I needed help with (see A Graduation in Faith). I didn't think I was worthy of His help, but I was!!  Since then God has truly been my guiding light.  No, I'm still very sinful and I ask His forgiveness daily but what has changed is that I check myself routinely about my behavior and measure it up with what I've learned from God's Word.  Like I said, I still remain sinful but I'm working on getting God's approval now, not what the world wants!  I also know that God, even though it's hard for our human mind to comprehend logically, planned for each one of us, blessing each of us with special gifts:
Jeremiah 29:11-"For I know the plans I have for you" declares the Lord, "plans to prosper you and not harm you, plans to give you hope and a future."
So it breaks my heart when I see women of all ages that have given up on themselves, giving up on their princess dreams for a myriad of reasons.  Some certainly out of their control, be it marriage problems, serious health problems or  family crises.  But I will offer this hope: God is there, always, waiting for you to start that relationship with Him,  no strings attached!  The Word has the answers!
I have to finish this blog with a pic of my Prince Charming and I recently on vacation, obviously enjoying the time we had with each other.
We are all worthy of going after those princess dreams with God waiting there, always ready to to help us realize them!
Recap of:  Doesn't Every Girl Want To Be A Princess?
I. Think and Act Like a Princess.
II. Take Action to Recapture Your "Princess" Dreams.
III. Make Your Own Castle.
IV.Recapture Your Princess Youth While Helping Others.
V. God Planned For You To Be His Princess!
In keeping with the English royal theme, I have to introduce to you the new favorite cuisine dish in England, Chicken Tikka Masala.  It is the world's most popular Indian Restaurant dish, however, it's not authentic in India.  It's kinda like our American version of pizza that doesn't even resemble what the Italians started with!  But this dish has actually eclipsed fish and chips and meat pies in England! Per former British Foreign Secretary Robin Cook, it's a true "National Dish".  This dish is the slow-cooker version and I promise, it's worth the wait and leftovers are even better! I lightened it up with light coconut milk instead of heavy cream, but it's still has all the flavor! You can serve it with any grain of your choice (I used barley).  I accompanied it with braised leeks, but you pick the veggie you like most! Enjoy!!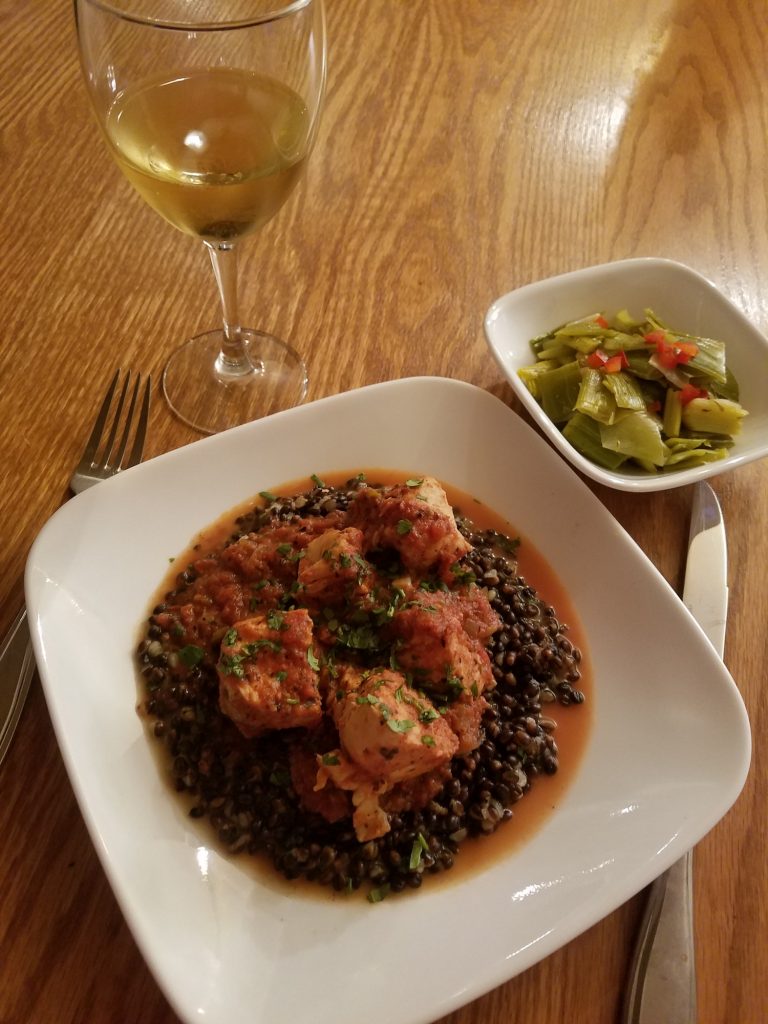 CHICKEN TIKI MASALA
Servings: 4, 6 or 8 (see breakdown below)
 Ingredients:
28 oz. (794 g) can crushed fire roasted tomatoes
2 tsp. granulated sugar
2 T. extra virgin olive oil
1 (136 g) medium onion, chopped small dice
1 (8 g) Serrano pepper, stemmed, seeded and minced
4 (9 g) cloves minced garlic
1 T. fresh grated ginger
1 T. Tomato paste
*1 T. Garam Masala (see note)
salt and pepper
2 lbs.(1,152 g) Chicken Breast
2/3 cup (158 ml) Lite Coconut Milk (I use Dairy Free Coconut Milk Lite)
½ cup chopped fresh cilantro
½ cup of cooked whole barley (or ancient grain of your choice)
Procedure
Combine tomatoes and sugar in slow cooker. Heat oil in 12 inch nonstick skillet over medium-high heat until shimmering. Add onion and cook until translucent, 5 to 7 minutes. Add Serrano, garlic, ginger, tomato paste, garam masala, ½ tsp. salt and ¼ tsp. pepper and cook until fragrant, about 1 minute.
Transfer onion mixture to slow cooker and stir to combine. Season chicken with salt and pepper and nestle into slow cooker. Cover and cook until chicken registers 160 degrees, 3 to 4 hours on low. 
Remove chicken from slow cooker and cut into 1inch pieces. Stir light coconut milk and chicken into slow cooker.  Serve over ancient grain of your choice (I used barley) sprinkled with cilantro.
*Garam Masala Substitute-You can substitute 2 tsp. ground coriander, ½ tsp. of pepper, ¼ tsp. of ground cardamon and ¼ tsp. of ground cinnamon instead
 *Recipe adapted from Cook's Country.
Nutrition per serving for Tikka Masala only (total weight 1793g after cooking):
 4 servings-529 cal/ 20.8g carb/17.2 g fat/
66.8g protein
 6 servings- 353 cal/ 13.9g carb/11.5g fat/
44.5g protein
 8 servings- 265cal/10.4g carb/ 8.6g fat/
33.4g protein
Nutrition per ½ cup whole cooked barley serving:
½ cup serving (cooked)-135 cal/20g carb/2g fat/3.5g protein