I just can't help myself when the season of autumn appears on the scene.  Cooler days and kaleidoscope colored leaves are here:
Not to mention that bonfire and pumpkin scented candle smoke wafts in the air.  I am always on the lookout for pumpkin pie-spiced anything this time of year!   In fact, my husband, who is not a fall addict, and we all know about those types of people (lol) was just asking today when we could get a reprieve from the pumpkin pie spiced theme that annually pervades our fall cuisine!  But I digress.  We are all going to set our clocks back very shortly, changing from Daylight Savings Time to Standard Time. Why not take that theme to a whole new personal level and set our goals to fall forward with good health, right now, and through the entire holiday season!!
 I did just that, starting last fall after the marriage of our two daughters.  This was a picture of me in our daughter Shannon's wedding on October 21, 2017:
I wasn't happy with the way I felt or looked and I knew I wasn't getting any younger, the number 60 looming large, so I signed up for my daughter Sammi's fitness program.  Sammi Gregory Fitness (@Sammigfit) offered exactly what I needed: accountability, definable fitness goals and the addition of weight lifting to my exercise regimen  (See Time To Think About A New You? for the specifics on this fitness regimen).  I've lost greater than 15 pounds, 12 inches, increased muscle mass and a renewed sense of health as we enter the autumn season this year!
And yes, it did take hard work on my part, changing up bad habits, as any major change would, but that renewed sense of purpose I've received from those changes is absolutely worth it!
So let's get back to why I write today, shoring up our lifestyle choices with the challenges of colder weather and the myriad of holidays functions ahead….
You know how the pundits all weigh in (pun intended) on how much weight the typical American gains in the holiday season. And let's chat about that right now.  Studies suggest that weight gain starts in late October (think leftover Halloween candy) and lasts through the New Year.  This 2016 New England Journal of  Medicine study of three countries: U.S., Germany and Japan notes the highest weight gains around that particular country's holiday of choice: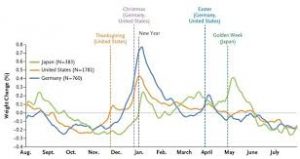 You can see, the U.S. uptick in weight starts around Halloween and steadily increases through the New Year's. The average weight gain was 1.3 pounds for that period of time, but the kicker is, ½ of that weight came off quickly, the other half of the poundage took 5 months to lose, and most of us add the unresolved holiday gain to our new normal!
And I know it's not all about weight. I'm chronologically past the middle age mark and the weight on the scale does not rule me, however, we all know how we feel come New Year's if we don't treat ourselves kindly when going at light speed, running here and there from one function to the next, eating with reckless abandon (I told you I've been there!), not only on the holidays themselves, but the pre- and post- holiday period (think increased caloric opportunities with preparing and then having holiday goodie leftovers calling your name).
So let's discuss what could be achievable, definable changes you could make right now that put you toward those goals of enhanced well-being (no matter what your fitness goals are) that can carry you through the holidays, avoiding that clichéd January 1stresolution of reclaiming your health!
I. Stop fooling yourself with food–Hey, I'm calling myself out here and maybe you can also relate to this statement. What I did in the past was add HUGE amounts of non-needed caloric, fat extras, like olive oil and cheese to my otherwise healthy meal (hey, I knew better, I was just not keeping track like I should have!) As an example, typically I'd put ½ cup of quality extra virgin olive oil with three bunches of kale and added seasonings (salt, pepper, garlic powder) PLUS ½ cup of parmesan cheese and then roast it.  Now you all know kale is an extremely healthy cancer-fighting cruciferous vegetable, but adding that much fat (and note, extra virgin olive oil is the one of the most healthy fats, see MISSION IMPOSSIBLE: Solving The Mystery of the Healthy Fats' Cooking Conundrum), which when I split it between Randy and I for dinner (just as a side, mind you), was the equivalent of us both adding close to 70 grams of fat to our meal! 
To understand why this is such a big deal, let's go through a computation of the right calorie spread just to maintain your weight:
For a 145 lb. woman who is moderately active, you need 15-16 calories per pound = 2,320 total calories to maintain your weight
 Take that 2,320 times the standard percentage of protein (30), fat (30) and carbohydrate (40) for a healthy diet and you get the amount of calories you should consume per day:
2320 x 30% Protein = 696 calories protein
2320 x 40% Carbohydrate= 928 calories carbohydrate
2320 x 30% Fat = 696 calories fat
 Now one more computation to get to the meat of the problem, there are 4 calories per gram in protein and carbohydrate and 9 calories per gram in fat:
 2320 x 30% Protein = 696 cal. /4g= 174 g. protein
2320 x 40% Carbohydrate= 928 cal./4g=232 g. carb.
2320 x 30% Fat = 696 cal. Fat/9g=77 g. fat
VIOLA!  That 70 g. fat I was adding for just a side dish was ALMOST the entire allowance of food allowed for ONE DAY to just maintain weight! (77 g. fat !!! ).
Okay, enough with the big fonts, let me give you an easier way than all of these computations: Macro Tracking!
Macro-Tracking-That includes daily journaling of food and physical exercise and weekly journaling of weight and measurements. Macros or macronutrients are what your food is comprised of: fats, carbohydrates and protein. So by tracking macros, you get a better idea of the quality of foods you eat.  I utilized the free app FitnessPal, one among many that can keep you on track, with a 40% carb, 30% fat and 30% protein mix, and go with the calories for your fitness goal.  Let's use the example above:
For a 145 lb. woman who is moderately active, you need 15-16 calories per pound = 2,320 total calories to maintain your weight
FitnessPal gives you feedback on the nutritional content of each choice you make.   Preparing meals at home is optimal but not always a doable option, so when you do go out (and we all do) and you only have the choice of fast food places for either those times of convenience only or time constraints, the FitnessPal gives you some really great choices.  Here's an example, McDonald's Grilled Chicken Classic sandwich per FitnessPal:
Or maybe you're at a non-chain restaurant, you can estimate the amounts of food on FitnessPal you are eating to give you some measure of feedback to stay on track.
This has been a game-changer for me, because now, I'm looking at maintenance as my goal and by tracking everything for the last year, I am much more aware of food quantities than I was. It's taught me a valuable lesson that it's not always about "healthy" food choices, but it's ALSO about portioning those choices!
But, if you aren't willing to make that type of commitment yet for tracking of all of your food, try journaling all of your food content along with exercise duration and intensity. Also journaling your feeling along the way really gives you some great perspectives on your life too! I did this for years and it really does work if you follow through and are willing to make those entries you aren't very proud of (hey, I've also been there!).
MY BOTTOM LINE– Go for the healthy, reasonably portioned, clean choices "in between" those established holiday dates, like non-starchy vegetables, non-sugary fruits (limit bananas and pineapple), whole grains and lean proteins. But don't forget that small portions of your favorite "treat foods" can definitely fit into your daily/weekly regimen too! That's what tracking your food choices will do for you (help you fit them in)! Here's a simple weeknight meal I recently fixed for Randy and I. This is a pita stuffed black bean burger topped with and served with apple sweetened cole slaw and feta: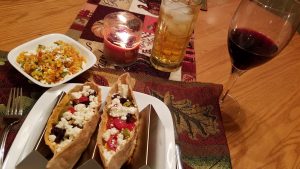 THEN, truly savor your holiday treats,  that is each mouthful, along with your family and friend sharing time when the holidays and those special parties do get here!
II. Hello Hydration!-Did you know the composition of water in the human body is men 60%, women 55%, kids 65% and infants 75%? So what do you think that means for you and your hunger factor? Is it possible you could confuse the two? Yeeessss!! is the answer, and science backs that claims up:
In a 2015 study in the Annals of Family Medicine, a nationally representative study of roughly 10K participants, found a significant correlation between hydration and body mass index (BMI).  They measured the hydration by urine osmolality (pee concentration, roughly assessed by pee color).  Healthy urine is a pale-straw color , indicating health and targeted hydration.  Caution: Some vitamins and supplements, especially Riboflavin (B2) in many multivitamins and B-complexes can deceive, however, giving your urine a bright neon yellow color .  A BMI of larger than 30 was considered obese in this study.  So the conclusion of the study, based on pee color, proved a strong link between lack of water intake and obesity:
CONCLUSION We found a significant association between inadequate hydration and elevated BMI and inadequate hydration and obesity, even after controlling for confounders. This relationship has not previously been shown on a population level and suggests that water, an essential nutrient, may deserve greater focus in weight management research and clinical strategies.
So how much is the right amount? First, what are your goals? Are you drinking strictly for health and longevity? I say it makes sense to go with the centenarians (those living over 100 years old) for some guidance:
In the Blue Zone Adventist community of Loma Linda, California, doctors discovered that men who drank five or six glasses of water a day had a substantial reduction in the risk of a fatal heart attack–60, 70% less– compared to those who drank considerably less water.
A standard recommendation is 8 cups of 8 ounces per day or ½ gallon.  But there truly is no set rule because it depends on your weight, sex and activity level.
As far as boosting your satiety and your metabolism, thus aiding in weight loss, there is science behind drinking cold water:
"Drinking 500 ml of water (about 2 cups) increased metabolic rate by 30%. The increase occurred within 10 min and reached a maximum after 30–40 min."
and studies behind the positive calorie restricting plus of the timing of your H20 intake:
"We found in earlier studies that middle aged and older people who drank two cups of water right before eating a meal ate between 75 and 90 fewer calories during the meal."
Hydration for the colder months is also just as important because we don't take our cues from the heat anymore, yet the air is drier, so the need is just as great.  Also, as we age, we all have a tougher time with those dehydration cues.
MY BOTTOM LINE: Drink 2 glasses of cold water before each meal to check your hunger cues.  Go for ½ (8 cups) to 1 gallon of water per day, depending on your activity level.  When the munchies attack during the coming holiday season (or maybe just boredom in the upcoming restricted inside weather), grab your trusty cold water bottle first beforeyou make another food move!  I personally drink 1 gallon per day and it does check my hunger! What's that? You don't like just plain water? Try a slice of lemon or lime with a squeeze of juice, or these non-calorie "Singles to Go!":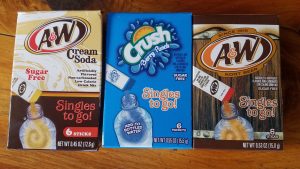 Or give green tea a try! In a 2009 study of the American Journal of Clinical Medicine, 1000 elderly Japanese decreased their prevalence of depression by 46% when drinking greater than 4 cups of green tea per day! A hydration and anti-depression one-two punch!!
 III. Please Mr. Sun, come out and play!-  There is truly nothing wrong with you if you feel a little blue when the sun doesn't come out.  The sun's rays have a direct impact on the amount of serotonin, a brain mood-stabilizing neurotransmitter that is manufactured in our skin and through our retina by the sun's rays. Of our roughly 40 million brain cells, serotonin, either directly or indirectly impacts the brain cells responsible for sexual desire/function, memory and learning, appetite, select social behavior and temperature regulation.
You can guess also that since we have less hours of sunlight in the fall/winter months, that can translates into SAD (seasonal affective disorder). Antidepressants commonly prescribed for depression and anxiety are SSRIs or selective serotonin reuptake inhibitors.  It works to disallow serotonin being from being reabsorbed (reuptake) in the brain and it only targets the neurotransmitter serotonin (selective) to make it more available for neuronal activation.
So the question on the table is how can we maximize our production of serotonin naturally in the coming daylight-deficient fall/winter months?
Glad you asked!  Here's my top 5 plans of serotonin-boosting action:
1. Chow Down On High T Foods with Healthy Carbs– Serotonin must have the amino acid tryptophan present to be manufactured for brain availability.  But know that tryptophan also needs a little help from carbohydrates (the insulin stimulated by carb consumption) to cross the blood-brain barrier. So by eating foods high in tryptophan, coupled with healthy complex carbs you boost the sustained production of serotonin. Common tryptophan foods to load up on are salmon, turkey, nuts and seeds, eggs, tofu and cheese. Simple carbohydrates, like sugar can give you a very short-lived boost of serotonin (ahemm…anyone thinking "comfort food" here?), but you want the sustained "s" boost so go for the complex carbs like vegetables, fruits and whole grains instead.  This is an example of a serotonin boosting meal you can try.  This is roasted turkey breast with a shallot white wine reduction, along with roasted rosemary potatoes and steamed broccoli:
2.Get Thee Out In The Sunlight or Dig Those Natural Rays–When you can, take those walks outside, even if it's a little chillier. But if you can't, at least maximize the amount of natural sunlight coming into your house or office. Put a mirror by the window to increase the sun's rays or clean your windows (I'm taking note personally on this one) to maximize sun exposure inside.
3.Get Moving!-I know it's a little tougher to get outside this time of year to exercise, but I promise you, regular movement, be it aerobic or weight lifting is so worth the effort because it naturally increases those serotonin levels. Think of it as medicine to your body! Exercise is a miracle slayer of anxiety, depression and stress!! The best one two-punch I personally endorse is regular strength training, coupled with aerobic session, at least 5 times per week, preferably roughly 40 minutes each session. As I noted in You've Got the POWER…With Weight Lifting! Part 1 and You've Got the POWER… With Weight Lifting! Part 2, not only am I getting the fitness results I wanted by including regular strength training with aerobics to my regimen the mental boost I've received gives you a pep in your step, yes, even in the colder months of the year!  I go to the gym in our community 3-4 times per week.  When I can't I do a routine in my home.  If I'm on vacation for any length of time, I try to hook up with a gym. Not that I have to, I just really enjoy it!
Here is Randy learning a new weight lifting routine from Sammi when we were in Florida for vacation this past year. You can make it a family thing too!!!:
And I promise, you will too, even if you're learning a new routine as I was last year at this time with weight training. I fell on my bumb more times than you can imagine learning some weight training routines, but I'm better for it!
4. Put a Massage on Your gift "Wish List"! You need to tell your loved ones you must get a packet of massage treatments for Christmas (and treat yourself to one now) because you need it for your health! The 2005 International Journal of Neuroscience reviewed the biochemistry of people suffering from emotional issues from a number of medical issues i.e. depression (including post-partum), stress of aging, stress on the job and immune and autoimmune disorders.  Regular massage had the effect of decreasing the stress hormone cortisol and at the same time increased the neurotransmitters serotonin and dopamine (the "pleasure" neurotransmitter).  That is a win-win in my book!!
 5. Supplements can help you too!-If you need some help with anxiety or depression and you don't want to initially go the prescribed antidepressant route, check with your doctor first, but I've helped others going through a tough time through my Body of Health consulting enterprise with a 5HTP supplement. This supplement has the effect of being a concentrated pill form of the food option for tryptophan I mentioned above. This along with behavior modifications is a winning combination.  One of the ladies I helped was going through a tough time because she had just gotten a divorce, working full-time and was raising 2 small children.  She took the supplement, in addition to eliminating alcohol for a time, improved her diet and started biking on a regular basis.  She was in a much better place after her trials, and that is what it's all about!
MY BOTTOM LINE-Beat those cold weather blues by eating foods high in tryptophan along with complex carbs like whole grains, veggies and fruit to fuel those regular (at least 5 times per week) movement workouts you're going to master this fall/winter.  This is all while maximizing sun exposure outside and in your house.  Treat yourself to massages, again for your health.  And don't forget 5HTP is a natural supplement that might help you get over those tougher times in your life of anxiety or depression, but check with your doctor first.
This is a pic of Randy & I at the U.S. Capitol this past month.  Randy was asked to testify as a CEO and physician informing the legislators of the policy threats to the health of our rural hospitals.  All across the nation, rural hospitals are struggling, largely owing to burdensome and ill-funded regulations and decreasing reimbursements, but also because of faulty lifestyle choices that make patients sicker than they should be. The reason Randy and I get so passionate about preventative health measures, like all the blogs you've read here that I have written and the weekly Healthy U Radio show we both do is so we can inform you, as best we can, about what you can to to improve you and your loved ones health with lifestyle choices like food and exercise to live the best life you possibly can!
Recap of: FALL FORWARD WITH GOOD HEALTH THIS YEAR WHEN YOU FALL BACK IN TIME
 I. Stop fooling yourself with food.
II. Hello Hydration!
III.Please Mr. Sun, come out and play!
1. Chow Down On High T Foods with Healthy Carbs-
 2.Get Thee Out In The Sunlight or Dig Those Natural Rays!
 3.Get Moving!
 4.Put a Massage on Your gift "Wish List"!
 5.Supplements can help you too!
There is nothing like a hot soup on a cold day.  But this soup has an extra bonus in that it's quick to throw together because you can use partially prepared items like rotisserie chicken and a jar of salsa.  You can control the heat you like too!  We bought green salsa with jalapenos but that is up to you, you can use the milder version.  The Greek yogurt topper is perfect for cooling down the dish.  I promise, it's packed with terrific flavor.  A winner soup for time spent, the warmth  factor and flavor punch!
QUICK GREEN CHILI CHICKEN
 Serves: 4
 Equipment:
Dutch Oven (note that you can also use a large soup pot with a lid)
 Ingredients:
1 T. extra-virgin olive oil
1 cup finely chopped onion
¾ tsp. pepper
¼ tsp. salt
3 garlic cloves, finely minced
2 tsp. ground cumin
4 cups chicken broth
2 (15 oz.) cans of cannellini beans
1 jar green salsa (I used Mrs. Renfro's Jalapeno Green Salsa, 385 ml, because Randy and I like it hot, but that is up to you)
24 oz. (3 cups) of shredded rotisserie chicken
4 T. chopped cilantro
4 T. non-fat Greek yogurt
1 T. lime juice
Chopped cilantro for garnish
Procedure:
Heat oil in a Dutch oven over medium heat until shimmering. Add onion, pepper and salt and cook until translucent, about 4 minutes.  Stir in garlic and cumin and cook until fragrant, about 1 minute.
Increase heat to medium-high. Stir in broth, beans and salsa and bring to a boil.  Reduce heat to medium-low and simmer until the flavors have melded, about 10 minutes.
Using back of wooden spoon, ,ash some beans against side of pot until chili is slightly thickened.Stir in chicken and cilantro and cook until warmed through, about 2 minutes.
Stir together Greek yogurt and lime juice. Serve with a dollop of yogurt sauce and sprinkle fresh cilantro on top. Enjoy!
*Recipe adapted from Cook's Kitchen
Nutrition Info: 448 calories per serving/7.6 g Fat/48.8 g Carb./45g Protein/11.g fiber