How would you like to impress your friends, kids, neighbors or anyone that will listen with an "out of the box" acronym that has the added benefit of labeling a certain nutrient as SUPER healthy? This would be at a much loftier level than the established standards, i.e. PDQ (pretty darn quick), LOL (laugh out loud), TTYL (talk to you later), BRB (be right back) or CYA (I'm sure you all know what that stands for).  Drumroll please, "CYH with EPA/DHA." CYH standing for Cover Your Health by consuming fish with high levels of EPA/DHA. EPA and DHA, found in cold-water fish sources, are the top two Omega 3 scientific "rockstars" that have proven track records.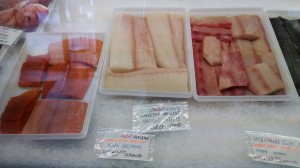 Specific Health Benefits of Consuming EPA/DHA:
Fire Extinguisher for Inflammation-  A metaphor that conveys the message of EPA/DHA for me is to think of them as nutritional fire extinguishers for inflammation in your body. Remember that sustained inflammation is the root of many chronic diseases like Alzheimer's, diabetes, arthritis, heart disease and cancer.
Preserves Brain Volume and Improves Cognition in the Elderly- Shrinking brain volume is a normal occurrence as we age but it also is a marker for abnormal diseases like Alzheimer's. However, scientific tests have shown that individuals with elevated levels of EPA/DHA have larger brain volumes and, in essence, are possibly preserving 1-2 years of brain health (Neurology 1/22/14). In other studies, there is a link between improved cognition in the elderly with those taking fish oil supplements (Alzheimer's & Dementia).
Improves Test Scores for Kids- The DHA portion of EPA/DHA has a primary function of brain development. The brain is about 60% fat and 40% of that total is composed of the Omega 3 star: DHA!  So it shouldn't come as a surprise that the "amount of omega-3 docosahexaenoic acid (DHA) in a mother's milk is the strongest predictor of children's academic performance (Omega Fatty Acids in Breast Milk Tied to Kids' Academic Performance)."
Are Omega 3 Alpha-Linolenic Acid sources just as good as EPA/DHA sources? Alpha linolenic acid vegetarian sources of omega 3s (i.e. walnuts, flaxseed, chia seeds and canola oil) have a low variable conversion rate to the prized EPA/DHA. I do not recommend these food sources to attain those fire extinguisher effects.
So how much should you consume or take in the form of supplements per week?– The American Heart Association recommends at LEAST two servings of cold-water fish rich in EPA/DHA. I ALWAYS recommend the food source of nutrients before advising supplementation. My top recommendations are, with their Omega 3, EPA/DHA content:
Alaskan Salmon; 5 oz = 2 gram of EPA/DHA
Fresh Albacore Tuna-6 oz.-2.2 grams of EPA/DHA
Tuna in a can with water-6 oz. =.46 grams of EPA/DHA
Herring (Pacific)- 3 oz. = 1.81 grams of EPA/DHA
Sardines-2.5 oz. = 1 gram of EPA/DHA
Trout- baked- 3 oz. = .84 grams of EPA/DHA
Supplement If You Can't Consume-My family and I consume EPA/DHA food sources at least once per week, but that is not enough to get the great health benefits. We rely on daily high quality (mercury-free) fish oil supplements. For health maintenance that is the combination of the amounts of EPA/DHA equalling 1 gram. However, I also recommend to my clients (and my family and friends), if suffering from any type of arthritic pain (or old injuries) or  having a chronic disease, i.e. diabetes, heart disease, to take more EPA/DHA (usually 2-3 grams) to get that extra anti-inflammatory boost.
Recap of  CYH with EPA/DHA:
Health Benefits of EPA/DHA:

Acts as a Fire Extinguisher for Inflammation
Preserves Brain Volume and Improves Cognition in the Elderly
Improves Mood and Behavior
Improves Test Scores for Kids
EPA/DHA is Superior to ALA sources of Omega 3s!
Consume EPA/DHA in the Form of Select Cold-Water Fish At Least 2 Times Per Week.
Supplement EPA/DHA if you can't consume it!
Okay, this is the best part of any blog for me: Sharing with you some creations I've served to my family and friends that are rich in EPA/DHA (along with healthy sides) that taste phenomenal!