Would you consider yourself a generally happy person? Or is your life so full of must-dos and/or strife, either in the business or personal arena, you just can't muster up a "yes" answer? And since it is the summer, you might have just come back from a fabulous vacation to chill out and hopefully reach that level of happiness that is the model "nirvana" of all of your aspirations, yet, somehow, life and the "stuff of life" shortly catches up with you and you are back to your stressed-out self!  Please understand, I'm not going to give you all the answers here for attaining a happy life.  That is a subject of almost fathomless depth and subject to way too many opinions. Even randomized, longitudinal, prospective gold-standard scientific studies come to differing conclusions on how to measure happiness! However, I can give you just one little suggestion for celebrating the little things in life everyday, with one little word: HYGGE. Hygge is not a thing, it's a way of thinking.  Adjectives like coziness, simplicity, comfort, secure, kinship, unworldly and contentment describe this state of wellbeing. The hygge zone examples would be slowly sipping Earl Grey tea served in a real china set, petting your dogs (here's our motley crew):
while being surrounded by lit candles or lovingly preparing then eating cinnamon pastries with your loved ones.  Now please understand, I'm not in favor of eating in and of itself to de-stress.  That is really the wrong message.  I said the act of preparing food to share with the ones you love in measured amounts is but one idea for acheiving the "hygge" state.  If "treat" food or anything else is your nemesis, and you know what that is, then go for another option, for they are for the hygge choices are boundless, only your own imagination is your limit!
I think this picture captures the idea of hygge to a tee.   It's a pic of our two girls when they were little.  They just couldn't get close enough to each other (and they are still best friends as adults)!: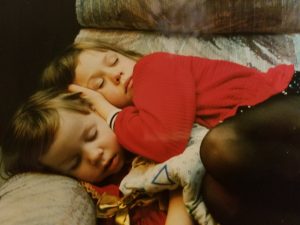 You're probably asking yourself: "What's this hygge?  Fermented tofu? An 'almost' hiccough? Another word for phlegm?"  No, actually it's none of the above. The concept of Hygge (pronounced "HOO-ga") was born in Denmark, emanating from a Norwegian word translated to "wellbeing". Denmark has very long and cold winters, with darkness of 17 hours a day and temps of 32 degrees Farenheit being the norm in the dead of winter.  Thus the idea of a respite from winter by relaxing and letting worry take a back seat to life was born.
And please note, Denmark, as a country does know a little bit about happiness itself, being ranked #3 in Forbes's 2018 ranking of happiest countries.  There were 6 variables in this ranking: income, healthy life expectancy, social support, freedom, trust and generosity.
What I thought was interesting though was the inverse relationship of a country's GDP, you see the U.S. is numero uno:
Yet for it's happiness quotient, the U.S. is #17.  So it doesn't even make the top 15! And those countries that are the happiest don't make the top 15 in GDP!:
So having the goal of making more money to bring about happiness is not what hygge is about (or for that matter, it really isn't what life should be about either)!
Now I'm not advocating a trip to Denmark to achieve this state of hygge. No, you can stay right where you are for this experience.  I'm going to give you just three suggestions to build a little well-being back into your everyday life:
I. Create Your Own Hygge Experiences–This can be at work and at home. At work just keep a little piece of home with you.   Family pictures are the obvious choices, but how about a small blanket from home under your desk for your legs (I know that air-conditioning can be tough in the summer too!) and your favorite stoneware mug to drink out of?  This is my mug of choice along with a simple breakfast.  This is the mug my sister Rachel gave me, seeing me through writing my entire dissertation (it's truly a member of the family)!  These mugs are terrific to hold because they hold the heat of a warm liquid perfectly and thus enhance your work hygge experience!
At home, candles are a top hygge choice for that  warm/comfort feel:
But also, setting up a cozy table at night for dinner:
I love to cook, so that is my hygge time, preparing a great meal then serving it and sharing it with the ones I love:
Yes, I know, you're busy, you can't do this everynight!
I do suggest, right now, for you to pen in your calendar when you can though because adopting a hygge state of mind is truly just being nice to yourself with the little treasures of life.  Nothing complicated. Just simple pleasures.
You also might think this is just a winter well-being state of mind.  But you are wrong! These activities can be exercised all year long! You just have to reflect on what gives you peace of mind and go after it!  Going on a walk in the woods with the dogs is one of my top picks. I had just captured the beautiful sunset with our dog Mia (a double bonus)!!: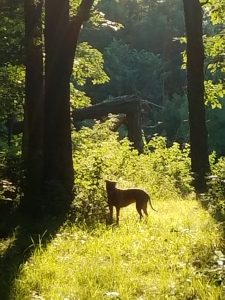 Or listening to songs or watching DVDs that maybe take you back to those warm memories.  Randy and I recently unearthed some old laser discs of Natalie Cole with her Dad Nat King Cole singing "Unforgettable", one of our favorite old songs:
II. Reflect On Your Blessings-Just take a couple of minutes each day to think about how God has blessed you. Even if you're going through a tough time! That is the best time to start reaching down and pulling those submerged blessings out of your pool of life!  One of the tougher times for me recently was when I had to have both feet reconstructed and tendons transferred within a two year time period.  My foot was in a cast both times, so I couldn't drive, exercise or get around like I was used to for 8 weeks.  That was really tough for me!  I prayed and reached down very deep in that pool of life for that time period and came out stronger! See "Yes Virginia, You Could have Surgery One Day Too!"to help you through those times
One of our recent blessings is the announcement of our first grandchild. Our daughter Shannon is going to have a baby in January!  Randy and I are thrilled!  The recent blessing though was that both grandparents, who will be great-grandparents were all told as a surprise together. What an absolute Godsend!  All 4 great-grandparents to-be are in their 80s! This is a pic of that moment:
So I just couldn't help myself.  I went down into the basement and unearthed pictures of the kids when they were little. Great memories and warm feelings all over again, in the middle of summer!
This shows Sammi obviously very unhappy with her sister and her little playmate friend:
Here, our son Sean really enjoyed playing the Santa Claus role with his sisters and cousins:
III. Be Present In The Moment AND Embrace It !-Be there in the moment things happen and make the most of it!  I can't tell you how many lost moments I've had, and I'm sure you can commiserate with this, because I'm thinking "What's next?", be it not listening to the person talking to me because I'm thinking of something clever to rebut with (errantly, I might add), or just planning my next move, all the while totally missing those precious moments!
Recently, our kids threw Randy and I a tandem 60th birthday party, because we are born one month apart (I married a younger man : ). I really made an effort to capture the moments, both with being there mentally and taking some pictures, so that our entire family can reflect on those great blessings we've been endowed with: 
 So find what gives you peace on a daily basis. You don't have to travel to Denmark to experience the coziness of the soul that hygge offers!
Below is the main course that Randy asked for at his recent (on the day) 60th birthday meal (it was a hygge affair, just Randy & I at home)!  You can easily fix this for anyone and they won't know that not only is it truly scrumptious, it is healthy/macro-friendly too!  Enjoy!
PAN-SEARED SEA SCALLOPS
WITH COCONUT BUTTERNUT MASH
2 servings
 Ingredients
1 T. unsalted butter
2 cups steamed butternut squash, cut in chunks
Sea salt
1 T. granulated garlic
¼ cup lite coconut milk (See note)
1 T. freshly grated ginger
1 T. dried coconut flakes (no sugar added)
8 large sea scallops
1 tsp. ground thyme
1 T. ghee
microgreens
Procedure
Add butter and squash to a medium-size pan. Using a potato masher, mash squash.  Stir in a pinch of sea salt, ½ T. granulated garlic, lite coconut milk, ginger, coconut flakes and heat over medium heat. Cover and set aside.
Season scallops on both sides with a pinch of sea salt, ½ T. granulated garlic and thyme. Heat ghee in a cast-iron skillet over medium-high heat.  Add scallops and cook until they develop a nice sear on one side, about 2 minutes; turn over and sear for an additional 2 minutes.
Add a scoop of squash mix to a plate and top with microgreens.
Note-Choose 5 g of fat per serving: SO Delicious Culinary CoconutMilk Lite is 5 g of fat per 1/3 cup as opposed to 12 g of fat per serving for full-fat coconut milk.
*Adapted from MUSCLEANDFITNESS.COM/HERS
Nutrition Information: Each serving is 333 calories, 26 g. Carbs,16 g. Fat and 22 g. Protein.