What if I told you there's hope for training you, or your loved one's taste buds (not matter what your age is) to accept and love bitter greens? Interested?
First let's set the stage….
Who doesn't remember Kermit the Frog, lamenting his "green" status when he sang the song:
It's Not Easy Being Green
It's not that easy being green;
Having to spend each day the color of the leaves.
When I think it could be nicer being red, or yellow or gold-
Or something much more colorful like that.
It's not easy being green.
Now let's turn our attention to a class of GREEN vegetables that sometimes gets a bad rap because of their "bitter" taste:
It goes almost without saying this group of veggies as a family are absolute powerhouses of health, i.e. detoxifiers,  free-radical slayers, cancer fighters, nutrient absorbers, microbiome defender, champions of cardiovascular health, fiber heroes, an excellent tool for weight loss and maintenance and the list goes on and on..
But that might not matter to you or your loved one (even though you KNOW there're good for you!), because the bitter taste is an absolute non-starter!  AND, I'm NOT just talking about young kids here, case in point:
"I do not like broccoli. And I haven't liked it since I was a little kid and my mother made me eat it. And I'm President of the United States and I'm not going to eat any more broccoli." George H. W. Bush
Hey, I get it, not only are these edible greens the color of our landscapes:
which makes eating green (for some) seem counterintuitive.
It's also evolutionary for us to avoid bitter foods.  Our foraging forefathers sometimes avoided bitter foods because they can be a sign of danger, which btw, isn't always a reliable predictor.
But what if I told you there's new science supporting the hypothesis that you can "train" your taste buds (no matter what your age) simply by introducing this group of foods on a regular basis to your diet and thus substantially reduce that bitter taste?
Here's the proof: A new study out of University of Buffalo, and recently published in Chemical Senses, points to the evidence that it all comes down to the 1,000+ proteins on our saliva.  Everything we eat is first dissolved into our saliva, THEN, the dissolved food hits our taste receptors. So not only do these specific proteins affect our sense of taste, but this cacophony of dissolved proteins effect those taste receptor cells BEFORE we even taste them!
The study was conducted with trained rats that had to choose between two bottles for bitterness.  After introducing the "bitter" proteins to the rat's saliva (not immediately though, it took a varied number of tries), the rats' aversion to the "bitter" taste totally dissipated!
"What you eat creates the signature in your salivary proteome, and those proteins modulate your sense of taste," says Ann-Marie Torregrossa, an assistant professor in UB's Department of Psychology and the associate director of the university's Center for Ingestive Behavior Research, a comprehensive research home for studying eating and drinking behavior, obesity and other factors contributing to the daily decisions people make related to food and fluid intake.
 "We've shown in previous work with rats that changing your diet changes what proteins are in your saliva. Now we're showing that the proteins in your saliva change how you taste. "
 "If we can convince people to try broccoli, greens and bitter foods, they should know that with repeated exposure, they'll taste better once they regulate these proteins."
 Dr. Torregrossa goes further by pointing out that there is not a magic number of "bitter green" exposure, but based on the conclusions in this study, your tastes buds will eventually change (for the better-bitter good)!!
You know, this absolutely makes sense, because on a personal level I absolutely love all vegetables, including bitter greens.  I initially thought my love for them was just based on the fact that I knew they were good for me (you know, the Food Is Medicine To Your Body Motto), so I thought I mentally psyched myself into liking them, because I DID NOT always embrace eating vegetables (including bitter greens).  But this study proves why I like them now: I trained my taste buds without even knowing it!!!
I'm known as the Kale Queen on radio show Healthy U:
with my host husband Randy and co-producer Alisa Kigar because I truly love that pungent verdant (along with the other choices you see pictured above) AND I make any excuse to make it the star of my dinner! Now I know why!!!
So here's my Bitter Green Game Plan for you, both body and soul:
I. You never stop learning and that includes your palate!-I run across more people in our town of Memphis or when we visit our folks in St. Louis or pretty much anywhere I get into a conversation with someone older (hey, I'm talking about myself here too!) about age. Inevitably, more times than not, I'll hear the dreaded slogan, along the lines of  "You can't teach an old dog new tricks" or "I'm just too old to do that!".
And you know what I say to that?  It's not your chronological number that matters! It's your positive attitude and insatiable curiosity to learn something new, everyday, no matter your age that keeps you young at heart!  I know old 40 year olds and young 90 year olds!
"Anyone who stops learning is old, whether at twenty or eighty. Anyone who keeps learning stays young." – Henry Ford
That goes for trying new foods too! So I challenge you to try a new food that you haven't eaten before AND, keep trying the healthy bitter greens in different cuisine packages (I'll give you some ideas). I'd love to hear from you WHEN you transform from a hater to a lover of these great foods!
II. Balance out the bitter!-There are soooooooo many better ways to prepare veggies than in the old fashioned "boil them till their dead" methods of the past. My favorites cooking methods are grilling, roasting, braising, sautéing, blanching and steaming. I reference a wide array of cooking methods and preparations in Vegetables Are a Well Kept Secret! if you'd like some ideas.
What you want to do is chemically balance that bitterness with your preferred tastes.  An excellent bitterness balancer is first salt. Salt not only reduces bitterness but it enhances the flavors of the greens.  Salt also comes in many forms, so you can try different variations like soy sauce, fish sauce or cured meats.  Just a couple diced slices of Pre-cooked uncured chicken bacon is my go-to for that extra flavor boost for an entire dish of greens!
Sugar is also an excellent option for the bitter-balancing act.  Sometimes, all I add is a squirt of honey to make it a perfect dish! Another option for sweetening those greens is to roast your vegetables.  Since all vegetables are carbohydrates, the roasting process utilizes the caramelization effects of heat, producing significant sweetener in those greens.  Add in a couple of naturally sweet veggies (like onions, peppers or grape tomatoes) and you have a win-win dish!  Here is my caramelized broccoli, onion and pepper preparation I made as a side this past weekend:
And these are my go-to's for balancing bitter greens and almost any dish!
You'll notice I've got three tastes covered here (salt, sugar, sour  and umami to offset the bitter): Smokehouse Maple Seasoning, a mixture of sugar and salt with spices, (I love this on Kale and Brussels sprouts), lemon for sour (lemon and lemon zest are a great offsets for broccoli when mixed with greek yogurt) and garlic for the umami or unctuous choice (I would be lost without my garlic!).  You can also always try just a little heat with crushed red pepper (just a little goes a long way, like 1/4 tsp. at the most for starters, it adds a real depth of flavor) and finally extra virgin olive oil, for fats assist in absorbing all of the other taste/flavor add-ins listed above, making it an important part of the whole for fat/bitter balancing.   Experiment and use other variations of all of these for all of your culinary creations!
 III. Ideas for making BGs (bitter greens) the star! – Here are some recent meal preparations I treated my husband to (I really groove on that). This will just give you some ideas of what you can create:
This is crispy Snapper Salad with Kale & Roasted Butternut Squash.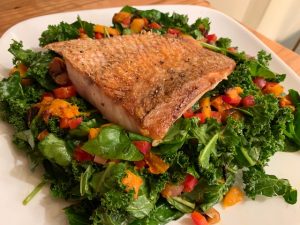 By broiling the butternut squash and red onion, the caramelization process added just the right amount of sweetness to the kale, along with a Dijon orange vinaigrette to dress it!  Top it with a seared snapper or the protein of your choice, and you are good to go! And in the case of kale for a salad preparation, since it is so fibrous, I typically massage it with the dressing or before I cook it for roasting, to break down the fiber, making it more palatable.
Here is one of my favorite hearty soups with kale again as the star, in this Herbes De Provence Cannellini Kale Bean & Sausage Stew (see Health In a Hurry for the Holidays the recipe):
The kale taste is muted with the addition of the chicken sausage and beans, making it a perfectly balanced dish.
And let's not forget sautéing those greens. Here is my healthy rendition of Stir-Fried Pork With Sherry Sauteed Vegetable Medley, with broccoli as the star veggie and cauliflower rice as the base (for the recipe see "Call To Action" For Practical Wellness In The Business World )
Once again, the red pepper adds that extra sweetness along with the umami (that unctuous taste) of the pork with the sweetness of the reduced sherry for the pork glaze.
Or you can just shock the greens in cold ice water after briefly boiling them, to not only make those greens come alive with color, but also lend just the right amount of snap to your greens: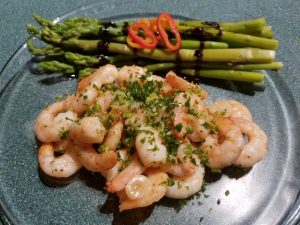 These asparagus spears were served with a balsamic glaze to again, add that touch of sweetness!
So now, you are armed with the BITTER GREEN TRUTH! So it might not be easy to eat your bitter greens, but, armed with the new science and culinary pearls, you can embrace a healthy bitter green future!!!
RECAP OF:"IT'S NOT EASY EATING BITTER GREENS" …..
 BUT NEW SCIENCE SAYS IT'S WORTH A TRY!!
I. You never stop learning and that includes your palate!
II. Balance out the bitter!
III. Ideas for making BGs (bitter greens) the star!
Below is one of my favorite dishes I created (and Randy is a big fan too)!  Brussels sprouts have a totally different taste profile (much sweeter and of course not bitter-lol!) when you thinly shave them as opposed to eating them whole. What's so cool about this dish is it's a serving for 4, so each time I served it, I picked a different protein choice.  I first served it with steamed cod and later in the week,I served it with a seared chicken thigh but that choice is up to you!  Please enjoy!
WARM DIJON BASIL BRUSSELS SPROUTS WITH
BUTTER BEANS TOPPED WITH HOMEMADE PESTO
 Portions: 4
Equipment:
Small sauté pan
Large sauté pan
 Ingredients:
45 g. slivered almonds
1 T. olive oil
6 cloves minced garlic
531 g. Brussels sprouts-thinly sliced
2 T. Dijon mustard
2 T. balsamic vinegar
2 slices of fully cooked bacon, cut into small ¼ inch diagonals
1 can of butter beans
45 g. basil leaves, cut into a chiffonade, or sliced thin
Salt & Pepper to taste
1 stalk green onion for garnish
1 T. Homemade Pesto (see below)
Serve with Protein of Choice (OR NOT, up to you!)
 Directions:
Lightly toast the slivered almonds in the small sauté pan.Set aside.
Heat large sauté pan then add olive oil until it softly shimmers.
Add garlic and sauté until fragrant.
Add Brussels Sprouts and constantly sauté until softened.
Add Dijon and balsamic and mix thoroughly.
Add bacon and basil and combine.
Add butter beans last and heat through.
Place on platter or serving dish, place protein of choice on top (OR NOT!) and ladle on homemade pesto.
Garnish with toasted almonds and scissor-snipped green onions.
Nutrition Info for  WARM DIJON BASIL BRUSSELS SPROUTS BUTTER BEANS   : Per serving –  393 cal./ 30 g carb./26.5 g. fat/13.1 g protein
HOMEMADE PESTO
Ingredients:
41 g. Pumpkin seeds
7 T. Olive oil
39 g. basil leaves
5 cloves of minced garlic
8 g. minced parsley
25 ml. parmesan
1 T. lemon juice
Directions:
Food process all ingredients to your desired consistency.
Store in a jar.
Nutrition Info for HOMEMADE PESTO: per 15 ml (1T. serving): 89 cal./.7 g. carbs/9.1 g. fat/1.2 g. protein
 Nutrition Info for Brussel Sprouts with Pesto: Per serving- 482 cal./ 37 g. carb./35.6 g. fat/ 14.3g. protein
Note:Nutrition info does not include protein of choice