What do you have when you unleash an inquisitive kid in the kitchen, with you acting as a mentor?  A formula for magic, right before your eyes. There is the capacity to unearth potential creativity, learn about family traditions, teach principals of teamwork and foundations of organization, science, nutrition and math skills. I've seen the magic with my own three grown kids but that fascination was renewed recently when I taught a basic cooking class at my church for six kids, ranging in grade school from 4th to 6th grade.
I had two deep-seated desires in formulating this little cooking class:
To introduce kids to basic cooking skills with nutritious foods in a safe environment so that they could have a springboard of cooking healthy foods for themselves. I really believe this basis of cooking fresh, unprocessed foods, at an early age, sets a child up for healthy eating the rest of their lives.
Exposing children to skills that can lead to a life-long career. Chefs enjoy a noble profession that has almost guaranteed employment if you are trained correctly, work hard, are a team player and are punctual. A vast number of children are clueless about what their post-high school career goals should be. The professional kitchen might just be their daily office.
So I'd like to describe what my Kidz Can Cook students were exposed to in four 2 hour sessions and how they seemed to absorb (like a sponge) all of the information and acted on it. My hope is that this idea catches on fire and launches a kids' culinary awakening in both a class and home setting:
Cooking Skills Last a Lifetime-Eating is not optional. We all need to eat to survive. So in that realm, there are only a select group of learned skills that have the capacity of being utilized on a daily basis: cooking definitely tops the list. All six of the children in my classes were totally absorbed with every kitchen skill I introduced them to. It was a real kick for me to introduce the kids to some essentials they'll use..(and maybe teach their parents).
"We Are All Chefs In This Class, So Act Like One!"– They all were issued a chef jacket to cook with each session with the promise they could keep the jacket at the end of the lessons if they truly acted like the real chefs.  We all then addressed each other and treated each other as chefs for these classes but I also let them know chef status comes with rules that must be followed. Before each cooking session, we went over the rules that "real life" chefs must also follow:
 Setting out these rules was one of the keys to success in these cooking classes. It gave the kids the structure and purpose they needed to have pride in their work. I took my cues from an excellent culinary program in Southeast Iowa: Indian Hills Community College. Program director Chef Gordon Rader has turned his program into a top 20 in the nation!
Top Three rules:
           a.   Pay Attention!- I explained to the kids that real chefs must pay rapt attention to their surroundings, their immediate task, their fellow chefs and their superiors. If they don't, they can possibly be injured, hurt their fellow chefs, bungle their immediate task and lose their job! The kids had never had any experience presenting their plates for consumption so that was another one of those teachable moments. One child asked, "Why does the food on the plates have to look good?" I answered, "Because you eat with your eyes FIRST!"
b.  Mise en Place is Mandatory!- The key to working as a chef is being organized in every way. They must arrive at their job at least 15 minutes early (if they were real chefs) with a clean and pressed uniform, read through every recipe in it's entirety before beginning, doing any necessary prep work required and have all of the necessary equipment and ingredients on hand and measured before beginning. When we had our final event, serving the parents a four course meal, all of the junior chefs had to be organized in their tasks to both cook and then later serve their parents:
c.  Always Treat Your Fellow Chefs With Respect, Helping Them if Needed- You can guess what the benefit of this rule is: TEAMWORK! Teamwork is an absolute necessary component of the chef world AND everyday life!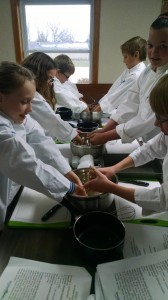 3.  Creative Competition- One class period we made some Molten Chocolate Cakes. After the cakes were completed I had some raspberries and a canister of whipped cream for individual decoration. The kids immediately took off with their own signature embellishment, really having a blast doing it!
Healthy Nutrition (but the kids don't know it)-All of the food we prepared was unprocessed, fresh (if we could) and made from scratch, i.e. carrot fries, preserved tomato sauce, carrot soup, zucchini pizzas. Too many kids think nutritious food is tasteless food. That myth was shattered in these classes. They all loved it!
Sense of Pride- This is my favorite. The sense of pride these kids had when they presented their food, served their parents and then at the end, received their certificate for a job well done was palpable, and that is what it's all about!!!!
Kids and Cooking: Dynamic Duo Recap:
1.  Cooking Skills Last a Lifetime
2. "We Are All Chefs In This Class, So Act Like One!"
       a. Pay Attention!
       b. Mise En Place is Mandatory!
       c. Always Treat Your Fellow Chefs With Respect, Helping Them if Needed
 3. Creative Competition
 4. Healthy Nutrition (but the kids don't know it)
5.  Sense of Pride