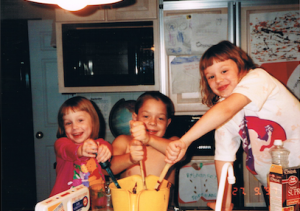 As I'm sitting here in my kitchen on this beautiful fall day, just taking a breather from commitments and obligations (btw, my check registers and bills must also be balanced and paid by the end of this "breather"). I was just wondering what it is about the kitchen that is so crucial, besides the obvious sustenance and fun times. This is a picture of my kids at much younger ages making brownies in our kitchen at our old house in St. Louis.
This was a very personal quest for me since the products of the kitchen, meals and snacks, were something I felt I couldn't control and embrace in my younger years (see A Perfect Day in the Game of Life). However, being a little older and wiser, I've come to the conclusion that the kitchen offers the foundational teaching environment for crucial life lessons we all, young and old, can be enriched with:
1. Have a plan – The routine question in our house in the morning is (because we cherish our nighttime meal together): "What's for dinner tonight?" Lists need to be made for needed groceries, recipes need to be copied or etched in our memories and the correct equipment, i.e. mixers, blenders, bowls, need to be available to complete and serve a satisfying daily meal.
I recently taught a four week cooking class for pre-teens.  I call it Kidz Can Cook. The first three weeks of classes the students learned all the building blocks for a meal to serve their parents on the fourth and final week. At the beginning of the last class, before they started cooking, I showed them their list of duties for the night. This gave them a heads-up for what was expected and no-fuss answers to the aspiring young chefs  that wanted to take other's duties:
Life Lesson-Having a plan for anything you want to embark on takes the guesswork and frustration out of last minute, no plan actions.
2. Brainstorm the what-ifs before executing the plan– On a very elementary level, just reading a recipe through a couple of times before executing it will be, in the end, a great stress-reliever for you. How many times (like me in the old days) have you just followed a recipe step-by-step without pre-reading it just to find out one of the steps requires an unexpected overnight stay in the fridge?
A totally from-scratch appetizer party was my first order of business for a dear friend and I had to get my thinking cap on.  One of the appetizers, a tomato mozzarella balsamic caprese skewer, had to be constructed at the last minute to maintain the ingredients' freshness. I needed 150 small fresh basil leaves for this. I had that much in my garden, however, we were at that time of year where the frost could jeopardize my prized homegrown ingredient. So I listened to the weather reports of impending frost and sure enough, I picked the basil one day sooner.  The weather report and I made the right call, the remainder of my basil garden shriveled up on the day of the party!
 Life Lesson-By making a game of the "what ifs" of a plan you need to execute, you're on alert and know you've done everything in your power to make your plan a success.
3. Give yourself  up for the team. Last month I had the honor of judging the Southeast Iowa Iron Chef competition at Indian Hills Community College.  Chef Gordon Rader, Program Director, views this competition as pivotal in emphasizing a strong work ethic for these high school students.  This was the culmination of the students at 8 area Iowa high school spending countless hours planning and preparing for this day with the supervision of very hard-working FCS teachers (that means Family and Consumer Science) in each high school. These FCS teachers did give it up for their teams with innumerable hours of after school preparation to give each of these kids an opportunity to compete.  Once they arrived at the competition, they were required to present 5 appetizers, 5 entrees with a starch and vegetable and 5 desserts to the judges all within a 2 hour timeframe. As you can guess, well-oiled teamwork ruled the day in order for each team to not only finish on time with correct culinary and sanitation techniques but present dishes that had a wonderful taste profile AND artistic presentation. Everyone of these students, winner or loser, really came away a winner in a life experience of teamwork!
Life Lesson-By putting aside our individual egos for the sake of the team excelling, and strictly focusing on how we can make the team even better by improving our individual skills, everyone ends up being a winner.
Recap of Life Lessons Learned in the Kitchen:
 1. Have a plan.
2. Brainstorm the what-ifs before executing the plan
3. Give yourself up for the team.
A "given" for life lessons is that your internal learning switch is always on, no matter your age. This is a picture of world-class Chef Victor Martin of  Victor Rte Trigo Restaurant, teaching at internationally acclaimed Escuela International de Cocina in Vallodolid, Spain to Indian Hills Community College culinary students AND accomplished chefs like Chef Fatima Perez Andres, owner of  La Atrevida and Chef Helen Peralta.
Julia Child said it best, "You'll never know everything about anything, especially something you love."
And once you have that passion and knowledge, always remember to pay it forward………..