Fall is finally here and the holidays are just around the corner!! Pretty soon we'll be making joyful plans (with caution, I know, based on the pandemic status) for holiday gatherings for Thanksgiving, Christmas and the New Year!!
But wait a minute, why can't we enjoy (right now) those little moments or meals that were totally (but joyfully) unexpected?  Those plans we may have made that we thought were going to be something we "had to do" or those moments that just sneak up on us with surprise, because we weren't expecting them to put a "pep" in our step!  I too have been caught up in holiday plans in prior years, ignoring those precious moments, right in front of me. 
Beautiful sunrises used to be something I just took for granted:
Chalking it up to just another daily occurrence of life… Is that you too?
Watching our 2 year old granddaughter Evie through her sweet eyes interact with her Grandpa when he brings the kites to the beach for her to fly:
Or discover the magic of Jiffy Pop, "turning into a mushroom" (as Evie puts it) when she shakes it on the burner with Papa!
I spent last weekend helping my daughter and son-in-law with our granddaughters and again I saw those sweet joyful moments to treasure in my heart.
When 6 month old Remi wanted to show me she could proudly stand in her little saucer:
 When Evie discovered that putting together triangles as a roof on her magnetic creation turned out pretty neat:
Or just simple ideas we all think are boring, but really aren't in other eyes.  For instance, I watch the cooking channel and try to grab any new ideas I can, so when I saw this really simple animal cracker recipe for my grand girls, I kind of scoffed at it, thinking "Really? That is too simple!".  However I was pleasantly surprised when Evie really enjoyed mixing the premade cookies, with just a wee bit of butter and a premade trail mix, and as you can see, Remi enjoyed watching the process!
Just watching the sweetness of Evie snuggling with her Dad on the stark, flat (and very hard) floor for a quick nap while in the process of moving:
And imagine my surprise when Evie visualizes the bottom tier of a playground we'd just discovered in their new neighborhood as being the food ordering desk for her "pretend" restaurant.  In this picture she's asking what I'd like for lunch because she's going into her imagined kitchen to make it and bring it out a "pretend" lunch feast for me!!
 Honestly, being a Grandma has been the greatest blessing God could ever give me!!  And I'll bet many of you share my Grandma love with your grandkids 💕 ❤️ !!
And let's not forget the great-grandparents that we are totally blessed with and the unexpected treasure snapshot moments they give us, like my parents (91 and 92 years old) celebrating my Mom's birthday (Mom's the 92 year old Cougar, as she likes to say – 😂)  this past year with a toast: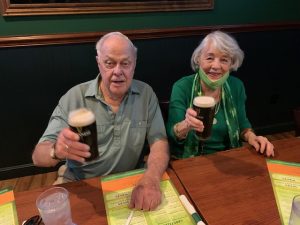 Or my husband Randy enjoying a laugh about a birthday card with his Dad this past week when we celebrated his 87th birthday!
Ok, now the unexpected treasure topic du jour is jumping to healthy food that tastes amazing.  You all know my mantra, that we should look upon food as medicine to our bodies, but not the "castor oil":
type of medicine our grandmas fed their families, no, nutritious food CAN taste BODACIOUS!  It just takes a little more planning and education to be on that tasty nutritious track!
I'm sharing these with you because I saw the framework for these two recipes in popular food magazines and each one ended up (unexpectantly) being added to my "hard-drive" of nourishing fare.
The first one is a grapefruit salsa on Chipotle spiced chicken tenders.   Now you all know the benefits of grapefruit, it's a nutritional star because it's low in calories but chock full of 15 beneficial vitamins (Vitamin C being the top star) which is a boost to your immune system PLUS added fiber to boot! But I saw it at first and said "Really?" "Grapefruit on spicy chicken tenders?" "That doesn't seem super appealing!" However, I was wrong! I'm happy to say this is one of Randy and my favorite recipes now!  It's relatively simple (the hardest part is cutting out the grapefruit in between each segment).  The juice from the salsa makes an amazing reduced sauce directly on the chicken, with just a little butter added and the seared chipotle spiced tenders pair amazingly well with the salsa!
CHIPOTLE-SPICED CHICKEN TENDERS WITH GRAPEFRUIT SALSA
Portions: 2 or 4
 Ingredients:
2 Grapefruit
3 Green Onions, thinly sliced and separated between greens and whites
Zest and juice of 1 lime
2 tsp.  honey
1 lb. chicken tenders
2 tsp. chipotle chili (or ancho) powder
½ tsp. Salt
1 T. extra virgin olive oil
1 T. Butter
Directions:
Remove skin and white pith from each grapefruit.  With a knife, cut in-between each segment, as close to the membrane as possible.  Let each "mini" segment drop into the bowl you've placed below your grapefruit prep. 
Squeeze juice from the remaining grapefruit membranes in the bowl. Add only green onion greens., lime zest, lime juice and honey. 
Strain 1/3 cup of juice from the salsa and set aside.
Pat chicken tenders dry and sprinkle both sides with chili powder and salt. Heat oil in a large nonstick skillet over medium heat.  Add the chicken and cook until slightly seared, 3 to 4 minutes on each side. Transfer to a plate, leaving the skillet on.
Add the reserved grapefruit salsa juice and scallion whites. Make sure to scrape those little goodies of "fond" that are left in the pan from the chicken into the mix.  Bring to a simmer until slightly thickened. Take off the heat and stir in the butter.
Return the chicken into the prepared sauce and totally coat.  Serve with grapefruit salsa on top!
 *Recipe adapted from EatingWell Magazine
 Nutrition:
Serving for 2:  Each serving is 458 calories, 18.2 g. fat,  20.9 g. carbohydrate, 52.2 g protein.
Serving for 4:  Each serving is 229 calories, 9.1 g. fat,   10.5 g. carbohydrate, 26.1 g protein.
This next recipe was also an unexpectant pleasure, but for a different reason.  The recipe called for baby potatoes as a key ingredient, which I had previously bought, without looking at the contents of the bag.  So when I finally opened the bag I noticed that they were ALL GREEN!  Now I've learned my lesson about eating green potatoes, they contain solanine, a poisonous compound, present in nightshade veggies (tomatoes, green peppers and eggplants are also in this group).  You can cut out the green parts and be okay, but these potatoes were green through and through.  I tried muddling through preparing green potatoes for our special mashed potatoes last Thanksgiving with my husband, and we paid the price with major gut issues- lol!!  So for this recipe I substituted cauliflower, red peppers and leftover corn on the cob for potatoes (note, those veggies of cauliflower and red pepper, rock for being a nutritious health stars).  And to my surprise and delight, my husband Randy absolutely drooled over this one, for it was an absolute HIT! The veggies of celery, red pepper, corn (yes, I know, more in the starch family though) and cauliflower soaked up the pepperoncini juice perfectly and the pepperoncini itself was a pleasant tart spiciness that set off the chicken thighs magically!
 PEPERONCINI CHICKEN
 Portions:  3 or 4
 Supplies
Large Cast Iron Skillet
 Ingredients:
 6 medium size (for 3 portions) or 8 small (for 4 portions) skin-on, bone-in chicken thighs
¾ tsp. Morton kosher salt
¾ tsp. ground pepper, divided
2 T. Extra-virgin olive oil (divided)
2 ears of corn removed from cob (or frozen corn equivalent)
½ head (450 g.)  cauliflower-florets thinly sliced
1 red pepper (120 g.) medium dice
10 peperoncini, plus ½ cup brine
3 garlic cloves, finely grated
1 tsp. dried oregano
½ medium red onion (100 g.), medium dice
3 celery stalks, thinly sliced (about 1 cup), plus reserve celery leaves for serving
2 T. chopped parsley
Directions:
Preheat oven to 425 degrees. Sprinkle chicken thighs evenly with ½ tsp. kosher salt and ½ tsp. pepper.  Coat a large cast-iron with 1 T. oil. Arrange chicken thighs, skin side down, in pan and place over medium heat.  Cook undisturbed until skin is browned, 14-16 minutes.
Meanwhile, toss corn, cauliflower, red pepper, peperoncini (not brine yet!), garlic, oregano, red onion, celery, 1 T. oil, ¼ tsp. salt and ¼ tsp. pepper in large bowl and set it aside.
Turn chicken over. Add vegetable mixture to pan, arranging snugly around chicken thighs. Pour peperoncini brine around edges of pan and give pan a shake to evenly distribute.  Transfer skillet to oven and roast until chicken is cooked through and vegetables are tender 40-45 minutes. 
Remove skillet from oven and transfer chicken and peperoncini to a plate, leaving vegetables in the skillet. Place skillet over high heat and reduce liquid until slightly thickened.
Place chicken and peperoncini on top of vegetables and scatter parsley and celery leaves for serving.
*Recipe adapted from Bon Appetit Magazine
 Nutrition:
Servings for 3:  Each serving is 610 calories, 27.9 g. fat, 36.3 g. carbohydrate,  54.8 g protein.
Servings for 4: Each serving is 546 calories, 24.9 g. fat, 27.2 g. carbohydrate, 53.1 g. protein
 So please, take this special time of year, before the holidays hit, to make a snapshot in your mind of those special unexpected pleasure/treasures, be it a sunrise, a moment with your family :
or a special nutritious meal you fix your family, to feed them, body, mind and soul!