Ok, so it's almost a single digit day countdown to Christmas, and I'll bet you're scrambling to finish your shopping, wrapping, cleaning, mailing, wrapping, cooking and let's not forget cookie baking! This is my granddaughter Evie with her Mom strutting her cookie baking stuff last weekend:
With a little "cookie dance" in between batches….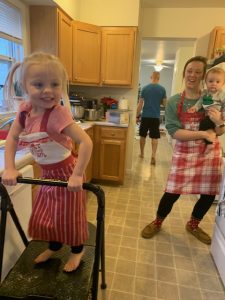 BUT,  all these holiday "must-dos" are IN ADDITION to our regular daily duties, am I right?  I'm still doing the Christmas scurry!
So I'd just like you to browse this quickly.  Put the thoughts of eating healthfully in the back of your mind till after your Christmas celebrations.  I'm personally looking forward to preparing Beef Wellington for my fam shortly.  Then bring this out again for reference when it's time to get back on the heathful track after the New Year.  
So the secret sauce with this way of eating (the MIND diet) is the emphasis on brain health,  with the added benefit of getting us  back on track with healthful eating for our body, mind and soul for the New Year 2022 (can't believe it!). Note, as we've mentioned in the past for a healthyful lifestyle, nutrition, movement and stress management work together as a dynamic trio to add years to your life, but today, we are drilling down on selected foods as being the actual medicine our MIND AND body craves.
I just have to say this way of eating has got me really excited because it's doable in steps AND, who doesn't want a couple more neurons in their brains to combat the natural process of aging? 
Hey, I'm not even there with following it faithfully (yet that is), but I'm working on making some serious changes.  One imperative for me is, this lifestyle of noshing also has to taste amazing for my husband Randy and I or we won't follow through for those brain gains!
So what is the MIND diet?
I.  Just the MIND diet facts, Ma'am- (I'm taking that right out of Jack Webb's playbook in Dragnet- LOL)-
The MIND diet or the Mediterranean-DASH Intervention For Neurodegenerative Delay Diet  ….. (Wow!! That's a mouthful of words!!- No wonder they shortened it!) is a fusion of the very familiar Mediterranean Diet and DASH diet developed for the treatment of high blood pressure by the US National Heart, Lung and Blood Institute. Both diets emphasize vegetables, fruit, fish, nuts, olive oil and red wine, but the DASH takes it a step further by limiting sodium.
The latest study (MIND Diet, Common Brain Pathologies, and Cognition in Community Dwelling Older Adults), published in the Journal of Alzheimer's Disease on September 14, 2021 concluded that by just following the MIND diet moderately in later life lead to improved cognitive function with the added brain boost of significantly decreasing the risk of dementia, including Alzheimer's Disease.  
As a background for this study there were 500+ seniors being studied since 1997 in the greater Chicago area, with a food questionnaire tracking everything going in, resulting in a MIND diet score for each participant for adherence.  The diet (which I'll outline for you shortly) comes down to 10 brain-boosting foods and 5 brain-"treat" foods.   Participants with the higher MIND diet adherence scores had better memory and thinking skills. BUT the most shocking discovery was made after they died and their brains were autopsied!  Their brains reflected the same ravages of Alzheimer's or dementia, even though they didn't suffer from it!!:
   "Some people have enough plaques and tangles in their brains to have a postmortem diagnosis of Alzheimer's disease, but they do not develop clinical dementia in their lifetime," said Klodian Dhana, MD, PhD, lead author of the paper and an assistant professor in the Division of Geriatrics and Palliative Medicine in the Department of Internal Medicine at Rush Medical College. 
"Some have the ability to maintain cognitive function despite the accumulation of these pathologies in the brain, and our study suggests that the MIND diet is associated with better cognitive functions independently of brain pathologies related to Alzheimer's disease..
This study, performed at Chicago's Rush University Medical Center was a continuation of a 2015 study that came to the same conclusion. In this study (MIND Diet Associated With Reduced Incidence of Alzheimer's Disease) over 900 seniors ages 58-98 since 1997 were tracked, but this time their cognitive scores over 4+  years were compared to seniors consuming a Mediterranean Diet and a DASH diet.   By following the MIND diet, just moderately (the other diets fell short if there wasn't strict adherence), there was a 35% decreased risk of contracting Alzheimers AND the longer it was followed, the better the mind outcome!!  The MIND diet also discovered the fountain of youth for the participant's brains, as they were equivalent to 7.5 years younger!!!
So it's time to unveil what's in this brain-boosting way of eating….
II. Recipe Ingredients your MIND will thank you for! –Here's the skinny on the MIND foods prescribed:
BRAIN-BOOSTING FOODS-
Whole Grains – 3 servings per day (1/2 cup cooked is one serving).
Leafy Greens- 6 servings per week (2 cups raw or 1 cup cooked is a servings).
Berries- 2 servings per week (1 cup is a serving)
Nuts- 5 servings per week (1 oz. is a serving)
Beans- 4 servings per week (1/2 cup is a serving)
Vegetables- 7 servings per week (1 cup cooked or 2 cups raw is a serving).
Red Wine- 7 servings per week (5 oz. is a serving).
Fish- 1 serving per week (4 oz. is serving).
Poultry- 2 servings per week (4 oz. cooked is a servings)
Olive Oil-Use this as your primary fat source.
BRAIN "TREAT" FOODS-
Red Meat- less than 4 servings per week (4 oz. cooked is a serving) .
Butter/Margarine -use less than 1 Tablespoon per day.
Fried Foods and Processed Foods-less than 1 serving per week.
Cheese (full fat)-less than 1 serving per week (1 ½ oz. is a serving).
Pastries and sweets-less than 5 servings per week.
*When I mentioned processed foods, that covers a wide variety of choices.  The reason we need to limit these is because of increased sodium, chemicals and processing that takes place, that negates the nutritional value. So freshly prepared in your kitchen at home is optimal because YOU control the ingredients!
So in looking at the foods on the brain-boosting list, did you notice that berries are the only fruit that are prescribed?
 That's because they, along with the cruciferous veggies  (kale, cauliflower, broccoli, Swiss Chard, Brussels Sprouts, Bok Choy and cabbage):
have the highest ORAC value, or Oxidative Radical Absorbency Capacity, or simply put, they kick the tail of all other fruits and veggies with antioxidants!! All these veggies and fruits pack a high "anti-rusting" value to our bodies AND that goes for our  too!!
Whole grains are prescribed (think ancient grains and legumes , i.e. beans and lentils):
because they have the highest fiber plus protein content to keep us full and balance our blood sugars! In a comparing  white or brown rice vs. ancient grains and legumes for fiber and protein, the winner is clear, ancient grains and legumes (like quinoa, barley, farro, Amaranth, wild rice, beans and lentils) easily come out on top!
And I would recommend you pick fish high in EPA/DHA-a powerful anti-inflammatory Omega 3 fat, specifically wild caught salmon, sardines, trout and tuna. These wild caught varieties of fish have a bounty of those good anti-inflammatory fats the grain fed variety, doesn't! 
And Wow!! A glass of red wine everynight!!  Just a tip from me, because on this one, it's easy to overdo it because you're guessing the daily 5 oz. suggestion.   Just get a food scale and weigh it out!! I do! And for that matter, by being acquainted with food sizes by using a scale, you can better judge the right serving of foods for you when you don't have a scale!
So the MIND foods are stars in three areas: antioxidants, high fiber and anti-inflammatories!! A winning trio!!
So now you're asking, how the heck can we make this part of our daily food routine???
Glad you asked!!!
III.  Putting the MIND diet into practice– So how can we easily implement some changes to our diet if these are new ingredients to you?  I say  S  L  O  W  L  Y!! 
Start with breakfast! Start making some of these choices your go-to for breakfast. 
And here's a couple of suggestions:
Berries with Almond butter (yes, it's got those mind-saving nuts) on a caramel rice cake, topped with granola:
Light French Toast (I just use 2 eggs and unsweetened almond milk as the mix to dowse the bread on) with whole grain bread, berries (you'll note I added pomegranates, another powerful fruit high in antioxidants) of your choice and topped with sugar-free syrup.
Finally Avocado Toast (I just used ½ avocado with a little bit of the dry packet ingredients of guacamole mix to give it pizzaz), topped with fat-free feta and 1 slice of non-cured chicken bacon for an extra protein boost:
You can always throw in a bowl of Old-fashioned (not quick oats because they are processed and lose their great fiber qualities) oatmeal too for some serious brain boosting!
 Or use quinoa for your grain of choice for breakfast with some baked apples for sweetness to top it:
Lunch anyone?  This was a quick lunch of fat-free cottage cheese, tomotoes, naturally smoked trout and fresh spinach along with fat and sugar free dressing (Skinny Girl Poppyseed)  to round it out:
Now I'm going to throw you a few dinner ideas.   Note that I add beans or grains whenever I can to many of my entrées…..
This is seared tuna steak on a bed of wild rice with carmelized garlic broccoli:
A chicken gyro bowl with added garbonzo beans topped with fat-free feta:
Or pistachio crusted salmon with  uncured chicken bacon and sweet pepper green beans (note the pistachio nuts for the salmon crust, they are sooooo good for you, but make sure sure to  measure those high fat ingredients):
I think you get the idea!  Hey if you are interested and need some help with implementing these recipe changes, just message me on Facebook through my Facebook page on Drtobler.com.  I'd love to help you!!
So my hope for you this Christmas and throughout the New Year is that you embrace the power you all have in your kitchens to create (and yes, googling recipes to get an idea is just fine too! You know I get 5 food magazine prescriptions just to get ideas! ) amazing dishes your brain will thank you for as we age!!
RECAP of MIND Grub You Can Love!:
I. Just The MIND Diet Facts, Ma'am.
II. Recipe Ingredients Your MIND Will Thank You For!
III. Putting The MIND Diet Into Practice.
Please have a wonderful Merry Christmas and Happy New Year from Randy and me!!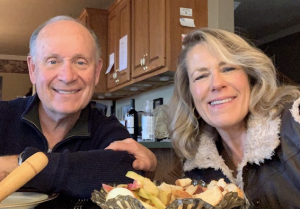 This is a recipe your MIND will not only love, but I'll bet you and your loved one will lick the plate!!  It surprised me (and Randy) how simple it was when I first saw a rendition of it in a food magazine. I made a couple of changes (the butter beans was an add-on by me) and when the dish came together, WOW!! Such terrific flavor with such simple ingredients!!  Hope you enjoy this as much as we did!!!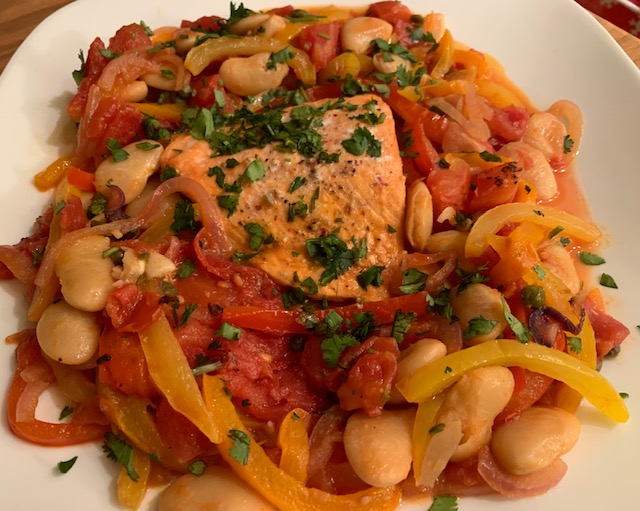 Salmon Peperonata
2 Servings
Ingredients
2- 5 oz. skinless Salmon fillets (preferably wild-caught)
1 tsp. salt-divided
½ tsp. Pepper-divided
2 T. extra virgin olive oil
3 sweet bell peppers, stemmed, seeded and cut in ¼ inch strips (you can see I used red, orange and yellow) (369 grams)
1 small thinly sliced red onion- (100 g.)
6 garlic cloves- peeled and crushed
2 tsp. virgin olive oil
1-14.5 oz. can of Fire Roasted Tomatoes
2 T. capers with 3 T. caper brine
¼ tsp. red pepper flakes
1 cup butter beans (or your bean of choice)
1 T. lemon juice
Chopped fresh cilantro
 Procedure
Pat salmon dry with paper towels and sprinkle fillets with ½ tsp. salt and ¼ tsp. pepper.
Heat oil in 12" nonstick pan over medium heat until just smoking. Add bell pepper strips, onion, garlic and remaining ½ tsp. of salt and ¼ tsp. of pepper.  Cover and cook, stirring occasionally until vegetables are soft, about 10 minutes.
Stir in tomatoes and their juice, capers, brine, pepper flakes and butter beans. Continue to cook until slightly thickened, about 5 minutes.  Season with salt and pepper if needed (remember the brine gives you some more salty flavor).
Reduce heat to medium-low. Nestle salmon into peperonata, skinned side down. Cover and cook until the centers of fillets are still translucent when checked with tip of paring knife and registers 125 degrees (that's medium rare), about 10 minutes.  Keep an eye on it so you don't overcook (it's sooooo, easy to do)!
Drizzle lemon juice over salmon. Sprinkle with chopped cilantro. Please enjoy!! 
*Adapted from Oct/Nov. 2021 Cook's Country
Nutrition Info per serving: 546 calories, 28.6 grams fat, 29.5 grams carbohydrates, 40.3 grams protein