weed (wēd)
noun
A plant considered undesirable, unattractive, or troublesome, especially one that grows where it is not wanted and often grows or spreads fast or takes the place of desired plants.
Note that a weed is not a particular type of plant, for one man's weed is another man's desirable greens. And I don't know about you, but there is nothing as cathartic as getting rid of those pesky weeds that don't belong.
So what weeds are in your garden of life right now? Are those undesirable aspects of your life holding you back from living life to the fullest? Please note, this is not a call to leave your responsibilities like your career or family. No, this is a gentle nudge in the direction of  liberating you to enhance those very important facets of your life that make it more rich and meaningful. For the science bears this out, having a positive attitude (see Drink from the Healing Pitcher of Optimism), along with adapting to the challenges life throws your way is a tried and true formula for healthy aging!
 So let's get started:
 1. Make a weed-killer action plan AND make a timeline when you will carry out that plan– Let's just attack one big weed at a time, that way it's much more manageable for you. Are you unhappy with the current state of your fitness or wellness OR do you lack the skills required to move onto the next level with your job?  THE key to accomplishing your goals is a firm belief that you can do it!
To illustrate my point, Randy and I recently attended a medical conference titled "The Power of Unwritten Prescriptions- Leveraging Diet, Exercise and Targeted Nutrients in Cardiometabolic Disease." Cardiometabolic disease refers to the increased risk, or actual presence of heart disease and diabetes in the presence of increased blood sugar (insulin resistance) and unhealthy cholesterol levels (atherogenic dyslipidemia). The entire premise of this conference was encouraging health professionals to unlock the compelling power of lifestyle changes, like nutrition, movement and stress response to heal their patients before relying on the traditional medical model of prescribing drugs and performing surgery. Taking it a step further, treating the patient as an individual, not just a culmination of diseases and symptoms, thus addressing the underlying cause of the disease.    
Let me give you a shining example of someone who was down and out physically and mentally but through belief and being positive, eradicated the overriding "weed" (which was an unhealthy lifestyle) in his life. That someone is Arthur Boorman. Arthur was a 47 year old disabled veteran of the Gulf War. He was injured as a paratrooper from too many jumps, his legs and back were shot, and the doctors all told him he would be disabled for the rest of his life.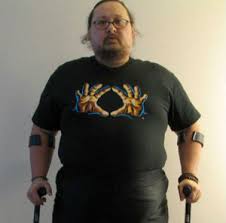 He had given up on himself, ballooning up to 300 pounds. After 15 years of heartache, Diamond Dave Page, a former wrestler turned fitness/yoga instructor said he believed in Arthur and started working with him. This video shows his transformation, from barely being able to balance with yoga postures, to continually falling and, after the loss of 140 pounds and increased strength, you see Arthur RUNNING at the end of this video.  I tell you the truth folks, they showed this video in the lifestyle conference Randy and I were attending and there was not one dry eye in the whole place!!!
I would strongly encourage you to watch his story, "Never, Ever Give Up" Arthur's Inspirational Story, to witness the power of the belief that you CAN accomplish the seemingly impossible, and it can all begin by killing the weed of disbelief!
 2. Never pull weeds in someone else's garden, however, you can encourage and inspire others to pull their own weeds!- I know you mean well, but if you are someone who thinks you can change someone else's unhealthy behavior, whatever it is, by telling others what is good for them, without their buy-in, I promise, it's bound to be absolutely fruitless! You saw the power of belief and what it did for Arthur Boorman and yes, he did have someone helping him accomplish the building of that belief in himself. However, Diamond Dallas Page took the role of being the chief inspirer/motivator to assist Arthur in those healthy goals of his. And I'm going to also prompt you to do the same!
The failure of the authoritarian model for health guidance in the current traditional medical model is such an example.  The old healthcare provider model of inciting fear in their patients to follow a healthy lifestyle, OR ELSE, is an absolute and dismal failure in our modern day world! Witness the United States with it's skyrocketing rates of obesity, diabetes and heart disease coupled with the bleak LACK of activity:
This pretty much tells the story. The current medical model isn't working. A quote from internationally recognized integrative medicine expert, Dr. Andrew Weil, applies here, "The real problem is not an access issue, it's a fundamental problem of the healthcare focus itself."   However, what is finally coming your way in the medical field, albeit very slowly, is the coupling of medical care with patient buy-in in the form of group visits and patient education. Giving the patient that ticket they need to start building a foundation of wellness they can believe in AND follow, with the healthcare provider being the chief coach!     
So, if you see someone struggling with one of the "weeds" of their life, encourage and inspire them. Give them a reason to believe in themselves!
 3. Give unexpected weeds a second look, they might turn out to be desirable edible greens!– Here is a picture of a plant that really looks like a weed to the uninformed eye:
This plant is actually oregano, a treasured herb with a host of medicinal properties. It has the highest antioxidant activity of the entire compendium of herbs, plus 4x more than blueberries, 42x more than apples and 12x more than oranges! PLUS, it has exceptional antibacterial, antifungal and antiparasitic properties!
Now tell me, what would have happened if I had ignored or eradicated what seemed to be a weed to me at the time? I never would have known how wonderful this herb (that looks like a weed) is!
This discussion came up this week with our son Sean. He has loved to play basketball his entire life whenever he has a little free time, just for the fun of it!
However, he received the bad news this week that because his shoulder has dislocated so many times (it's a Tobler thing) when playing basketball, he's going to need surgery, which will incapacitate him from basketball and all sports he loves for a number of months. He is absolutely heartbroken!
I had to gently tell him my story that I just recently realized, how unexpected weeds can transform into a desirable greens.
 In the summer of 2014 I had to have my right foot rebuilt and had a tendon transfer.
This was the culmination of too many hours of running on totally flat feet. I will be totally honest: I did not handle the 2 ½ month recovery time of that surgery with grace. I was down and feeling sorry for myself during portions of my recovery.
However, I came to realize that I also had a lot of great brain storming time. During my recovery I came up with the plans for my youth cooking class, Kidz Can Cook.
The premise behind Kidz Can Cook?  That kids can learn to eat healthy if they make it themselves, coupled with an introduction to the wide world of culinary and what it offers as a noble profession and rewarding career.
Honestly, I'm not sure I ever would have taken the time to birth the idea of having my own little kid's cooking classes if I hadn't been laid up, recovering from surgery. That is why I have a totally different (very positive) attitude about the surgery I'm now going to have in a couple of weeks for the other foot with the same problem. It's another opportunity for brain-storming good ideas!
So yes, sometimes when unexpected weeds pop up in our garden, they turn into absolute blessings! You've just have to give then a second look!
Recap of PULLING WEEDS FROM THE GARDEN OF YOUR LIFE:
1.  Make a weed-killer action plan AND make a timeline when you will carry out that plan.
 2. Never pull weeds in someone else's garden, however, you can encourage and inspire others to pull their own weeds!
3. Give unexpected weeds a second look, they might turn out to be desirable edible greens!
All of this talk of desirable greens inspired me to introduce a pesto that you might not have tried before, Oregano Pistachio Pesto. It's absolutely delicious (and as I said before, very nutritious) and to be honest, I have to hide the container of this freshly made pesto (right out of my herb garden) at mealtime because Randy keeps going back for additional helpings! This pesto pairs best with a mild meat like fish and chicken although you can also add it as a topping to your burger or steak of choice!   The wine I'm showing with this dish is a dry (true) Rose from the Provence grape, not to be confused with a "blush".   A Rose is great for those warm summer nights because of their light and fruity qualities!
 Please enjoy!
Roasted Salmon with Oregano Pistachio Pesto
Served with Sweet Pepper Black Barley
 Ingredients
Salmon
2 tsp. virgin olive oil
1 lb. Salmon filet-cut into 4 pieces
Salt and Pepper
Virgin Olive oil
Oregano Pistachio Pesto
¾ cup roasted pistachios
2 garlic cloves, minced
2 tsp. anchovy paste
½ cup oregano leaves- roughly chopped
2 T. fresh lemon juice
½ cup extra virgin olive oil
Sweet Pepper Black Barley
2 tsp. virgin olive oil
1 small red onion-small dice
3 cloves garlic-minced
3 small peppers, all different colors-small dice
1 cup pre-cooked black barley
Procedure
1.Preheat oven to 400 degrees.
2.Heat a large sauté pan on the stovetop. Add olive oil. Saute red onion until soft then add garlic and cook until fragrant.
3. Add diced sweet peppers and sauté until soft. Add black barley and heat through. Salt and pepper to taste. Set to the side and put a lid on top to keep it warm
4. In a blender, add all pesto ingredients except olive oil and pulse 2 or 3 times. Add olive oil slowly with motor running at low speed. The consistency should be in between a puree and a rough chop.
5. Lightly massage a small amount of oil in each filet fish flesh. Salt and pepper each filet.
6. Heat up a large flat skillet on the stovetop. After it's heated up, add 2 tsp. olive oil.
7. Set each filet, skin side down on skillet. Don't touch it for 3 minutes. Then immediately insert filets in oven for 4 minutes or until fish is still pink in the middle but firm to the touch.
8. Plate dish with skin side up salmon and pesto ladled over the top. Serve the sweet pepper barley as a side.
 *Oregano Pistachio Pesto was adapted from Food & Wine.