How long have we heard the diet battle cry that starchy carbohydrates are the "devil" to a weight loss and healthy eating regimen? Here's a pic of a wide variety of carbohydrate rich foods, some considered "healthier" than others, but all sharing a higher insulin spiking potential per serving:   
I spent decades of my childhood, adolescence, young Mom and even middle-age Mom years embracing a low-carbohydrate diet for it's health virtues and it's weight loss potential for me and my family. My son Sean called me out on my last blog because he said I'm the reason he sneers at potatoes in the store when he sees them and feels guilty when he has pasta in a restaurant, thinking he'll blow up at any moment!    
 But guess what? Those carb starving philosophies I promoted to my family always had us yearning for those simple carbs like potatoes, pasta, baked goods, candy, ice cream, pizza, etc because they were the "forbidden fruit" and in the end, we all "snuck them", and in the end, OVERATE!
Well I say NO MORE!!!  Those days are OVER!
Hey now, I'm not saying to consume all of your calories with your favorite heavy carb load of choice!  I'm still a big fan for the health benefits (and science backs me up) of making ½ your dinner plate wildly colored non-starchy veggies, ¼ portion grains, legumes, seedy grained breads, select starchy veggies (like sweet potatoes, beets and peas) or whole-grain pasta and ¼ portion natural lean meats for the abundance of your meals:
BUT, what I will say to you now is, you can fit all of those treat foods (and heavier carb-load choices) in your weekly diet plan, yet, still remain healthy and on track to lose weight if you so choose.
 You all know I've embraced a IIFYM (If It Fits Your Macros) Lifestyle (as outlined in Time To Think About A New You?) since November 2017, losing weight, but more importantly body fat, along with adopting a weekly weight training regimen.  I needed a tune-up so I followed my daughter's coaching advice (SammiGregoryFitness) with great success!  I'm wearing clothes I couldn't fit into 2 decades ago, along with increased energy to get things done!
Now please don't stop reading this because you are turned off with the idea of tracking your macros.  I'm not saying you have to.  I'm just sharing with you the AHA! moment I had that high-load carbs are not anathema to a healthy diet! It just comes down to a matter of budgeting, a/k/a portion control…. 
Let's drill down on two examples of foods to make a point, white potatoes (hey I had to share this picture, this is how much my two guys love those starchy tubers.  They were preparing potatoes at Christmas for their absolute favorite treat, French fries!):
and pasta.  Both of these foods have some vitamins and minerals, I get that.  However, the carbohydrate load, if not budgeted in your daily menu plan, can definitely get you off track.   AND, if you could assign an emotion in musical keys to these two starchy choices, in accordance with the disreputable diet press this category of provisions has withstood, it would be a D# Major, denoting deep distress, and existential terror, lol)!:
To help you with this, I'm making examples of two recipes I created based on my food ingredient choices that I lightened with simple switches from the traditional versions: Hearty Healthy Shepard's Pie and Tequila Lime Shrimp Scampi Served On A Bed of Pasta Aglio e Olio.
I'd like you to ask yourself three questions when deciding if you should partake of these or any elevated glycemic index (fyi, glycemic index is a nutritionally accepted system that ranks foods from 1 to 100 based on their effect on blood-sugar levels) food favorites:
1.  Is it worth the (carbohydrate) macros?
2. Is there a satiating substitute you can easily make?
3. If it's worth the macros, can you lighten your other choices?
Healthy Hearty Shepard's Pie-was predominantly lightened because of the switch of toppings, from the traditional potatoes, replaced with a starchy cruciferous veggie (cauliflower) and switching out full fat cheese for a lightened version. These changes showed up as a savings of 25% less calories, 47% less carbs and 41% less fat per serving.
Now note, I didn't say potatoes were "bad", just that I could replace it with a class of vegetables (cruciferous-cauliflower), known to combat cancer that had a better nutrition count, was less likely to spike glucose and insulin after consumption, yet I was (and Randy) were still very satisfied (See Transform "What's For Dinner?" into "CAN'T WAIT FOR DINNER!"for the recipe) :
 But here is the "meat" of the potato facts, the carbohydrate count of 1 cup of white potatoes vs. 1 cup of cauliflower (note you can utilize this nutrition info on the free app MyFitnessPal):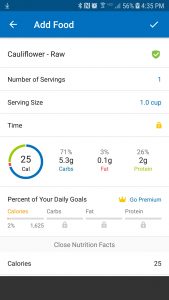 So white potatoes has 13 TIMES the amount of carbohydrates that cauliflower has for a 1 cup serving.
So just to give you a perspective, the following is the breakdown of macros and calories I consume per day.
So that one cup of potatoes eats up almost ½ (70 g. potatoes/163 g. total=43%) of the carbs I can fit into my macro eating regimen per day.  For ME, that is NWTM (Not Worth The Macros).  I'd rather "spend" my carbs on something else.  That is MY choice. But my choice may not be YOUR choice!
 I could also choose to eat a cup of sweet potatoes instead of white potatoes:
With less than ½ the amount of carb count.  But no, NWTM (for me that is, ;))!
 Let's get to the questions with me answering, for the Healthy Hearty Shepard's Pie :
 1.Is it worth the (carbohydrate) macros? Those potatoes were not worth the macros to me.
2. Is there a satiating substitute you can easily make? Yes, I thought the cauliflower was just as good, next time I might try sweet potatoes.
3. If it's worth the macros, can you lighten your other choices? I didn't make the potato choice THIS time!
Tequila Lime Shrimp Scampi, Served on a Bed of Pasta Aglio e Olio.-   I was willing to step out of my box and embrace a pasta dish, this time, knowing that the carbohydrate count would be high but also knowing that comparing the traditional shrimp scampi portion of the recipe to my healthier version (tequila lime) reflected a savings of 62% less calories because I lightened the fat load, making it 85%less fat per serving!  What was also cool about this is the pasta dish didn't need ANY CHEESE to be one unctuous bite after another.
 So to be fair, let's look at the carbohydrate load of 1 cup of cooked spaghetti noodles vs. spaghetti squash (again, you can access all of this nutrition info from the free app MyFitnessPal):
As you can see, the spaghetti has 4 TIMES the carb load of spahetti squash.
This is the nutrition info for the entire dish (outlined below):
Tequilla Lime Shrimp Scampi with Pasta Aglio e Olio Nutrition Info:  586 cal./68 g. carb./20.3 g. fat/33.7 g. protein
With a quick calculation I know that I'm eating about 42% (68 g./163 g. total carbs for day) of my carb macros for the day with this dish (note, by being aware of the high carb count of foods, you don't have to do this calculation everytime, I'm just giving you a perspective). 
My Carb Queries for Tequila Lime Shrimp Scampi, Served on a Bed of Pasta Aglio e Olio:
1.Is it worth the (carbohydrate) macros? This time, for me, the pasta is WTM (Worth The Macros). I don't do this everynight but I know the dish is great so I'm willing to spend a big chunk of my carbs for the day on this dish. 
2. Is there a satiating substitute you can easily make? Yes, I might try the spaghetti squash next time with this dish, but not this time!
3. If it's worth the macros, can you lighten your other choices? I plan my meals at least one day in advance so I know that morning what I'm eating for dinner. In that light, I'm making lighter carbohydrate choices throughout the day so I can stay on track, WITH NO GUILT!
So the next time, you feel tempted to "Just Say No" to that favorite  (formerly guilt-ridden) carbohydrate that has just been calling your name, ask yourself these three questions, remembering that life is just too short to deprive yourself of the foods you love and remembering it can truly still be a part of YOUR healthy eating lifestyle!:
1. Is it worth the (carbohydrate) macros?
2. Is there a satiating substitute you can easily make?
3. If it's worth the macros, can you lighten your other choices?
 Our son Sean and our daughter Sammi were the inspiration behind posting this blog today and the following recipe.  From Sammi's program, I've learned you can have those guilty pleasures intermittently without feeling guilty and still stay on track with your health goals.  To Sean, thank you for making me laugh and calling me out on my phobia to potatoes and pasta, all in the name of health. You CAN teach an old Mom new tricks!  I hope you all enjoy this recipe as much as Randy and I do.  The flavor is still there without the fat load in the scampi because of the pop of the reduced sauce of tequila and lime, the pasta is creamy and satisfying without the need for cheese (pssstttt, the pasta water is the secret ingredient)!     
Tequilla Lime Shrimp Scampi with Pasta Aglio e Olio
 Serves: 4
Tequilla Lime Shrimp Scampi
Ingredients:
1 lb. raw jumbo shrimp, shelled and deveined
2 T. unsalted butter
6 cloves of minced garlic (use ½ of  that if garlic isn't you thing!)
¼ cup tequila
1 tsp. lime zest
1 T. freshly squeezed lime juice
1 T. finely chopped fresh parsley
Procedure:
1.Place the shrimp on a round platter (no larger than your round skillet) and pat them dry with a paper towel. Arrange them so they don't overlap and are evenly spaced. Season with salt and pepper.
2.Heat the skillet and when a drop of water rolls around on the surface, add the butter.
3.When foaming subsides from heated butter, invert the plate directly over the skillet so they all land at the same time.
4.For 1 minute, don't touch the shrimp. Add the garlic and cook until fragrant.  Turn over shrimp, one by one and cook for 2 more minutes.   Transfer shrimp to a bowl but leave in excess liquid in skillet.
5.Pour in lime juice and tequilla and let boil for roughly 60 seconds until thickened. Make sure to scrape up the fond or those tasty little brown bits, they add incredible flavor the sauce!
6. Stir in the lime zest and parsley and pour over the shrimp.
7. Divide the shrimp into portions and ENJOY!
*Menu adapted from Food Network Kitchen
 Nutrition Info:  Each serving is 203 calories, 9.9 g of carbohydrates, 7 g of fat, 24 g of protein, 298 mg. of sodium, .1g of fiber and .1 g of sugar.
Pasta Aglio e Olio
 Servings: 6 servings
 Ingredients:
1/3 cup extra-virgin olive oil
8 garlic cloves, sliced thin
½ tsp. red pepper flakes
**3 quarts of water
1 lb. thin spaghetti
salt
3 T. chopped fresh parsley
 Procedure
1. Bring 3 quarts of water to a boil in a large Dutch oven. Add pasta and 1 tablespoon salt and cook, stirring often, until strands are flexible but still very firm in center, about 5 minutes.  RESERVE 3 CUPS OF PASTA COOKING WATER (this is key, this special water that is coated with carbohydrates from the pasta will be the magic for this dish), then drain pasta.
2. Heat oil and garlic in small saucepan over medium-low heat until pale golden and fragrant, about 5 minutes.When off the heat, stir in pepper flakes.  Set Aside.
3. Combine drained, parboiled pasta with oil mixture and 2 cups of reserved pasta water in the empty Dutch oven and bring it to a boil over medium heat. Cook, stirring often with tongs and folding pasta over itself, until water is mostly absorbed but still pools slightly in bottom of pot, about 5 minutes.
 4. Let pasta sit off het for 2 minutes. Stir in parsley and additional pasta water (only if needed for noodles should be slightly wet, not oily).  Serve and please enjoy!
**Special note about water- please use 3 quarts of water as specified because this is the "secret sauce" after you have par-boiled the pasta, to creating a silky sauce that doesn't require cheese to masquerade the creamy and silky taste and texture of the finished product.
 * Recipe for Pasta Aglio e Olio was adapted from Cook's country
Pasta Aglio e Olio Nutrition Info: 382 cal.,/ 58.2 g. carb./13.3 g. fat/ 9.7 g. protein
Tequilla Lime Shrimp Scampi with Pasta Aglio e Olio Nutrition Info:  586 cal./68 g. carb./20.3 g. fat/33.7 g. protein