Part II
Tomatoes Are Just What the Doctor Ordered!
I'm a huge fan of doing everything you can holistically for your health for disease prevention, i.e. manage your stress level, get the right amount of sleep, a balance of resistance and aerobic exercise and finally use the food you consume as your medicine cabinet!  
This is not to say you should stop taking your medication.  
Nope. 
Everyone needs a balance of holistic and conventional medicine to achieve optimal health.  
But right now, I want you to think of the tomato as being a prominent member of your food medicine cabinet, because not only is it packed with nutritional goodness, it's also a culinary bonanza that can easily compliment every meal of your day! This is a breakfast meal I created for Randy this week with tomatoes as the star ingredient:    
So today, I'm going to dispel the myth that tomatoes are only good for men with their prostates, because they are, but that's only the tip of the health iceberg.   
AND, there's the misconception that nightshade vegetables, like tomatoes, exacerbate arthritis. According to the Arthritis Foundation, that claim of increased inflammation and worsening symptoms is not scientifically based but is largely anecdotal. However, Kim Larson, a Seattle-based dietician and Academy of Nutrition and Dietetics Spokesperson offered the elimination diet option for those wanting to make sure:
Nightshade vegetables are rich in nutrients, making them a worthy addition to your diet. Simply test it. Eliminate nightshades from your diet for a couple weeks and slowly reintroduce them back into your diet.  If you find that adding nightshades trigger arthritis pain, don't eat them, Larson suggests.
Tomatoes are avoided, however for people suffering from GERD (gastroesophageal reflux disease). 
Okay, now that we've got those "saucy" issues out the way, let's get down to the tomato health business…
The tomato is a rich source of vitamins, minerals and most importantly antioxidants in the form of carotenoids.  And antioxidants are materially likened to precious gems for our body's continued good health.  They combat the "rusting" process all of us go through as we age.  Having a plethora of antioxidants on board has the potential to prevent all forms of disease.  Carotenoids, present in algae and plants are pigments that produce those red, orange and yellow rainbow of color in plants.  Carotenoids are fat-soluble compounds that are best absorbed in our bloodstream by cooking and some form of fat.  Lycopene is the most-noted and acclaimed carotenoid, but truly, it's the entire tomato including other lesser carotenoids like lutein and zeaxanthin (all three: lycopene, lutein and zeaxanthin are star antioxidants for general eye health and preventing macular degeneration) that are important for your health.  
I'm going to take you through what I consider my 3 top reasons for making tomatoes a serious part of your weekly consumption for your health:
I. Using tomatoes as medicine to battle top deadly chronic diseases- This is an introduction (if you haven't already heard of it) to one of the top defense systems our body uses to nourish our organs and cells to keep them in top shape: angiogenesis. We recently interviewed Dr. William Li, world-renowned wellness physician, scientist and leader of the Angiogenesis Foundation, now author of the book Eat To Beat Disease on radio show "Healthy U", KMEM 100.5 in Memphis, MO, where he outlined 5 of our body's natural defense systems that could all be enhanced with proper nutrition, angiogenesis being a top system.  Dr. Li relayed that our body has roughly 60K miles of blood vessels pulsing through it in the form of arteries, arterioles, capillaries, venues and veins. Angiogenesis is the process these vessels are formed.  What's really cool is there is this balance in our bodies of just the right amount of blood vessels being formed with the corresponding correct amount of blood flow.   So say you just worked out and your body detects you need more blood flow to form more muscles, your natural angiogenesis system is immediately on the job adding more vessels.  It's also is on the job to prune back unneeded blood flow through our blood vessels.  Dr. Li used the astrobiologist's term (they use term when hunting with powerful telescopes for planets that are the perfect distance from the sun to support life) The Goldilocks Zone:
to describe having not too many but not too few blood vessels being formed, to achieve that perfect balance for health.  
One of the primary inner cancer defense systems depends on the "brake" side of this system.  Cancers secrete messengers that encourage growth of blood vessels-necessary to provide nutrients and oxygen for rapidly growing rogues.
"The main reason microscopic cancers don't grow is your body's natural angiogenesis inhibitors.  These countermeasures keep tumors in check, depriving them of blood supply- Eat To Beat Disease   
The flip side is insufficient blood vessels being formed, which can lead to tissue loss and death.  As in the case of  heart disease, when plaque progressively block the larger arteries feeding the heart muscle, it's known that collaterals form to feed oxygen and nutrient-starved tissues downstream. This is hitting the angiogenesis "gas pedal" to reduce the risk of a heart attack or poor healing when the same thing happens in the legs of people with peripheral arterial disease.
Below is a list from Dr. Li's book, of diseases caused by angiogenesis gone awry, with either too many blood vessels being formed or not enough:
Note the #1 and #2 top chronic diseases in the U.S. and the world are on that list: heart failure and a wide variety of cancers.
Dr. Li points out that in the case of coronary artery disease, cholesterol laden plaques form in our coronary arteries, cutting off the blood needed.  But these plaques are not just  made of a type of inert cholesterol sludge that can easily be cleaned out, they're actually tumor-like growths that affix themselves to the arterial wall that themselves become infiltrated and thickened, actually sustained and made more dangerous by becoming invaded with new blood vessels (neovascularization), leading to a manifestation of angiogenesis in tissue that previously didn't have its own blood supply.  The same pathological angiogenesis happens in diabetic or macular degenerative retinal disease.  Tomatoes and other angiogenesis mediating foods may help reduce this over expression of blood supply.
Similarly, on the cancer side of the ledger, the good news is that you can actually enhance this life saving defense system with select FOODS!: 
"Your body has a remarkable defense system that keeps microscopic cancers small by starving them of the blood supply and nutrients they would need to grow- and you can optimize this defense system through the foods you eat.  More than 100 foods can enhance your body's ability to starve cancer and keep those tumors small and harmless, among them, TOMATOES, soy, black raspberries, pomegranate and even some surprising ones like licorice, beer and hard cheese (Eat To Beat Disease). 
This approach of using food as medicine for the health of your blood vessels has actually been proven by centenarians around the world, it's just now that science is putting the evidence together. In Asia where the diet is high in vegetables, soy and tea there is significantly lower risk of breast and other cancers and there's a rising centenarian population.  The same can be said for Sardinia Italy (one of the sites of the Blue Zones,  communities around the world that have a high percentage of centenarians):
where the Mediterranean diet is the primary source of sustenance, and it's not strictly vegan!:
Lycopene is the star carotenoid in tomatoes for inhibiting angiogenesis but the best way to get the most out of your tomato buck for your health is to both cook your tomatoes (the raw state is not as readily absorbed by the body) and adding some type of fat (increasing your absorption by another 3 fold!).  Don't forget to cook that tomato skin with it too, for it has 3-5 times more lycopene than the flesh!
And cherry tomatoes win the prize for having 24% more lycopene, in a study of 119 varieties per 10/2016 Horticulture, Environment and Biotechnology publication.
And do tomatoes pack a bigger nutritional punch on or off the vine?  I'll bet you know the answer!  In a study by the Journal of Food Science in the 4/2000 issue, the nutritional content was analyzed, along with a 100 judge panel that rated the color and overall liking of the tomatoes. The lycopene content was significantly higher for vine ripened tomatoes and the judges rated the color and overall appeal of the vine-ripened tomatoes as more intense and firmer to the touch!
I'm sorry, I just have to show off my vine-ripened tomatoes a little more (I'm so proud of them!!):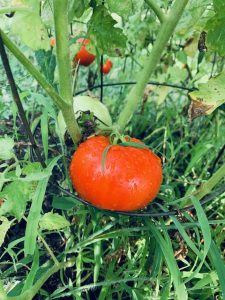 II. Keeping your skin in "Hot Tomato" shape-  Would you like some additional protection from the hot sun, that works from inside your body? Try a shot of lycopene rich tomato juice (along with watermelon, pink grapefruit or guava juice) before you go out. It has the effect of protecting our DNA from the radiation damage from the sun! Dr. Li pointed out there was a study at the National Institute of Public Health-National Institute of Poland, where young healthy, non-smoking women were recruited and their white blood cells were collected.  Scientists exposed the white blood cells to X-rays to analyze the damage.  As you can guess the radiation killed the cells and damaged the majority of the DNA, BUT if lycopene was exposed to the cells one hour before (not after), the DNA damage was significantly reduced and there was a higher amount of white blood cells that survived! So lycopene saved the white blood cells BEFORE exposure to radiation. So that shot of tomato juice needs to be gulped before you sunbathe!
And if you add a little fat and cooked those tomatoes, it's even better! In the 11/2016 Journal of Clinical Nutrition study participants ingested 1/3 oz. of tomato paste, providing 16mg of lycopene with olive oil every day for a 10 week period. Guess what? They experienced 40% fewer sunburns if consumed before they sunbathed!  
III. Hungry for something sweet but watching your intake? Grab a tomato instead of the fruits of choice for most Americans!-The top 2 fruits that Americans buy the most frequently are the banana and apple according to the Produce Marketing Association (PMA) for 2019. We know that both of these choices have  excellent nutrition profiles, however, if you're watching your weight or you can't understand why those pounds keep creeping up on you as you age, think about occasionally grabbing your tomato of choice instead (we have container of them in our kitchen at all times!) I compared the nutritional profile of the banana, apple and tomato for a 100 gram serving (roughly 1/2 cup serving):
Banana-Calories 105 /Water content 75%/Carbohydrates 27 g./Sugar 14 g. /Fiber 3 g./Protein 1 g./Fat <1 g.
Apple-Calories 52/Water content 86%/Carbohydrate 14 g./Sugar 10 g./Fiber 2 g./Protein < 1 g./Fat < 1 g.
Tomato– Calories 18/Water content 95%/Carbohydrates 4 g. /Sugar 3 g./Fiber 1 g./Protein 1 g./Fat < 1g.
Just making a quick comparison, it would take almost 6 tomatoes in calories to equal the banana and almost 3 tomatoes in calories to equal the apple. In carbohydrates, the banana has almost 7 times the carbs and the apple 3.5 times the carbs as the low-carb tomato.  Just the water content comparison alone is a telling indicator: the banana at 75%, the apple at 86% BUT the tomato's water count is 95%!  That almost all water!  
Just make tomatoes one of those "at will"  healthy fruits (because it really is a fruit, as I talked about in Part I) that is readily available in your kitchen, as it is in ours!
Teaser Alert- Want some tomato culinary ideas? Check out the last of the Tomato mini-series: Part III- Put On Your Chef Hat For Tomatoes! 
RECAP OF: The Tomato Trilogy-Part II- Tomatoes Are Just What the Doctor Ordered! 
I. Using tomatoes as medicine to battle top deadly chronic diseases
II. Keeping your skin in "Hot Tomato" shape! 
III. Hungry for something sweet but watching your intake? Grab a tomato instead of the fruits of choice for most Americans!
Lasagna is one of the classics we all enjoy!  It has all the right elements of adding fat and cooked tomatoes to yield that optimal lycopene goodness but these lasagna cupcakes offers a method of portioning out the lasagna by using wonton sheets molded in the "cupcake" formation and then filled with the lasagna mixture. This makes it easier to stop yourself if you come from the traditional method of preparing a large sheet pan of lasagna, for you're always going back for "just one more sliver"-lol!  Note it also has a boost of extra antioxidants in the form of nutrient rich spinach, onions and garlic  PLUS, I lightened the fat load from the original recipe (not too much, just right like Goldilocks-lol) to make it macro friendly.  I promise all the flavor is still there!!!  Please enjoy!!   
LASAGNA CUPCAKES
Portions: 6- Two cupcake servings
OR
Portions 4-Three cupcake servings
Ingredients:
24- Wonton Wrappers OR Three inch diameter circles of egg roll wrappers (86 g.)
Olive oil Cooking spray
1 lb. lean ground beef
1 finely diced onion (88 g.)
1.5 cups of firmly packed or frozen (thawed and drained) spinach
¼ tsp. salt
¼ tsp. pepper
1 cup mozzarella cheese
3.2 oz. parmesan
4 oz. ricotta cheese
1 cup tomato bisque soup (see recipe below) OR store bought pasta sauce
Fresh or dried basil and finely diced sweet red peppers for garnish 
Directions:
Preheat oven to 375 degrees F. Coat all 12 muffin cups with cooking spray.  
Cut 24 -three inch diameter circles if using the egg roll wrappers.  You can buy these little cut-out circles online or cut out circles of cardboard and use that as a template.
Line each muffin cup with one wonton or egg roll wrapper circle. 
Heat a large skillet over medium heat and add the beef.  For 5-7 minutes brown the beef until just barely browned.  Using a slotted spoon, remove the beef.  There should be a small amount of rendered beef fat and juice left.
Add the onion and sauté in the remaining beef fat and juice until translucent.  If needed, add a small amount of additional cooking spray to sauté. 
Add in the spinach to marry the onion with spinach flavors and saute until wilted.  Then add back the browned beef until all the juices have evaporated. Salt and pepper to taste.
Stir portions of three cheeses together: all of ricotta, 3/4 Parmesan and ¾ mozzarella into a small bowl.  Set remaining Parmesan and mozzarella aside.
Layer muffins cups with ½ of cheese mixture, top with ½ of beef/spinach mixture and ½ of tomato bisque soup.  Top mixture with wonton/egg roll circles and repeat with same remaining layers.
Top with remaining Parmesan and mozzarella.
Bake until edges are browned, 18-20 minutes.  Let cook in cups 5 minutes, then run knife around the edges to loosen and remove cupcakes.  Garnish with basil and red peppers. 
*Recipe Adapted from Allrecipes.com April/2020
Nutrition Info:
Portions: 6- Two cupcake servings: 392 cal./10.1 g. fat/11 g. carb./ 21.1 g. protein
OR
Portions 4-Three cupcake servings:588 cal./15.2 g. fat/16.5 g. carb./ 31.6 g. protein
 HEALTHY TOMATO BISQUE
Portions: 4 (225 g. per serving)
OR
7- One Cup servings (128 g. per serving)
Ingredients:
1 T. Olive oil
1 finely diced onion  (101 g.)
2 garlic cloves
1 T. dried basil leaves
1 ½ cups chicken broth
2 cans (14.5 oz.) Fire Roasted Tomatoes (or basil and garlic)
1 T. Honey
2 T. Tomato paste
Salt & Pepper to taste
Feta cheese (optional)
Directions:
In a medium sized saucepan, using medium heat add olive oil to pan.  When the oil shimmers, add onion and sauté until translucent.  Add garlic and sauté just until fragrant.
Add basil leaves, broth and fire-roasted tomatoes.  Simmer on the stove for 15 minutes to marry the flavors. 
Add the honey and tomato paste and simmer for another 5 minutes.  
Using a blender, blend until smooth.  Salt and pepper to taste.  If the taste is too acidic (or too tart) for you, add a small squirt of honey.
If you'd like, sprinkle a small amount of Feta cheese for a tangy , slightly salty finish to your soup! 
Nutrition Information:
Per Serving of 4 (225g): 135 cal./3.4 g. fat/18.7 g. carbs./4.2 g. protein
Per One cup serving (128 grams): 73 cal./10.2 g. carbs./1.8 g. fat/2.3 g. protein