I always think of Rodney Dangerfield when I think of the Allium Family of Vegetables, comprised of onions, garlic, leeks, shallots, green onions and chives.  
His famous saying "I don't get no respect" resonates with this clan because they truly possess a powerhouse of health qualities AND taste, but they usually remain in the supporting role of a dish, not the star.  The allium family members contains smelly sulfur components called allyl sulfides that can lower blood pressure and hinder tumor growth.  They also contain quercetin, a powerful antioxidant with anti-inflammatory, antibiotic, antiallergic and antiviral (used to inhibit the HIV virus) qualities. Put that together with the fact most of our exceptional dishes would not have the flavor profile without the allium family being a major player.  As you will see with the dishes that follow, without this "stinky sulfur" group playing their supporting roles, these dishes would not sing.
Highlights/Tips of Allium Family dishes:
1. BRAISED HALIBUT WITH LEEKS AND MUSTARD-The braising method of cooking is usually used for tougher pieces of meat, those meats requiring more cooking time.  However, this is a quick braise or the combining of dry and moist heat cooking with a firm type of fish. Quickly braising the fish on one side in butter then steaming the fish to finish over a bed of sautéed mustard butter leeks makes this an amazing dish.  You will notice I am not afraid to use butter, in limited amounts, in my cooking. I do not believe a restricted amount of butter or quality saturated fat compromises the healthiness of the dish.  I opt to use grass-fed butter because it maximizes your consumption of those inflammation quenching Omega 3s, healthier saturated fats and CLA, an anti-inflammatory Omega 6 fat that has been shown to have cancer and heart-disease fighting qualities.     
2. BEET MATCHSTICK SALAD WITH LEMON AND PICKLED SHALLOTS-This dish is what I think of when it comes to the spring/summer months. The pickling process of the shallots in maple syrup, vinegar and select spices gives the shallots a mouthwatering depth of flavor.  Put it all together with the beets and a light vinaigrette and you have a lemony light salad with a little bit of beet/shallot crunch.
3.  CREAMY CAULIFLOWER SOUP-The secret to this dish is the foundation of flavor emanating from the sautéed leeks and cauliflower with the addition of the core of the cauliflower, rendering the maximum amount of flavor.  The topping of browned butter and sherry with toasted cauliflower florets makes this a delightful soup.
4. ROASTED SHRIMP WITH SAUTEED BALSAMIC BLACK BEANS AND FETA-This is an easy weeknight dish that has a surprising amount of natural sweetness from the combination of red onion, balsamic vinegar, lemon rind, black beans and dijon mustard.  Top that with the succulent roasted shrimp, feta and cilantro and you have a weeknight winner!  
BRAISED HALIBUT WITH LEEKS AND MUSTARD
Serves: 4
 Ingredients:
**4 (6-8 oz.) skinless halibut (or another firm fish)  fillets, ¾ to 1 inch thick
6 T. unsalted grass-fed butter
1 lb. leeks, white and green parts only, halved lengthwise, sliced thin, an washed thrououghly
1 tsp. Dijon mustard
¾ cup dry white wine
1 tsp. lemon juice, plus lemon wedges for serving
1 T. minced fresh parsley
 Procedure:
Sprinkle fish with ½ tsp. salt. Melt butter in 12 in. skillet over low heat. Place fish in skillet, skinned side up, increase heat to medium, and cook, shaking pan occasionally, until butter begins to brown (fish should not brown), 3 to 4 min. Using spatula, carefully transfer fish to a large plate, raw side down.
Add leeks, mustard and ½ tsp. salt to skillet to cook, stirring frequently until leeks begin to soften, 2-4 minutes. Add wine and bring to gentle simmer. Place fish, raw side down, on top of leeks. Cover skillet and cook, adjusting heat to maintain gentle simmer, until fish registers 135 to 140 degrees, 10-14 min. Remove skillet from heat and, using 2 spatulas, transfer fish and leeks to serving platter or individual plates. Tent loosely with aluminum foil.
Return skillet to high heat and simmer briskly until sauce is thickened, 2-3 minutes. Remove pan from heat, stir in lemon juice, and season with salt and pepper to taste. Spoon sauce over fish and sprinkle with parsley. Serve immediately.
 *Adapted from Cook's Illustrated
**Choose a firm fish.  A delicate fish like cod will fall apart with this application.
BEET MATCHSTICK SALAD WITH LEMON AND PICKLED SHALLOTS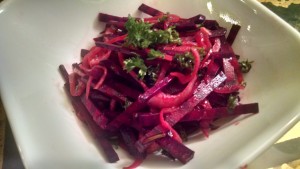 Serves: 4
 Ingredients:
Shallots:
2/3 cup water
1/3 cup cider vinegar
2 T. sugar
1 tsp. maple syrup
½ tsp. black peppercorns
½ tsp. whole allspice
3 whole cloves
2 bay leaves
5 oz. shallots, peeled and sliced into very thin rings
Salad:
1 lb. beets, peeled
1 T. grated lemon rind
2 T. fresh lemon juice
1 T. extra-virgin olive oil
½ cup coarsely chopped fresh flat-leaf parsley
Procedure:
To prepare shallots, combine first 8 ingredients in a saucepan; bring to a boil. Pour the hot mixture over shallots; cool to room temperature. Cover, refrigerate 6 hours or overnight. Drain; discard spices.
To prepare salad, cut beets crosswise into 1-inch disks. Cut into uniform matchsticks.
Combine rind, juice and oil in a large bowl, stirring with a whisk. Add ½ cup drained shallots (reserve remaining shallots for another use), beets and parsley; toss gently to coat. Sprinkle with salt.
 *Adapted from Cooking Light
CREAMY CAULIFLOWER SOUP
 Serves: 4
 Ingredients:
 1 head cauliflower
1 T. olive oil
3 T. unsalted butter, cut in to pieces
1 leek, white and light green parts only, halved lengthwise, sliced thin, and washed thoroughly (please note, if leeks aren't in season, just use 2 medium sized onions and a small dice shallot instead)
1 small onion, halved and sliced thin
Salt and pepper
4 ½ to 5 cups vegetable stock
½ tsp. sweet sherry
3 T. minced fresh chives
 Procedure:
Pull off outer leaves of cauliflower and trip stem. Using a paring knife, cut around core to remove; thinly slice core and reserve. Cut heaping 1 cup of ½ inch florets from head of cauliflower, set aside. Cut remaining cauliflower crosswise into ½ inch thick slices.
Melt 1 T. butter with olive oil over medium heat. Add leek, onion and 1 ½ tsp. salt; cook, stirring frequently, until leek and onion are softened but now browned, about 7 minutes.
Increase heat to medium-high; add vegetable stock, sliced core and half of sliced cauliflower; and bring to simmer. Reduce heat to medium-low and simmer gently for 15 minutes. Add remaining sliced cauliflower, return to simmer, and continue to cook until cauliflower is tender and crumbles easily, 15 to 20 minutes longer.
While soup simmer, melt remaining 2 T. of butter in 8 " skillet over medium heat. Add reserved florets and cook, stirring frequently, until florets are golden brown and butter is browned and imparts nutty aroma, 6-8 minutes. Remove skillet from heat and use a slotted spoon to transfer florets to a small bowl. Pour browned butter in skillet into small bowl and reserve for garnishing.
Process soup in blender until smooth, about 45 seconds. Rinse out pan. Rinse out pan. Return pureed soup to pan and return to simmer over medium heat, adjusting consisting with vegetable stock as needed (soup should have a thick, velvety texture but should be thin enough to settle with flat service after being stirred) and seasoning with salt to taste. Serve, garnishing individual bowls with browned florets, drizzle of browned butter, and chives and seasoning with pepper to taste.
 *Recipe adapted from Cook's Illustrated
Nutrition Info per serving: 208 calories/20.5g carbs./12.3g fat/7 g. protein
ROASTED SHRIMP WITH SAUTEED BALSAMIC BLACK BEANS AND FETA
 Serves: 4
 Ingredients:
2 T. plus 4 tsp. extra virgin olive oil, divided
3 T. fresh lemon juice, divided
¼ tsp. kosher salt, divided
1 lb. peeled and deveined large shrimp
1 cup finely chopped red onion
1 (15 oz.) can black beans, rinsed and drained
¼ cup unsalted chicken stock
1 tsp. finely grated lemon rind
4 tsp. balsamic vinegar
½ tsp. Dijon
¼ tsp. freshly ground black pepper
¼ cup chopped fresh cilantro
1 oz. feta cheese, crumbled (about ¼ cup)
 Preparation:
Preheat oven to 450 degrees.
Combine 2 tsp. oil, 1 T. lemon juice and 1/8 tsp. salt in a dish. Add shrimp; toss to coat. Set aside.
Heat 2 tsp. oil in a nonstick skillet over medium heat. Add onion; sauté 2 minutes. Stir in beans, stock and remaining 1/8 tsp. salt. Cook 3 minutes.
Arrange shrimp on baking sheet; roast at 450 degrees for 4 minutes.
Combine remaining tablespoons oil, remaining 2 T. lemon juice, rind, vinegar, mustard, and black pepper in a bowl. Pour half of oil mixture over beans; toss. Divide among plates. Put shrimp in circular pattern. Sprinkle feta and cilantro in the middle of the circular pattern. Top with remaining of oil mixture.
 *Recipe adapted from Cooking Light