This trio of cold-water fish packs a mighty anti-inflammation and brain-power punch to your diet because they contain the superfood gold-standard of Omega 3 fatty acids, EPA/DHA.  Two simple picture metaphors can help you understand their importance:
EPA/DHA acts as a fire extinguisher for chronic inflammation in your body.  Remember that chronic diseases like heart disease, cancer, Alzheimer's and Type II diabetes all start with inflammation. 
EPA/DHA supports the "spark" that allows your brain to more effectively communicate to other brain cells from the time we are in our mother's womb to old age.
For a more in-depth discussion of the countless number of health reasons to make these fish major players in your diets see  "CYH with EPA/DHA."  
To obtain these health benefits, I highly recommend always purchasing the wild caught vs. the farm-raised version of these fish.  Below you can see the stark difference between the two types of salmon:
This saying will serve you well the next time you are at the grocery store when purchasing any type of meat, "You Are What You Eat, Eats."  You see, you are defeating the anti-inflammation and brain-saving purpose of consuming these fish if you opt for the farm-raised version, the primary food source being Omega 6 fatty acids, i.e. corn, sunflower and soybean which are pro-inflammatory.  The wild-caught variety, using salmon as an example, eat their natural food source of red algae (which causes them to accumulate the antioxidant astaxanthin, producing that reddish color) thus maximizing the amount of those Omega 3s, specifically EPA/DHA, the anti-inflammatory gold-standard of SUPERFOODS. 
The real perk, once you try these recipes, is knowing you are feasting on food that is incredibly healthy AND delicious!
I picked four very different entrees for four diverse palates/seasons:
1. SPRING KIMCHI SALAD WITH TARRAGON VINAIGRETTE- If you haven't tried sardines OR have horrible childhood memories of this fish, consider this a re-introduction to this delightful fish.  By combining crunchy, bright colored vegetables and a tart herby dressing with the soft texture of sardines and hard boiled eggs, the finishing eye appeal and mouthfeel leave you feeling pleasantly satiated and full of energy.  Spring/summer and this dish go together, hand in hand.   
2. SMASHED BACONY SWEET POTATOES WITH KALE AND ROASTED SALMON-I truly am not the "food police."  This entree includes the equivalent of 1/2 strip of bacon and 1 tablespoon of 1/2 and 1/2 (always go for the grass-fed version of cream if you can, it has more of those Omega 3s), yet it truly still retains the title of a "healthy" entree.  The nutrition powerhouses of salmon, kale, shallots and sweet potatoes along with the finish of a minimum amount of bacon, cream and crispy salmon skin, make this dish a candidate entree for a date night at home.  It's that good!
3. GRILLED SALMON WITH MELTED TOMATOES-This dish is for those of you a little on the wild side of spicy.  It is not over-the-top spicy, but I would put it in the category of medium to hot heat level.  This dish really sings if you have jalapeños and tomatoes in your garden that really need to be picked, the ripe tomato essence underlies the entire dish.  Put that salmon on the grill to finish and you have winner!
4. SLOW BAKED SALMON WITH PRESERVED TOMATO SAUCE AND CHEESY POLENTA- I would recommend this dish to a first time salmon eater OR a reintroduction to a family member that just doesn't like the taste of this fish.  It has that creamy umami mouthfeel from the cheesy polenta that is the bottom layer.  The middle layer of preserved tomato sauce gets a depth of flavor boost from 10 cloves of garlic, fire-roasted tomatoes, onions and olive oil, then left to simmer on the stove to condense those flavors.  Finally, the star of our show on top, salmon, which has been slowly cooked on a bed of herbs and topped with herb butter  (the grass-fed version of butter will give you more of those inflammation quenching Omega 3s, quality saturated fats and CLA, an Omega 6 fat that is anti-inflammatory, having cancer and heart disease fighting qualities) .  I'm sorry, this truly screams COMFORT FOOD! 
SPRING KIMCHI SALAD WITH TARRAGON VINAIGRETTE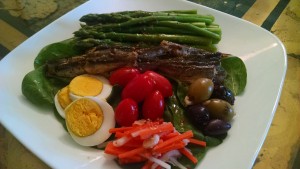 Serves: 1
 Ingredients:
1 T. red-wine vinegar
1 T. extra-virgin olive oil
½ tsp. whole-grain mustard
pinch of dried tarragon, salt and pepper
1 clove garlic, crushed
1 dash of honey
½ bunch asparagus, tough ends trimmed
1 large hard-boiled egg
2 cups of spinach
5 cherry tomatoes
1 4-ounce can of sardines, drained (water packed)
6 olives
**¼ cup Carrot Kimchi (optional)
Procedure:
Whisk vinegar, oil, mustard, tarragon, salt, pepper and dash of honey in a small bowl. Add garlic and set aside.
Bring 1 inch of water to a boil in a medium skillet. Add asparagus, stirring to submerge if necessary, and cook until bright green and crisp-tender, about 3 minutes. Drain and shock the asparagus by putting it into a bowl of ice water.
Peel and slice egg.   Place spinach on plate. Set out sliced egg, carrot kimchi, cherry tomatoes, sardine and olives in separate sections on spinach.   Remove garlic from vinaigrette. Drizzle vinaigrette over the salad.
 * Recipe adapted from Eating Well
**Kimchi recipe is available on "Superfood Recipes-Gut Health Foods"
SMASHED BACONY SWEET POTATOES WITH KALE AND 
ROASTED SALMON
Serves: 4
Ingredients:
12 oz. sweet potatoes
1 tsp. sherry
¾ tsp. kosher salt
2 smoked bacon slices, thinly sliced crosswise into matchstick pieces
½ cup finely chopped shallots
1 T. olive oil, divided
5 cups packed coarsely chopped kale, large stems removed
½ cup unsalted chicken stock, divided
1 tsp. finely chopped fresh rosemary
½ tsp. freshly ground black pepper, divided
4 (6 ounce) skin-on salmon fillets
¼ cup half and half
4 fresh flat-leaf parsley sprigs
Preparation:
Preheat oven to 425 degrees.
Place potatoes in a large saucepan; cover with cool water to 2 inches above potatoes. Bring to a boil. Reduce heat and simmer 20 minutes or until almost tender; drain. Place potatoes on a work surface, and crush each with a thick, sturdy glass; you want the potatoes broken open but still fairly intact. Sprinkle with vinegar and 1/8 tsp salt.
Heat a large heavy skillet over medium heat. Add bacon; cook 3 minutes or until almost crisp. Add shallots to pan; cook 2 to 3 minutes or until bacon is crisp and shallots are browned, stirring occasionally. Remove bacon and shallots from pan with a slotted spoon, reserving any drippings. Add 2 tsp. oil to drippings to pan. Increase heat to medium-high. Add potatoes in an even layer; cook 2 minutes or until potatoes begin to lightly brown on bottom. Add kale, ¼ cup stock, and rosemary. Reduce heat to medium. Cover and cook 2 minutes or until kale is almost tender (you want it still chewy). Uncover and drizzle with remaining ¼ cup stock if too dry; it should be a bit moist. Stir in reserved bacon mixture, ¼ tsp. salt and ¼ tsp. pepper. Keep warm.
Sprinkle tops of salmon fillets with remaining 3/8 tsp. salt and remaining ¼ tsp. pepper. Heat a large cast-iron skillet over medium-high heat until a drop of water evaporates quickly when dropped on it.
Add remaining 1 tsp. oil to pan; swirl to coat. Add salmon fillets, skin side down; cook, without turning, for 3 minutes. Place pan in oven (salmon should still be skin side dow); cook 7 minutes or until a thermometer registers 130 degrees and salmon is still medium-rare within.
Just before serving, add half-and-half to potato mixture; stir gently just to incorporate. Immediately place 1 cup potato mixture on each of 4 plates; top each serving with 1 salmon fillet, skin side up.  
 *Recipe adapted from Cooking Light
GRILLED SALMON WITH MELTED TOMATOES
 Serves: 4
 Ingredients:
3 T. olive oil, plus more for rubbing
5 jalapenos, thinly sliced crosswise and seeded
2 lbs. ripe beefsteak tomatoes, cored and coarsely chopped
Salt
1 lb. wild-caught salmon filet
Freshly ground pepper
Preparation:
In a large, deep skillet, heat the 3 T. of olive oil. Add the jalapenos in an even layer and cook over moderately low heat, without stirring, until softened, about 6 minutes. Using a slotted spoon, transfer the jalapenos to a plate.
Add the chopped tomatoes to the skillet and cook over high heat until they release their juices, about 4 minutes. Using slotted spoon, transfer the tomatoes to a large bowl. Boil the tomato juices over high heat until thickened, about 8 minutes, adding my accumulated juices from the bowl. Return the tomatoes to the skillet and season with salt.
Meanwhile, light a grill. Spread out a double layer of heavy-duty aluminum foil that's 12 inches longer than the salmon fillet. Set the salmon in the center of the foil, skin side up, and rub it with olive oil. Using the short ends of the foil as handles, carefully set the salmon on the grill. Cook over moderate heat for 6 minutes.
Transfer the salmon to a work surface. Carefully flip the salmon fillet onto a fresh double layer of foil so it is skin side down. Season with salt and pepper. Return the salmon to the grill and cook over low heat until the salmon is just opaque throughout, abou 10 minutes longer.
Spoon the tomatoes and their juices onto a long serving platter.   Using 2 long spatulas, carefully slide the salmon filet onto the tomatoes, leaving the skin behind, if desired. Top the salmon with jalapenos and serve.  
*Recipe adapted from Huffpost Taste
SLOW BAKED SALMON WITH PRESERVED TOMATO SAUCE AND CHEESY POLENTA
SLOW BAKED SALMON WITH HERB BUTTER:
Serves: 4
 Ingredients:
 1 T. olive oil
**½ cup prepared herb butter
1 -1 ½ lbs. salmon fillet (cut into 4 to 6 oz. pieces)
4 rosemary, thyme or sage sprigs
Salt to taste
Fresh ground pepper to taste
 Procedure:
Remove herb butter from the fridge and soften or leave out if prepared fresh.
Brush baking dish with olive oil and lay the herb sprigs in bottom.
Preheat oven to 425 degrees F.
Season salmon fillets with salt and pepper.
Lay the salmon skin side down on top of herbs.
Rub with herb butter and place in the oven for 7-10 minutes depending on size of fillets.
Remove when flesh is still slightly pink or cook to you liking.
Spoon herb butter over fillet and serve.
*Recipe from Chef Craig Cyr
** Herb butter is made ahead of meal preparation time. Herb butter ingredients: 1/2 cup grass-fed butter with 1 tsp. each of chopped fresh rosemary, thyme and garlic.  Combine all ingredients and let it set up in the fridge.
PRESERVED TOMATO SAUCE
 Ingredients:
1 qt. (4 cup/2 15 oz. cans) fire-roasted tomatoes
10 large cloves of garlic (smashed and coarsely chopped)
1 large yellow onion
½ cup olive oil
1 cup chopped parsley
Honey (just a touch)
 Directions:
Heat oil in a heavy bottom sauce pan.
Add onion until slightly tender then add garlic until it sizzles.
Add tomatoes.
Simmer from 15-30 minutes.
Add parsley the last five minutes of cooking.
Put in blender and blend to smooth sauce.
Season to taste with salt and pepper. Add a touch of honey to offset the acidity of the tomatoes.
*Recipe adapted from Chef Craig Cyr
 CREAMY POLENTA
 Serves: 4
 Ingredients:
½ cup yellow onion
1 cup corn meal
1 tsp. salt.
¾ cup parmesan cheese
¼ cup olive oil
4 cups vegetable stock
 Procedure:
Saute onion in a heavy bottom sauce pan in 1 T. olive oil.
Add vegetable stock.
Once boiling, whisk in corn meal and season with salt.
Reduce heat and stir constantly until polenta is suspended in vegetable stock and no long settles at the bottom of the pan.
Cook at a bare simmer, stirring frequently for 1 hour. If polenta get too thick, add more vegetable stock.
Polenta should be a pourable, creamy consistency.
Use extreme caution when stirring and tasting polenta. It is extremely hot.
Fold in cheese and remaining olive oil and season to taste.
 *Recipe from Chef Craig Cyr
 Assembly-For Each Serving
     1. Put a dollop of creamy polenta on bottom.
     2. Ladle a small serving of preserved tomato sauce on top of polenta.
      3.Place a serving of salmon on top of the tomato sauce.