This last weekend was the beginning of firearms deer hunting in Missouri. Randy was inspired to put up our flags for this occasion!
 So I just took a break from the usual business of life to ponder a question that I've never really received an answer to:
WHAT IS IT ABOUT DEER CAMP THAT IS SO CAPTIVITING THAT HUNTERS CAN'T WAIT FOR A REPEAT OF THE EXPERIENCE EVERY YEAR?
The reason this question vexes me is this: Why would anyone spend their free time losing sleep to get up at the crack of dawn, taking a special shower to eliminate all human smell, dress in layers of camouflage clothing, and really looking very similar to a tree when you're all geared up:
Then spraying yourself with more human elimination smell, climbing into a stand that is typically 20+ feet above ground, (hanging by a flimsy nylon strap), more times than not absolutely freezing your tail off, and if the need arises, peeing in a bottle (to not let off any of that wretched human scent), just for the chance of  bagging the "BIG ONE"?
 And just to give you an idea how popular for businesses this period of time is: In our little town of Memphis (and all the surrounding areas), the deer camp/hunting holiday is one of the major (if not THE major) sources of income for businesses and farmers alike because of the big bucks in our area.  Debi Boughton of the Kirksville Tourism Department was recently quoted in the Kirksville Daily Express, after talking to a business manager in the area about the popularity of the deer camp holiday, "At one point, the manager at Walmart had told me they sell more things this week (start of firearms hunting season) than the week before Christmas!"
Then I thought back decades ago, when our children were young and how Randy absolutely couldn't wait for this date on the calendar to arrive, when he'd then leave for a long weekend to enjoy it.
When our kids were a little older, when Randy would leave for hunting with his friends, my daughters remembered me taking them shopping and getting a manicure and pedicure, sort of our version of a gal's deer camp.
Our oldest daughter Shannon caught the deer fever when she was a little older.  Shannon experienced some serious time with her Dad in the deer stand and this precious pic reflects a fruitful hunt:
Then another layer of deer hunting emerged in our lives when we bought a farm: deer hunting preparation.  Deer hunting and wildlife preservation in general then took on a new level of understanding when the entire year's dates for planting food plants, executing timber stand improvement and doing prescribed burns were put on the calendar to further improve the wildlife scene on our farm. The applied biology really lit Randy's fire-hisbachelor's degree is in guess what: Biology!
This is a picture taken five years ago on the first day of firearms hunting, that I subsequently posted on Facebook of two of my husbands' best friends.  Both men are conservation wildlife biologists that yearly guide habitat improvement on our farm and hunt with Randy, Ted Sieler and Jeff Demand, officially though, the three of them are "THE THREE MUSKEDEERS":  
I did ask Randy today, what is really the crux of your love (and I'm sure many deer hunter's love) for deer camp? And this is his direct quote:
"Deer camp is almost better than Christmas, because it's like a wonderland.  You eat, sleep and play (with 3 of the 4 male primal instincts realized) continuously.  A symphony of outdoor hedonism…".
My son-in-law Tracy Trabue pointed out (when he's with the guys hunting) it's the perfect marrying of being out in the elements coupled with letting your own personal wind sounds punctuate the surroundings at will AND not having to worry about the toilet seat being up continuously!
Okay, now I think I'm getting the picture. Deer camp represents no rules, just rustic, earthy fun with a heaping dose of camaraderie. Add to that the bonding that takes place by talking about how the big one got away, OR, maybe how you did get that buck that crossed your path…and when you do, despite the whooping and hollering at some point, Randy reminds that approaching the majestic, fallen animal is always a solemn moment.  He describes it as a bond with nature that's deep and lasting.
Take last week's catch.
Last week was actually our first week at "deer camp" at our farm because my husband really enjoys the match between deer and man when man only has a bow.  This deer camp experience was just Randy and me.  Randy was the Great White Deer Hunter, and I was happy to stay in the cabin and cook.  For me, cooking creatively is when I'm in MY happy place! 
So when Randy took off with a crossbow (he struggled with shoulder pain that made the compound bow second choice this season):
He sent me a Google maps spot of where he was hunting, just in case he needed help. 
I'm really glad he's doing that because he typically doesn't come in till hours after dark and I get really worried!
Well, he did get a buck with a bow just as it was getting dark!  And since I happened to be the only other member in deer camp, he came back to the cabin and drafted me to help him load up the deer from the field! To do that, I'd have to drive a separate ATV to get there, which didn't excite me too much because I haven't driven one for more than a decade!  However, in the end, it was a fun adventure!   After driving through the fields in total darkness and getting to the outer edge of the forest, where the deer lay, I took some pics:
 and helped him load up the deer:
 And our  dear (and deer) friend, conservation wildlife biologist Ted, made a trip to help Randy hang the deer:
 He told me later how he was so excited to get his first buck in three years with his bow! 
Okay, so here's what I contributed (and continue to contribute) to deer camp and some corrections I had to make along with way.  I'm the lead (and only) deer camp cook. I wanted to add great tasting food to the experience BUT with the caveat that I wanted to stay on the healthy side of tasty.
One of those corrections, though, I learned just recently.  Randy and I were heading out to deer camp this past Friday. Randy already was in deer camp mode because he was off work that day.  I made both of us a healthy protein shake in the morning so we could get out the door.  He did mention that he would have rather eaten a large hungry-man's breakfast at a diner on the way to our farm, but he still very graciously drank the shake.  So on the way to our farm he just happened to stop by the local gas station to purchase this:
 So, I FINALLY surmised, the one basic rule of deer camp that MUST be followed for hunters to attain deer camp happiness:
FOUNDATIONAL DEER CAMP RULE; TIME TO BREAK SOME RULES!!!
BUT, we also all know what happens when we get totally off the tracks with our health and just our general well-being by eating and drinking everything in sight, for even a short specified period. We feel awful! Add to that the fact that this period of time is right before the holidays, making it an additional danger zone for losing total control of your will power.  What we can do is exert power over those primal deer camp urges BUT still follow the Foundational Deer Camp Rule:
A. Guidelines for A Healthy"ish" Deer Camp
1. Have a general meal plan for the largest meal of the day-This is the type of notes I put on the Notes app on my phone to set my meal plans out:
And it's really true, if you tell your meal plans for the largest meal of the day to your deer campers, I really think they, and you as the cook, are more likely to not go totally crazy with all of the snacks, as long as you serve it not too long after they've come in from a hard day in the deer stand, that is!!
 2. Make healthy ingredient swaps/or reductions that your deer campers won't miss- I really enjoy transforming a traditional recipe that doesn't typically have a "healthy" label on it into a tasty but definitely more prudent choice.
Sometimes though, it's not a recipe transformation but just little ingredient or reductions tweaks, like this breakfast of Peach French Toast and Sausage (Nutrition info: 390 cal./50.9 grams carbs./9.8 grams fat/25.7 grams protein):
 By adding a peach to the topping for the French toast, you've eliminated the needed for extra butter or syrup.  Yes you can still add more syrup or butter, but the flavor is really there by just adding a minimal amount fat in the preparation and the sweetness is already there with the peach, so just a small amount of maple syrup is needed (1 tablespoon). 
FYI, the chicken sausage that was added to this dish is just ½ the amount of fat and calories of the traditional pork link sausage:   
This is a main day meal dish I served for deer camp, I call it Deer Swiss Burger w/Butternut Squash Fries, served with Smoked Red Pepper Dipping Sauce (Nutrition Per Serving: 713 cal./46.10 grams carbs./37.4 grams fat/52.8 grams protein)-See below for recipe: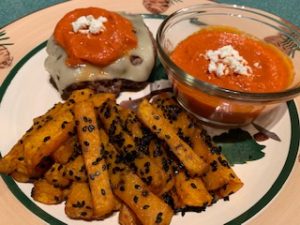 This big portion of meat for those hungry deer stand climbers satisfied my hunter, that's 7 ounces of meat!  The protein content is what's key for feeling full, minimizing those extra snacks after dinner! The swiss cheese on top is the reduced fat variety, but you really can't tell the difference! Compare that nutrition content to a regular cheeseburger and fries at a fast food joint, this is Showmar's:
You can see the protein content (and the burger) is not as high as my Deer Swiss Burger but the fat content is significantly higher!!   My deer burger also doesn't have a bun but the  dipping sauce makes it more of a meal experience!  In fact, the smoked red pepper dipping sauce is a health bonus! It not only tastes amazing, acting as catsup for your fries, but it's a real health boost because the base of it are the star vegetables shallots and garlic (known for their anti-inflammatory and antioxidant properties) and red peppers (a real vitamin A, C and antioxidant boost)!  No high-fructose corn syrup here!
3. Have decadent snacks and healthier choices available and plan specific spurge meals- Yes, we had donuts, chips, hard cheese, salami and other assorted decadent snacks, but we also had grape tomatoes, cantaloupe, grapes, apples, pomegranates, shelled peanuts and pistachios too!
And as you can see from this pic, we shared a hungry man's breakfast, including those donuts I mentioned:
 This would qualify as our splurge meal.  We eat heartily at all of the deer camp meals, however we just choose to really splurge a couple of those meals every deer camp weekend.
This is another pic of a hearty deer camp meal, but I did a healthier version of  Mac N Cheese.  I decreased the fat (minimal butter coupled with full fat and low fat cheese) and amped up the protein (with chickpea pasta), but still, it was a very satisfying dish called Miso Cauliflower Mac N Cheese (Nutrition per serving 697 cal./78.6 grams carbs./26.8 grams fat/45.3 grams protein)!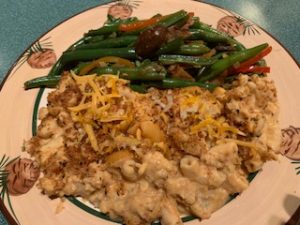 BUT, do you know what the best part of deer camp is, by far?  Yes, it's partly my feeling good about feeding my deer camper (and me) healthy"ish" foods during deer camp, so we can attack the new week with increased energy from a re-charged weekend, but….
The underlying best part of deer camp for me was spending quality time with the guy I married, having those occasional outdoor adventures and now storing those memories safely away until our next weekend together at deer camp…    
 Recap of: The Deer Camp Experience With Just A Sprinkle Of Health:
 I. FOUNDATIONAL DEER CAMP RULE-TIME TO BREAK SOME RULES!!!
 A. Guidelines for A Healthy"ish" Deer Camp
 1. Have a general meal plan for the largest meal of the day.
 2. Make healthy ingredient swaps/or reductions that your deer campers won't miss.
 3. Have decadent snacks and healthier choices available and plan specific spurge meals.
 Here's the recipe I promised you!  I substituted butternut squash fries for traditional potato fries.  You can guess both the carb and calorie count of white potato vs. butternut squash is halved! But add to that the fact these fries are baked, not fried!  I served it with a 7 oz. deer burger with reduced fat swiss cheese melted on top.  The crowning glory of this recipe though is the smoked red pepper dipping sauce. And as I mentioned above, it's an actual health bonus! It not only tastes remarkable, acting as "catsup" (only much better) for your fries, but the base is made of natural anti-inflammatories (shallots & garlic) plus a Vitamin A & C (great for skin health and free-radical slaying) boost of red peppers! Time to say good-bye to that traditional high-fructose side-kick- catsup!!
 SWISS DEER BURGER SERVED WITH
ROASTED BUTTERNUT SQUASH FRIES
WITH
SMOKED RED PEPPER DIP
Servings for Deer Burger:2
Ingredients for Burgers:
14 oz. ground deer meat
Meat seasoning of choice (I use Montreal Seasoning)
1 T. A-1 Sauce
1 T. Smoked paprika
1 oz. reduced-fat swiss cheese slices
Procedure:
1. Preheat oven to 375 degrees F.
1.Mix burgers with seasoning
2.Heat frying pan, when heated, sear meat on both
sides.
3. Place burger in oven.  When it's reached the doneness you desire
turn off oven heat and place swiss cheese slices on burgers until melted.
Nutrition Info per serving: 328 calories/1 grams carb./13.6 grams fat/46.8 grams protein
Servings for Roasted Butternut Squash Fries: 2
 Ingredients for Fries:
1 Butternut squash- using 518 grams (or 1 lb. 2.27 oz.) for fries
2 T. Extra Virgin Olive Oil
2 T. Sesame Seeds (I use black ones for pizzazz but that's up to you!)
Salt & Pepper or Salt seasoning of choice
Procedure
1. Preheat oven to 425 degrees F.
2. Microwave entire squash for 2 minutes (this makes the peeling process easier).
3. Cut off the top and bottom of the squash, then peel outer layer. Cut right above the bulbous end of the squash and scoop out the seeds. This is the part of the squash I froze and reserved for a later use (I'm planning on making butternut squash soup!), so I cut it into cubes.
4. Cut the neck of the squash into ½ inch thick slices. Then cut those slices into ½ inch thick pieces for your "fries".
5. After measuring what you need for the servings you want, take those fries and put them in a bowl, pouring in the olive oil, sesame seeds and salt seasoning of choice.Thoroughly coat the fries.
6. Line a cookie pan with parchment paper, then uniformly set the fries on it.
7. Roast the fries for 12 minutes on one side, then turn them over and 12 minutes on the next side. This is where you call the shots for crispness.  If you want to keep them in the oven for a little longer for enhanced crispness, go for it!
Nutrition Info Per serving: 282 calories/19.1 grams fat/32.1 grams carbohydrates/5 grams protein
Servings for Smoked Red Pepper Dip: 3 (I used an entire jar of roasted red peppers and portioned it into three servings)
 Ingredients for Smoked Red Pepper Dip:
1 (15 oz.) jar Roasted Red Bell Pepper (I used Mezzetta that I found at Walmart)
3-4 shallots (100 grams)
1 T. Extra Virgin Olive oil
2 T. minced roasted garlic
2 t. smoked paprika
1 T. reduced balsamic vinegar
Procedure:
1. Heat sauté pan on stovetop at medium heat. When pan is heated up, add olive oil, then sauté shallots until translucent.Add garlic and sauté until fragrant.
2.Drain the roasted red peppers and pour them into the blender. Add the shallot mixture and all other ingredients, puree until smooth. Portion out servings.
 Nutrition Info per serving:103 calories/ 4.8 grams fat/13.9 grams carbohydrates/1.3 grams protein
 Nutrition Info per serving of Swiss Deer Burger Served With Roasted Butternut Squash Fries and Smoked Red Pepper Dipping Sauce: 713 cal./46.01 grams. carbohydrates/ 37.4 grams fat/ 46.8 grams protein