We have some old Bugs Bunny framed animation cels in our house that I happened to pass recently. This is Warner Brother's parody of the Tortoise and The Hare Race:

 You know the story: the hare kept bragging about how fast he was so the tortoise finally had enough of his bravado and challenged him to a race.  The hare continued with his hubris after starting the race and stops to take a nap. The tortoise, while tirelessly slogging along to finish, is heard chanting "slow but steady wins the race". The tortoise ends up winning the race just as the hare wakes up and joins the race again:
And then it hit me! We can learn a lot about our daily health walk from that treasured Aesop's fable race!  But first, let me setup a little background… 
This has been one doozie of a year, with many circumstances beyond our control. There is, however, one aspect of life we all can personally take charge of: our long-term health.  Think about your daily "at will" choices: we have total control of the food and drink we consume, the movement we provide our bodies, our reaction to life's stresses and the daily allotment of sleep our body craves.  Here's our granddaughter Evie catching a couple of restorative zzzzz's on our recent vacation:
 I truly believe we can take this opportunity of time we all have been gifted, with still lingering quarantines, social distancing and travel restrictions, to really take stock of the quality of those 'at liberty' health choices we make everyday and tweak them to fit into our goal of living a long-term, vibrant life. 
Please understand, I know we all come to the table with different genetic pre-dispositions for disease coupled with physiological and/or mental limitations. I've shared with you before that both of my very flat feet have been reconstructed so I can no longer run as I did in my youth and my balance has been compromised with those surgeries. So we all have to modify what we CAN do based on what our physical/mental capabilities are, for me now, it's walking instead of running for movement. 
We also have different careers and responsibilities, be it in a structured environment, like one of my work warriors, my hubby Randy:
 Or our son Sean, who can work in any location he chooses:
Or maybe you're like me, working at home and volunteering in your community in a myriad of ways. This is a pic of me handing out free kettlecorn in celebration of our local hospital's 50thanniversary last week: 
I get that. I'm just challenging you, as I continually challenge myself, to improve the daily health choices you CAN make, all with the goal of living a purposeful life while you're still a member of the living, by playing the best hand of genetic cards you've been dealt.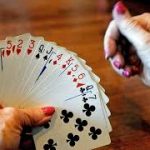 AND, balancing that with the time allotment you have based on all the other responsibilities of life you've taken on.
 So let's get back to that race between the tortoise and hare when thinking about your long-term healthy lifestyle choices.  What category do you fall into? Are you more of a hare, that only wants results on the scale ASAP, without real behavior changes?  Are you still regularly overdoing it and then restricting yourself  to "balance the scales" favorably?
That was actually me at one time.   
This is a pic of Randy and I with our kids in Destin decades ago:
Those were the days that I would try to out exercise my overindulgence of food and drink, especially during a vacation.  I would typically run 5+ miles on the beach and swim in the ocean just to burn off calories. And it somewhat worked, or so I thought.  I came back a little heavier than when I left but I remedied that with a fast and amped up exercise to lose the weight.
I typically felt physically and mentally miserable by the last few days of the trip because I was going way past enjoying some treat foods, actually eating almost non-stop, like there was no tomorrow.
But we both know, that's no way to live your life for your physical or mental health.
What I'm inviting you to think about are three soul searching questions I believe you need to ask yourself about your current state of being…healthy or not, all within the framework of your long-term health, getting a peek at your potential robustness and vigor in your older "you"!
I. Do you enjoy and can you sustain the current lifestyle program you are living now?
II. Do you listen to your own body's cues?
III. What is your foundational reason for staying on your current health track?
 I.Do you enjoy and can you sustain the current lifestyle program you are living now?
For the first time in my life, after being on a lifestyle program since 2017, which allows me to eat a healthy balance of all the macronutrients: fat, protein and carbohydrates in portioned amounts with a steady amount of weekly cardio and resistance training along with needed behavior modifications, I can say YES! I shared this program with you in 2018 (See Time To Think About A New You?) that my daughter Sammi started (see SammiGregoryFitness). 
I've maintained my weight and fat loss, fitting into clothes I haven't worn in decades.
This didn't happen magically.  I had just come to that point in my life when I was sick and tired of overdoing food and drink all weekend (weekends are MY weak points) and then trying to make up for it by semi-starving myself the entire week, only to repeat the cycle over and over, year after year.  What Sammi's program offered was not only the balance of macros, but a much needed accountability of all the portion sizes that I was frankly not paying attention to.  Now, I weigh portions and know exactly what I'm eating.  So even though extra virgin olive oil is absolutely one of the best fats you can consume daily, you will all agree, consuming major amounts of it (as I did, with healthy kale no less!), with no thought of portion size, is a recipe for girth increasing disaster!
 But this is not about one particular lifestyle program that fits all, because we all are very different in our likes, ways, time allotments and wants. What I needed was structure, but maybe that's not your thing.
What I do want you to think about is a healthy lifestyle that has stood the test of time for ages, including centenarians highlighted in National Geographic's book The Blue Zones by Dan Buettner.  This book highlighted 5 destinations around the world that had the highest concentrations of 100 year olds and the commonalities that got them there.
 And they all pretty much followed the Mediterranean lifestyle: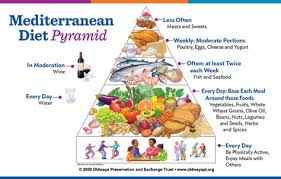 Note movement and socialization is the base of the pyramid, with a plethora of fruits, veggies and whole grains being the next emphasis. The next rung up is plenty of fish and seafood, followed by poultry and dairy and finally smaller portions of red meat and sweets.  You'll notice water is at the same level of high consumption as fruits and veggies and wine is thrown in there in smaller daily amounts.
I'm not going to disparage other diets with their nutrition profiles that totally focus on one particular macronutrient as the basis for their program.  I will say, from my experience, when you give too much emphasis on one macro, i.e. protein in the Paleo diet (which I have followed in the past), your body ends up craving what it never gets, making it really tough to sustain the weight/fat loss and the program in the long run. 
What I am going to invite you to do, if you are looking for a more sustainable program for the future "you", is to try a more balanced lifestyle, like the Mediterranean diet, where the emphasis is whole fresh foods, healthy fats and decreased processed and sugary foods with a measure of portion control:
so you don't overdo even the categorically "healthy" foods, which I can attest to!  It's easy to do!
Get back to enjoying the foods you love AND that you can share with your loved one!
These are recent pics of the last two dinners I served at home, all macro friendly:
 Pan-Seared Sea Scallops With Coconut Butternut Squash Mash with Grilled Asparagus and Smoked Trout (Nutrition for Meal: 663 cal./37 g. carb./37 g. fat/49 g. protein)
Mozzarella Chicken With Swiss Chard Farro Salad (Nutrition for meal: 574 cal./31 g. carbs./29 g. fat/48 g. protein)
And a pic of our vacation meal, where Chef Randy did all of the tasty cuisine on the grill (please note the flower from our garden he added for garnish-love that man!):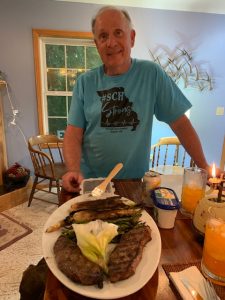 And PLEASE, enjoy exercise just for the sake of movement!
This is a pic of me and our kids on our recent trip to Gatlinburg,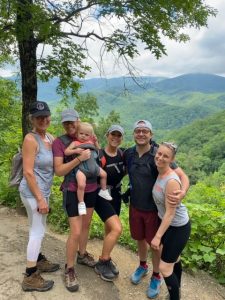 And Randy and I, planting grape vines at our farm:
Both were great fun!
And just enjoy life for the sake of enjoying it!
Here's a pic of Evie and her Mom (our sweet Shannon) feeding the ducks on vacation:
 And Evie getting her first look at a lobster with her Uncle Sean:
Tortoise Words of Wisdom:Slow  but steady behavior modifications for your health are more likely to last….
 II. Do you listen to your own body's cues?
There is nothing so liberating as watching a child go for the gusto with what they love, including corn on the cob! Here's Evie doing just that:
 But note when Evie is done or full, she stops, as do most children.  They haven't inherited the hangups yet (thankfully) about using food as a reward, boredom or stress reliever AND they actually are in tune with what their body is telling them.
Are you responding to your hunger cues correctly?  Here's some tips to quell those cues:
 1. Make sure you're hungry, not thirsty- Clinical studies support the fact that 37% of us aren't in tune with our hunger vs. thirst cues. We grab for food instead of water. And a 2016 study in Family Medicine showed a strong correlation between thirst and elevated BMI.
Here's how I start everyday. I totally fill up my gallon jug with water and just a squeeze of lemon.  As you can see, I almost have my allotment in for the day.
 Always grab the H20 over food when you first get those (you think) hunger pains for it works like a charm even if you're really hungry and it's time to eat because it works as an appetite slasher too! 
 2. Are you a volume eater? Bulk up your food choices with fiber if you're the hungry type and always have extra room in your tummy when everyone else is full. Go for the non-starchy veggies, they're your best bet! At the end of this blog is a terrific asparagus recipe that gives you that bulk (and it's a pro-biotic, a/k/a really good for your gut health!), but has all the flavor you could ever want in a veggie!
 3.Really listen to what your body is telling you.  Are you responding to an emotional cue or are you really hungry?-
We've all been there with responding to emotions with food, from happiness to sadness.  Just be mindful and listen to what your body is telling you, don't get caught up in the quagmire of emotions when it comes to grabbing more food than your cues are telling you. 
Here's an example of check you can do on yourself-
I remember being on vacation this last month with our kids and having all kinds of tasty taco preparations I don't usually have in front of me at the restaurant.  I was also extremely happy because I had all of our kids at the table at once (including our new daughter-in-law Alexis) and our grandchild.  I did a quick self-evaluation after completing 2 wonderful tacos; I asked myself how I would feel walking around the town the next 2 planned hours with the kids if I felt like a stuffed tick.  I declined the third taco because I was really already pleasantly satisfied, and took it home for leftovers!
 Tortoise Words of Wisdom-Just remember, slow but steady when you eat…… 
 III.  What is your foundational reason for staying on your current health track?  At a younger age, for me, it was all about how I looked for myself, family and the public at large. I didn't care if my feet and ankles really hurt when I would run all of those miles in my youth to middle age years, as long as I could eat the way I wanted and look the way I wanted, that was my shallow goal at the time.
I've graduated to more desirable goals now that age has matured my errant thinking.
I now want to be able to have the stamina to play on the floor with my grandchild Evie, and run after her and play games: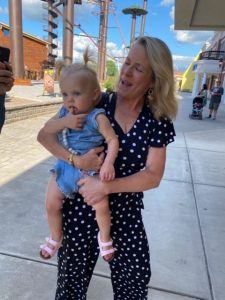 And go on hikes and be active with our young adult children:
However, my foundational motivation for remaining vibrant in my later years has changed. My greatest wish is to be of continued useful service to our Lord until the day I die. Note that there is but one reference to retirement in the Bible (Numbers 8:25).  God didn't create us to retire from His purposes just because of our age.  We might be doing a different job that's more appropriate for our age, but we are still all called to serve, as long as we physically and mentally can.  Ecc. 2:24 encourages us to take pleasure in what we're doing, and to enjoy life because it comes from God:
Ecclesiates 2:24-A man can do nothing better than to eat and drink and FIND SATISFACTION IN HIS WORK.  
That's because it's really good for us too!!
So how can we serve the Lord and in turn, everyone around us to the best of our abilities, even in old age? Actually, taking care of our personal health is OUR responsibility, not God's (remember our free will?). God heals us if we're sick, but body care is the least we can do in thanks for what God has given us!
1 Corinithians 10:31-Therefore, whether you eat or drink, or whatever you do, do all to the glory of God.
I've recently been reading The Power of a Praying Woman by Stormie Omartian.  She specifically speaks to the "why" of body care for furthering God's kingdom:
The motivation for what we do in the area of body care is very important.  It will affect how successful we are.  If we eat right and exercise merely to look great in clothes, it won't be enough to sustain us when we get older.  But if we eat right and engage in proper exercise for the purpose of being a more vital, healthy, energetic and useful servant of the Lord, this has eternal consequences and you are more likely to stick with it.
So I end by asking to you really re-think your current lifestyle and make some changes if you don't see it paying the big dividends of allowing you to be there for the future "you", with robustness and vibrancy, both mentally and physically, for your loved ones, friends, community, and most importantly, service to our Lord!
 Tortoise Words of Wisdom-"Slow but steady with your health walk, always wins the race!"
RECAP of The Tortoise and The Hare Race- Slow But Steady Can Win For Your Health Too!
 I. Do you enjoy and can you sustain the current lifestyle program you are living now?
II. Do you listen to your own body's cues?
III.  What is your foundational reason for staying on your current health track?
This is one of the simplest, yet flavorful recipes I've ever tried for asparagus!  Asparagus offers you that fiber you need to stave off your unrequited hunger and it's a terrific pro-biotic, feeding your gut bacteria just what it needs!  Let me know, if you happen to be a White Castle Fan if this doesn't take you back to the flavors of that iconic fast food joint, without all the added heartburn!
ASPARAGUS
WHITE CASTLE STYLE
 Serves: 4
 Ingredients:
Aluminum foil
1 lb. 4 oz. (20 oz.) Asparagus (1/2 inch thick at the base)
2 T. butter (cut in small pieces)
1 small onion, cut in small dice (60 g.)
4 garlic cloves, minced
1 tsp. salt
½ tsp. pepper
1 T. capers
2 tsp. lemon juice
2 T. chopped fresh herbs from the garden (optional)
Procedure:
Preheat oven to 400 degrees F.
Line a rimmed baking sheet with aluminum foil and leave a 2 inch length on each end.
Cut each stalk roughly ½ inch equally from the base of each asparagus spear.
Arrange asparagus in center of foil with spears running parallel to short side of the sheet, leaving a 1½ border between the bottom of the spears and the edge of the foil. Sprinkle butter, diced onion, garlic, salt and pepper evenly over the spears.
Spool off an additional length of aluminum foil the size of the cookie sheet.
Crimp the edges of the foil to form a large steaming pocket for the asparagus, totally enclosing the spears in the foil, creating a tight seal.
Place the spear packet in the oven and cook it for 18 minutes.
Remove the packet from the oven and let the spears steam for an additional 5 minutes longer (adjust the time if the spears of smaller or larger).
Using scissors or paring knife, carefully cut open the top of the packet, allowing the steam to escape.
Sprinkle with the capers, lemon juice and if you have an herb garden (that is something I look forward to planting and harvesting every year!) chopped fresh herbs.
Serve on a large platter or directly plate to individual plates, making sure to include the buttery sauce on each serving.
* Adapted from 5/20 Cook's Country
Nutrition Info Per Serving of 4:  104 calories/5.8 g. fat/9.7 g. carb./5.9 g protein