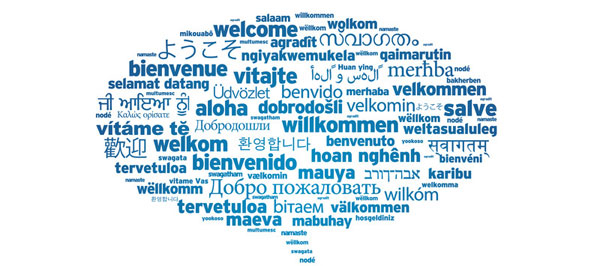 Last week Randy and I had the privilege of hosting Spanish Chef Fatima Andres Perez at our house for a weekend.   She is a visiting chef at a local culinary school, Indian Hills Community College in Ottumwa, Iowa.   Chef Fatima and her husband own a restaurant, hotel and culinary school (Escuela Internacional De Cocina) in Valladolid, Spain.  Her culinary school is recognized nationally for it's competitions of culinary excellence.
Before Chef Fatima arrived at our house there was only one thing standing in the way of experiencing a truly wonderful time with this chef: the language barrier.  Fatima does not speak English.  Randy and I do not speak Spanish.  When I picked her up from Indian Hills, our first stop was the grocery store.   We needed to purchase provisions for the weekend.  My plan was to fix most of our meals at home since snow was currently falling at a brisk clip and the weather forecast for the next couple of days was for more of the same.
I soon discovered that my fears for the coming weekend were totally unfounded.  We both spoke the universal language of FOOD; which needs no translation.   She pointed at the items she needed and I did what I typically do: put pounds of that selected vegetable in the cart.   I was instantly corrected by Fatima.  She put up one finger, indicating that she only wanted one of that item, not pounds of it.  Then, I think she mumbled under her breath with a vigorous negative shake of her head, something about Americans.  On our long drive home we broke the silence with music by an artist we both appreciated, Frank Sinatra.  I'll bet we were one of the few very loud duets of "New York, New York" that day in southeast Iowa and Northeast Missouri.  We stopped off at a local eatery for lunch, with Randy joining us.  We whipped out our smart phones to attempt translating the menu for Chef Fatima.  She latched onto the translation for "barbeque", so we ordered a pork barbeque wrap with taco soup for her.  The look of satisfaction on Chef Fatima's face while consuming her lunch again bespoke that universal language smart phones cannot capture: the joy of food.
Chef Fatima, Randy and I AND our three dogs spent the rest of the weekend getting to know each other, primarily speaking that universal FOOD language.  The chef whipped up some amazing dishes.
There was the white asparagus gazpacho, then a marvelous  marinated fresh shrimp appetizer, a bread ('pan' in Spanish) soup flavored with bacon and paprika with an egg poached in the soup broth,
and a creme brulee-type of dessert (that was actually much richer than the standard creme brulee derived from the addition of much more egg, sugar and full-fat whipping cream) that was studded with fresh raspberries.  It was set in the oven under the "broil" setting to caramelize the sugar to a golden brown.
I have to tell on Randy at this point.  I normally do not prepare desserts, much less one that is on top of Randy's favorite list.  He quickly consumed three servings of this dessert and was almost physically ill.
My culinary contributions for the weekend were roast rack of lamb with Moroccan spices nestled on a bed of couscous; French Onion soup topped with toasted artisan bread and gruyere cheese, and roasted kale with shaved parmesan, dribbled with white balsamic vinegar.  I will not count as culinary contributions the food I fixed for the Super Bowl that Sunday night.  I happened to have some store-bought crab cakes, bacon wrapped shrimp and toasted ravioli in the freezer that I brought out and prepared for the big game.  I did prepare an aioli that was acceptable for the crab cakes.  My mistake was preparing frozen food for a world class chef.  Real chefs don't do frozen food.   I heard later what Chef Fatima liked and didn't like about the weekend through our mutual friend chef and translator, Chef Gordon Rader.  The frozen food was NOT on her list of favorites.  She did however like all the other food I prepared.
The other highlights of the weekend again centered on that universal language.  Chef  Fatima showed me the food she had previously created at her restaurant.  The pictures  showcased not only gastronomic feats of wonder but true works of art.  Again I felt humbled to be able to have spent a small amount of time with such an accomplished artist and chef.
Another highlight was the reaction that Chef Fatima had to Randy's proposal that he prepare a Greek dish as a treat for her.  We were dining at a local restaurant that Saturday night when Randy mentioned that he would like to prepare Saginaki for Chef Fatima.  That is a Greek dish of Kasseri cheese which is breaded and pan-fried in olive oil, then flambeed with Greek Ouzo.  When the flame peaks after the addition of fresh lemon juice, the Greek tradition is to say "Opa".   The good chef weighed our proposal briefly then joked it would be a good time for her to take a nap.  Randy and I were laughing so hard we were crying.
This weekend taught me yet another lesson in life.  If you stop expanding your world-view, that is, if you stop thinking there is so much more to learn in this big world that we live in, then you are doing yourself and those around you a great disservice.  Keeping up the quest for knowledge of all that is around you and when you can, reaching beyond to discover things far way, you will enrich your life and all those around you.  You can't help but be an inspiration to others if you let others inspire you.