What is it about this time of year?  The fall season with it's dip in temperature accompanying a breath-taking leaf display:
 Jubilant leaf pile diving activities (😊):
AND promise of Thanksgiving and Christmas holidays to come where we see our friends and family!
 But there's another factor we must address today, our health! 
I know we all WANT to be in tip-top shape, especially this time of year but the forecast for this coming flu season is a bit gloomy:
SO, we want to proactively circumvent having to take these medications around the clock- 😊:
 AND, we don't want to feel like Santa's lump of coal when January 1stgets here because of all the fun holiday food and festivities.. 
Sooooo, why don't we adopt a feasible fitness framework we can proactively start right now?
Fitness: "one's ability to execute daily activities with optimal performance, endurance, and strength with the management of disease, fatigue, and stress and reduced sedentary behavior."
You'll notice there's nothing said in the "fitness" definition that mandates your fitting  into that "undersized"  holiday outfit you might have hanging in the back of the closet right now….. Just saying.. 😂:
 What a doable goal for being fit SHOULD be for this fall, holiday season and beyond is to be able to operate at peak performance (at any age), doing all those fun things that memories are made of, like being able to cook with your grandkids:
Deal with the stuff of life (like having a root-canal):
 Sing songs of joy when you want to! These young men are from the British Military singing at "The New Sinews of Peace" speech by Gary Kasparov at Westminster College:
Host a radio show with a spunky producer:
 Or just read to your grandgirl:
 So what is the secret sauce for a "doable/feasible" fitness framework?
Glad you asked!!
I. Fight for Your Fitness Fix- Always remember to cover the basics for optimal health: eating healthfully, energetic moving , keeping stress in check and get the right amount of zzzzz's. However, with the ramp-up of  activities you're involved in right now and through the end of the year, these basics are easy to put on the back-burner. 
So let's make it easy on ourselves:
A. Make a quick daily plan– Before you let the "stuff of life" rule you, you need to at least have a skeleton plan for the day.
Yes I know, unforeseen things happen and you need to react (like this deer hit to our car that came out of nowhere this past weekend):
 SO, you can sketch a bullet plan of what you'd like to accomplish, including exercise and daily meal plans so you are less likely to surrender your exercise time to "life happenings" and won't be surprised by missing ingredients:
 This has the effect of lowering your stress level because it creates a little control over your crazy schedule.
B.Keep on Moving!– Staying physically active, that's at least 150 minutes per week (that's a little more 20 minutes per day) of brisk activity can keep your immune system humming, decrease your chronic disease risk, boost your mood and brain health and possibly add years to your life!.  Here's a couple of meaty reasons:
 1. Movement EQUALS Longevity– Michael Roizen, Emeritus Chief Wellness officer at the Cleveland Clinic and a prolific writer of all things health recently penned "The Great Age Reboot: Cracking The Longevity Code for a Younger Tomorrow" talks about the value of movement relating to adding years to your life:
"Being active is a major predictor of longevity, on the flip side, inactivity facilitates death and disability. Try 60 minutes a day of purposeful movement, which is just a few minutes every half hour you're awake."
 2. Flu Can Be Mitigated with Movement– There's nothing worse than a cold that starts as sniffles that migrates to a full-blown, all night coughing, difficulty in breathing, respiratory infection. This study promotes physical activity to mitigate that risk:
The British Journal of Sport's Medicine performed a study in 2011 that looked at 1000 adults, aged 18-85, measuring their physical activity in two groups over 12 weeks, one group exercised greater than 5 days per week (active group), the other less than 1 day (sedentary group) per week, measuring the prevalence of upper respiratory infections (URTIs).  The findings showed the active group had an up to 41% decrease in URTIs over the sedentary group.   
That can mean a simple brisk walk with your dogs:
And/or a simple home resistance workout (dog not included- 😊): 
2. Don't forget those ZZZZZ's !!!– It's not a badge of dedication  to slight yourself on sleep (believe me, I've been guilty myself) just because you believe you can accomplish more. Actually, shorting your sleep cycle threatens your life's quality (that's short AND long-term)!   
In an Oct. 2022 study published in PLOS Medicine at the University College of London , 7000 women and men, ages 50, 60 and 70 were studied over a 25 year period that averaged 5 hours or less of sleep per night with a comparison group of the same age that slept up to 7 hours per night, testing for the prevalence of at least 2 chronic diseases (heart disease, cancer or diabetes). The findings showed the 5 hour a night sleepers had an up to 40% increased risk of developing two of the big chronic diseases over the 7 hour sleepers.
As a practical tip, try going to bed at the same time and getting up at the same time (I know that's extra tough this time of year) but your immune system and overall health will thank you for it later!
II. Feast on Fabulous (Fit) Food Frequently– We don't have to wait until the holidays to feast daily on fabulous food (that is oh soooo good for you!). It's such a funny human paradox that when we feel gypped with food deprivation/enjoyment going into a holiday season, we're more likely to go overboard with libations and festive foods all during the season.
Hey, I'm speaking from experience here! One of the reasons I've been so jazzed to write about food/nutrition blogs to you  through Drtobler.com these past (almost )10 years was when I realized two things: 1) Food is medicine to your body AND 2) Nutritious food can definitely be delicious!
First though, science of food is medicine:
A. EPA/DHA is Your Inflammation Slayer!-You've heard, no doubt about the food magic of Omega 3s in battling the chronic diseases like heart disease, cancer, Alzheimer's, Diabetes and arthritis. A specific type of Omega 3, EPA/DHA, is the star for getting to the heart of inflammation, the villain in each one of those diseases. EPA/DHA also preserves brain volume and cognition in the elderly, improves mood and behavior and even improves test scores for kids (for a more in depth discussion, see CYH with EPA/DHA). The best food sources for these amazing Omega 3s are wild caught salmon, sardines, tuna, herring and anchovies.  
To further my case for making those EPA/DHA fish stars a major player in your weekly dinners is a October, 2022 publication in the journal of Nuerology.  Roughly 2000 middle aged dementia and stroke-free adults' Omega 3 fatty acid (specifically EPA/DHA) blood levels were measured.  The study found those with elevated levels of EPA/DHA not only had thicker brain areas (as measured by an MRI) than older adults suffering from dementia but they also scored at a higher level in abstract thinking (which is an elevated type of thought over memorizing and recalling)  than their peers.
Here's a couple of really simple ideas to increase your weekly intake of this inflammation-fighting, brain-boosting Omega 3 superstar;
This is my (canned) wild-caught salmon fix of Yummy Lemony Salmon Burgers in Pita:
And here's another quick dinner of salmon fillets, baked simply with a slice of tomato, fresh or dried basil, topped with a sprinkle of parmesan, served with a side of roasted edamame (that's a fancy name for baby soy beans, bought in the frozen section).
B. Time for a Flu Booster of Food!– What if you could take a different type of flu shot than the one you stick in your arm? I'm talking about a flu booster in the form of food to give your immune system that extra pizzazz it needs to get through the coming cold months, (hopefully) sniffle and flu-free!
The following observational study proves the power of healthy eating in the form of the Mediterranean diet.  Fyi, the Mediterranean Diet is again (the 5th year in a row) rated as the top diet of 40 by diet, nutrition and health experts by U.S. News & World Report.  The main focus of this diet is lean protein (seafood being the star), beans, grains, nuts, olive oil, fruits and vegetables.  That's the ease of it too, a varied menu anyone can follow!:
This was a March 2021 perspective article in Frontiers of Nutrition,  regarding the severe acute respiratory syndrome of the coronavirus 2 in 2019 during the outbreak (SARS-CoV-2, or Covid-19 for short) and their prevalence of Covid-19 risk factors, i.e. obesity, hypertension and diabetes. In an observational study across 17 regions in Spain, those adopting a Mediterranean diet were negatively associated with contracting the severe form of the virus and related deaths.  The same observation held true across 23 countries for those both adhering to a Mediterranean diet and being physically active.
Let's drill down on the veggie part of this diet.  Veggies are the secret sauce to not only decrease inflammation (allicin veggies like onion, garlic, shallots rock big-time here) and boost our immune system, actively fighting free-radicals (cruciferous veggies are stars here like broccoli, cauliflower, Brussel sprouts, swiss chard and cabbage) BUT they also have an abundant amount of fiber, keeping us full AND they can taste amazing with a little simple preparation!
Like this favorite we love (we licked the bowl on this one) of broccoli soup, which is a pureed combo of sauteed onions, garlic, broccoli, sweet potato and spinach, topped with fried shallots and turmeric peanuts: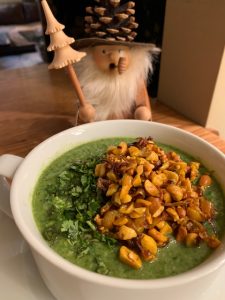 And our star recipe for the day (recipe follows) of Pumpkin Spiced Chili. So good and packed with veggies!!
 III. Forgive Faux Pas but NEVER Forget the Reason For the Season– Let's make a pact before we start this holiday season, you and I. Let's first reflect on holidays past and remember what was so special about them.  Yes I know there's sooooo much work involved in the form of preparation, and we've all been in that stressed, harried frame-of-mind over the years just getting to those special dates.  But let's key in on those special moments of  being with family and friends (this is our family last Christmas Day dancing with our grandgirls who were showing us the moves 😂:
and how incredibly special and treasured those moments are. 
That includes capturing a joyful moment with my grandgirl Remi as she's enjoying a taste of butterscotch haystacks she's helped me make: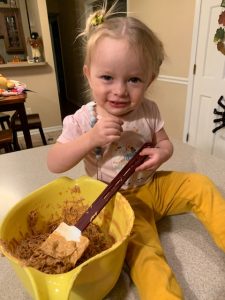 Let's try to calm our minds down with the craziness that is largely man-made and forgive ourselves if we overdo our eating and believe we've under-performed in our holiday duties or attitudes. Yes, Aunt Minnie does have a way of pushing our buttons, but let's just smile at her and ask her how she's doing this year.  Maybe giving her a little joy is all that she needs….
For the Reason for the Season should be our focus: the birth of Our Lord, Jesus Christ.  His birth signifies the death of our sins, which is just beyond me, how He could give (sinful) us such grace!
 I just wanted to share a picture I captured in our cabin recently.  We bought this cabin from a previous owner that made a stained glass window out of the most perfect scene on earth, Jesus's birth, along with the setting sun that highlights the Star of Bethlemen!
 Isaiah 9:6- "For to us a child is born, to us a son is given, and the government will be on his shoulders.  And he will be called Wonderful Counselor, Mighty God., Everlasting Father, Prince of Peace."
Recap of "Fall" Into A Feasible Fitness Framework:
 I.Fight for Your Fitness Fix-
  A.Make a quick daily plan
  B.Keep on Moving!
  C. Don't forget those ZZZZZ's !!!
II. Feast on Fabulous (Fit) Food Frequently
  A. EPA/DHA Is Your Inflammation Slayer!
  B. Time for a Flu Booster of Food!
III. Forgive Faux Pas but NEVER Forget the Reason For the Season
What are you fixing for dinner tonight?  I've got an easy, so good for you AND sooooo delicious idea: Pumpkin-Spiced Chili!  Now it says a lot when my husband, who is strictly a fan of traditional chili was absolutely WOWED!  AND you'll notice it's has a plethora of powerful veggies, legumes and spices that are superstar immune boosters!! Please enjoy!!!
 PUMPKIN SPICED CHILI
Serves: 4
Ingredients
1 T. Extra virgin Olive Oil
1 lb. lean ground beef or deer meat (note, I used deer meat for this, it's so low in fat but still very flavorful)
1 medium onion, diced
1 red bell pepper, small dice
3 garlic cloves, chopped
1.5 T. chili powder
1 T. cumin
1 tsp. Salt (or salt mixture- I use "Smokehouse Maple" by Weber)
1/2 tsp. ground black pepper
1 tsp. pumpkin spice (I promise this will still be savory! 😊)
2 15 oz. cans fire-roasted tomatoes, not drained
1 15 oz. can kidney beans, drained and rinsed
1 15 oz. can black beans, drained and rinsed
1 15 oz. can pumpkin puree
2.5 cups chicken broth
Salt & Pepper to taste for the finished product
Garnishes
1 avocado
1 oz. cheddar cheese
Note- these are the garnishes I used (and they were included in the nutrition count) but feel free to use other standards like sour crem, low fat Greek yogurt, onion or roasted pumpkin seeds.
Procedure
Use a large pot with a lid (an iron-cast Dutch oven is what I use, it works beautifully for this dish) and heat the oil over medium heat. Add the lean red meat of choice and cook, stirring to break up the pieces until browned and cooked for about 10 minutes.  Take the meat out of the pot and put it to the side.  Note: with this low fat red meat choice, there should be very little fat residue left in the pot.
Add the onion and bell pepper to the pot and cook over medium heat for about 10 minutes (onion and pepper should be softened). Stir in the garlic and cook until slightly softened.
Stir in all spices and salt and coat the sauteed veggies for about 30 seconds.
Stir in tomatoes, kidney beans, black beans, pumpkin puree and chicken broth and meat. Bring to a boil over medium high.  Reduce heat to medium-low, cover and cook, stirring occasionally until the flavors marry, about 20 minutes. 
Season with salt and pepper. Serve with garnish of choice. Please enjoy, preferably on a cold, wintry night!!  😊
 Nutrition Info per serving: 515 calories, 12.7 g. fat, 55.2 g. carbohydrates, 39.7 g. protein.
 Revised recipe from Pioneer Woman, 2022.