You might be thinking, "Really? What the heck is so special about barley?" Well I DID think the same thing, however, I've changed my mind. Now I put barley in the same category as Cinderella. A poor step-sister that has been taken for granted and is just waiting for someone to discover she is a "diamond in the rough", that is the metaphor for barley. I'm only going to scratch the surface of the rich history, health benefits and recipe potential of this little "powerhouse" grain. The recipe that follows is not your typical culinary preparation for barley but I'll bet, once you try it, it will be in your permanent recipe archives!
History– Barley is a member of the grass family and is one of the oldest grains on record, beginning in the later part of the Stone Age where man just sprinkled the grain on his food for a nutty consistency. This was before farming and grinding grain into flour had been discovered. It was 10,000 B.C. in the area of the Fertile Crescent, the cradle of civilization, that barley was first farmed. The Fertile Crescent area is now Iraq, Kuwait, Syria, Lebanon, Jordan, Israel, Cyprus and Egypt.   To Egyptian slave workers that built pyramids in the intense desert heat, barley was their main sustenance, in the form of unleavened barley bread and beer made from barley. In Greece, barley mush was considered the top food for select athletes. The gladiators of Ancient Rome, A/K/A "barley men" relied on barley for their virility. Barley is mentioned in the Old and New Testament of the Bible, most notably, the miracle of Jesus turning the five barley loaves and two fish into food to feed 5000 people.
Barley became the poor stepsister when it was replaced with wheat, which made a fluffier and lighter loaf of bread compared to Barley's consistency, which was heavy and dense. It remained the grain of the poor, for now the rich opted for wheat.
Let's flash forward to what's happening with barley today. In the world, it is the 4th most important crop and still a staple in many countries. However, barley is the poor stepsister in the U.S., for even though we are the 4th largest producer of barley, most of it sold in the U.S. to farmers is for animal feed and the bulk of the remainder is used in the production of beer. You will see shortly, we Americans are making a big mistake, subordinating this grain "gem" to animal fodder!
Nutrition– There are different forms of barley: hulled, pearled and scotch. Hulled refers to the grain just having the outer hull removed. Pearled refers to the grain having the outer hull, bran and germ removed. Scotch barley is somewhere in between pearled and hulled barley. To definitely get the most grain nutrition for your barley buck, you have to purchase the hulled variety, that has all the beneficial fiber, vitamins and minerals that was stripped from pearled barley. Pearled barley is more popular because it takes much less time to cook along with a much more mushy consistency.
So let's go down the "hulled" barley nutrition path:
1. Significant Fiber/Grain Punch!- You can see by this graph that not only does barley have a significant protein and fiber punch compared to white or brown rice, it also has the highest amount of fiber of all of the ancient grains, keeping you full faster and longer: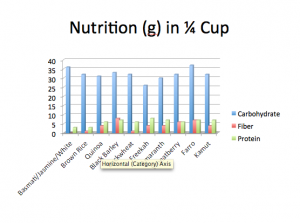 2. Soluble and Insoluble Fiber, Barley has Both!-Oats are the only other grain that has both types of fiber and therein lies barley's largest nutrition factor. First a little primer on soluble and insoluble fiber: soluble fiber is found inside of the cells of the grain and when eaten, forms a gel, slowing the passage of food from the stomach. Insoluble fiber makes up the cell walls of plants, and when eaten, softens the stool and moves it through the digestive system. It's what my mother calls roughage.  So what is another  bottom line for barley's nutritional fiber portfolio?
3. Barley lowers heart disease risk by lowering cholesterol and triglycerides.
4. Barley benefits those with diabetes or pre-diabetes by regulating blood sugar after meals for up to 10 hours.
5. Barley encourages growth of beneficial gut bacteria that we all must have for  stellar immune function.
For more on the general nutrition benefits of all ancient grains, check out "Discover the Goodness of Ancient Grains."
Preparation–
1. Cooking time varies depending on your taste-You can follow the cooking instruction package for suggested cooking time. But I found that I like a chewier consistency so I cut the suggested time by 15 minutes for simmering. You be the judge on this one, though!
2. Presoaking cuts down cooking time-Hulled barley has a little longer cooking time, but I promise you it is definitely worth it! If you want to cut down the cooking time by 15 minutes, try a presoak for an hour ahead of time, in the liquid you are going to cook it in.
3. Two relatively quick methods I can personally endorse for barley preparation are simmering and pilaf:
There are three general methods for cooking grains:
a.) Simmering-Bring liquid and grain to a boil and simmer with a cover.
b.) Pilaf– This method is akin to braising. Coat the grain with a heated fat and onion mixture then add broth and finish the product in the oven.
c.) Risotto-This is a combination of both simmering and pilaf methods.
I was really surprised by the overall taste, consistency and umami factor of black barley when I used the pilaf method. Just make sure to get all of the liquid absorbed before pulling it out of the oven to maximize that "5th" taste.  Randy was knocked out by the flavor!  He even made the comment that he would be willing to forgo the fermented barley he occasionally enjoys (beer) if I would fix this more often! :
4. Other Barley tips:
Try simmering barley in a low sodium broth or ½ broth and ½ water.   The broth gives the grain a nice flavor boost!
Liquid to Grain Ratio is about 3 parts liquid to 1 part grain.
No need to rinse after simmering. All of the liquid should be absorbed in the grain.
Menu and Recipe Idea– Barley is great in soups, as a side (like my black barley pilaf shown above), sprinkled on top of salads for that extra fiber boost (as I did today at lunch), as a breakfast cereal served with a little milk, maple syrup and nuts or as a part of an unforgettable salsa (like the one that follows).
I've served the following recipe many times; with family, friends, an assembly, a cooking class and in a business setting. Everytime I serve this (you know I am not one to boast unless it needs to happen) it has been met with many culinary compliments for truly black barley (a/k/a Cinderella) is the real star in this dish. You and I can keep a big secret on this though. You don't need to tell anyone you are serving this to that it is also incredibly healthy. THAT is OUR little secret!!!!
CHAR-GRILLED TRIPLE PEPPER BLACK BARLEY SALSA WITH HOMEMADE TORTILLA CHIPS
Servings: 27 (1/4 cup each)
Ingredients:
3 cups water
2 cups vegetable or chicken broth
1 cup black barley
2 medium poblano chilis
2 medium red peppers
1 yellow pepper
1 can (15 oz.) fire-roasted tomatoes
1/3 cup diced sweet yellow onion
1/3 cup chopped fresh cilantro
3 T white wine vinegar
2 T extra virgin olive oil
2 cloves garlic, minced
Hot sauce to taste
Salt and black pepper to taste
Corn Tortillas
Olive Oil Spray
Procedure
Preheat oven on broil.
In a large stockpot, bring the water, broth and barley to the boil. Cover and simmer on low for 45 minutes or until it reaches the desired consistency. Refrigerate until cooled completely.
Place peppers in oven close to the broiling heating element in the oven. As soon as one side of the peppers is charred, continually turn until all sides are charred. Put all peppers in a large plastic bag and seal it for 15 -20 minutes. Remove peppers from the bag, peel skin and remove seeds. Refrigerate until cooled. Dice peppers in equal cuts.
Combine barley, peppers, tomato, onion, cilantro, white wine vinegar, olive oil and garlic.
Season to taste with hot sauce, salt and black pepper.
Preheat oven to 350 degrees.
Cut corn tortillas in 4 equal parts.
Spray Olive oil spray on cookie sheet
Place raw tortilla pieces on cookie sheet and spray with olive oil spray, season with salt and pepper.
Place in oven for 15 minutes until crispy.
Serve salsa with homemade tortilla chips.
*Recipe adapted from HyVee Select.