Have you ever been so caught up in the heat of your daily activities, whatever, whenever or wherever they are, trying to complete one task so that you can be on your time schedule for the next task you've assigned yourself, but you're stopped in your tracks by a random act of kindness?  Then, that act of kindness helps you reflect on what is really important?
I was having such a moment the other day.  I was shopping at a large department store, procuring the groceries needed for the coming weekend at our farm.  I was in a hurry, for I still needed to make some business calls before the end of the work week.  So I was racing through the isles, annoyed at other shoppers (not even trying to greet each person with the smile I usually gave) that blocked the isles.  Then when I arrived at the checkout area, the lines were 4-5 deep with customers where a checker was available, so I opted for self-checkout.  But for me, self-checkout comes with some mental baggage of it's own.  I feel by using this aisle, I'm potentially putting some checker out of future employment AND everytime I use self-checkout, I'm prompted to call an attendant continually because I never seem to scan the items correctly. However, on this trip, I only needed to call an attendant a couple of times.  I also told this sweet attendant that I was proud of myself that I didn't have to bother her so much on this trip.  So you can guess my surprise when on leaving the store, she presents me with a Smiley Face 😊  sticker!!:
That just stopped me in my tracks, a random act of kindness that put a little smile on my face the rest of the day………
  Helping me to regroup and reflect on some thoughts that I believe can make a very positive difference in your life AND the lives you touch (I know they have in mine!)….
These thoughts are also in the framework of all of us upending our lives for a deadly pandemic in 2020, and now being faced with yet another wave with a new and more contagious variant of the virus.
I. Frame Each Day With Thoughts of Thankfulness. No one knows what tomorrow may bring.  I know many of you have gone through unspeakable trials and heartaches last year and maybe even now.  And we've all gone through a roller-coaster ride of uncertainty this past year and even now, with the pandemic.  What we can do right now and going forward is to control what is in our immediate power: our personal choices. And our personal choices are framed by our attitude.  If we start each day by being thankful for the gifts we do have (I personally say a prayer of thanks to God), the rest of our day has a better chance of falling into place in a positive way.  And science bears this out.  Dr. Martin Seligman, author of Learned Optimism, and unequivocally the father of successful methods of switching your pessimistic attitude into one of optimism (see Drink From the Healing Pitcher of Optimism) did a gratitude study, using a positive psychological intervention at the University of Pennsylvania on 411 people, the controlled variable was the assignment of writing about earlier memories.  The study assignment was to write a letter of thanks to someone in their lives that had never been properly thanked for their kindness and then to personally deliver that letter. The participants soared in their happiness scores compared to their earlier memory assignment, greater than any other intervention, with joyful benefits enduring greater than a month!
I had this amazing "thankful" experience last year when I thanked someone else for going above and beyond their duty and the gratitude came back 2 fold!  My 90+ year old Mom and Dad wanted two special Italian sandwiches from a grocery store, and as you know, everyone was under strict quarantine for Covid in this age group.  I wasn't allowed to pay for it over the telephone so I just gave my Mom and Dad instructions and they were just going to get it delivered to their car (they wanted it at 7:00 A.M. in the morning), so all they had to was go down the street, and it would be delivered to them in  their car.  This really nice lady (Rebecca) took down the instructions and was soooo understanding.  They said they would be ready.  So I called my Mom after the sandwich delivery was supposed to happen, BUT she said they didn't feel well so they didn't pick it up.  I promptly sent a letter of thanks to Rebecca for her graciousness and some cash to cover the sandwich expense and their time.  
Here's the the sweet letter of thanks I received from her thanking me (I didn't expect that) for thanking her!  I still have the letter taped to our cabinet in our kitchen and it gives me a warm feeling every time I read it!!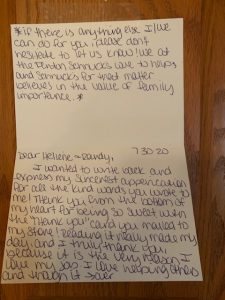 II. Give An Unexpected "Smiley Face"  😊 To Someone Else and Yourself- I'm not talking about material gifts here, there's a time and place for those too. The "Smiley Face" 😊 I'm talking about is any random act of kindness to others, even anonymous gifts, like getting the Covid vaccine for the sake of others, spending precious time with a loved one you always put off (just a phone call would do!) or a genuine compliment to a stranger that you'll likely never see again.
 A precious "Smiley Face" 😊 to yourself would be to start or improve your own self-care. Self-care would include life-enhancing nutrition that is heavy on vegetables and fruit (in that order), complex carbs and lean protein sources.   This simple Sheet Pan Pesto Tomato Chicken with Roasted Broccoli for two would fit that description:
Daily movement is a must, shoot for 150 minutes of moderate activity or about 20 minutes per day. Randy's daily movement in this shot included showing sheep at our local county fair in Scotland County, MO:
The right amount of quality sleep for you, little ones intuitively know how important that is (this is our new granddaughter Remi sleeping away)!
And finally handling your stress in a healthy way.  You all know there's nothing better than fishing with your dogs to soothe your stress level:
 Maybe you've been putting this off to take care of all the other people that daily rely on you. But if you start thinking about self-care for yourself as truly a gift to your loved ones, so you can be there for them, you understand it's the "Smiley Face" 😊  that keeps on giving!   
III. Embrace the Peace That Surpasses All Understanding- Increased anxiety has reared it's ugly head for many of us during these trying times.  It's the uncertainty that gets us.  At the beginning of the pandemic, health care workers were just trying to get a handle on how to care for patients, scientists were going for the cure, businesses were trying to stay afloat, teachers were making the best fit with virtual learning and special isolated care was mandated for the elderly.  Many of us were at home (especially in the lockdown phase) listening to the news around the nation and world, shocked by the horrific hospital stories of those in the ICU, suffering from Covid and of those who succumbed.
Now, we do have a vaccine available,  but we face more uncertainty with new variants of the virus.
What we want more than anything is PEACE.  That is the tranquility that comes from believing all is well in our world.  The kind we had when we were kids, with no cares in the world (this is our oldest 2 children,  Sean and Shannon who are now full-grown adults, having the time of their lives):
The Apostle Paul, after his Christian conversion, went through unspeakable trials as a penalty for spreading the Gospel.  Trials that any normal human would just fold under: he was stoned, shipwrecked, starved, spit on, imprisoned and finally  martyred for Our Lord.  Yet through it all, his faith remained steadfast, offering us constant encouragement, asking us to put our anxiety aside with prayers to our Lord and trust in Him for that perfect PEACE.    
 Philippians 4:6-7
Do not be anxious about anything, but in everything, by prayer and petition, with thanksgiving, present your requests to God.  And the peace of God, which transcends all understanding, will guard yours hearts and minds in Christ Jesus.
Trust in Our Lord that he will give you that PEACE you are seeking for:
Psalm 85:10
"Love and faithfulness meet together; righteousness and peace kiss each other."
And know that God's peace is of the eternal realm, not the fleeting earthly peace we humans erroneously strive for:
John 14:27
"I leave you peace; my peace I give you. I do not give to as the world does. So don't let your hearts be troubled or afraid."
Perfect PEACE, the best kind of Smiley Face 😊!!
Recap of:  What Would You Give For a Smiley Face 😊 Right Now?
 I.Frame Each Day With Thoughts of Thankfulness
II. Give An Unexpected "Smiley Face"  😊 To Someone Else and Yourself
III. Embrace the Peace That Surpasses All Understanding
Summer's still here and this fresh recipe with mint, radishes and peas is one of the best ways to feel like you've really indulged, yet it's truly healthy, not weighing you down when you jump in the water for a swim after dinner!  The cod is just lightly fried in a portioned amount of olive oil, and it's gives you that great crunch with the simple corn starch coating.  Enjoy this as Randy and I have, quite a few times!!
 SEARED COD WITH MINT PEA & RADISH SALAD
Portions: 2  
 Ingredients:
2 T. red wine vinegar
4 T. Extra virgin olive oil (divided)
1 medium shallot, finely diced (30 g)
 ½ tsp. salt- divided
½ tsp. pepper-divided
½ medium head of romaine lettuce (270 g)
1 cup of thawed frozen peas
¼ cup of toasted pecans (20 g)
½ cup sliced radishes
2 T. chopped mint
2- 4 oz. cod filets
¼ cup of cornstarch
½  tsp. smoked paprika
Mint for garnish
Directions:
Whisk vinegar, shallot, mustard and ¼ tsp. salt and pepper in medium bowl, then slowly whisk in 2 T. olive oil. Extract 2 T. of dressing in a very small bowl beside the larger bowl of dressing,
Combine romaine, peas, pecans, radish and mint. Work the dressing in the larger bowl through the salad and refrigerate.
Pat cod fillets dry (I use paper towels, this is so important to get that crisp coating) and sprinkle with remaining salt & pepper.
Combine cornstarch with smoked paprika and dredge cod to coat, gently pressing for adherence.
Heat medium sized skillet to medium heat and add remaining 2 T. olive oil.
Add the cod and cook, flipping when it's coated to a golden brown on each size and easily flakes with a fork (8+ minutes total).
Drizzle each filet with 1/2 dressing from smaller reserved bowl. Garnish with mint.
 *Recipe adapted from EatingWell Magazine
 Nutrition:
Serving for 2:  Each serving is 482  calories,  30.3 g fat,  26.1 g carbohydrate, 23.4 g protein.