I'm sitting here, really counting my blessings.  Our "baby" of the family graduated from college this past Sunday and already has a "big girl" job lined up:
Our other two children have also graduated from college and are doing great things with their careers. All three of our kids have also made terrific choices in life mates. We are so proud of all of them!
My plate has been more than full these past months, getting our family farm ready for two weddings this summer and fall for our daughters. This in addition to the "stuff of life" that happens, plus the commitment I have to teaching young ladies and men about the magic of food, meaning marrying nutrition and the science and art of food preparation (culinary) to create fabulous food that tastes amazing but still fits the bill of nutritious sustenance. In addition, getting the word out about the non-profit  Randy and I started (MACA-Midwest Ambassadors for the Culinary Arts) to promote culinary education and awareness, giving young adults a noble option for a career choice.
But I digress.
The graduation I'd like to explore with you is my graduation of faith. No, I did not get a diploma for this graduation, but something infinitely better, a daily relationship with our Creator: God.
Let me take you on a brief sojourn of our life to explain.
I married my high-school sweetheart. Randy and I met in the high school symphonic band. I was not looking for "Mr. Right" but he won my heart in high school when he played "Marie" on his trombone:
 That, coupled with his quick wit, integrity and deep and genuine concern for everyone around him made him the man I wanted as my life partner.
Randy and I went to college together at UMSL (University of Missouri St. Louis). He graduated with a biology major and I graduated with an accounting major. We both were dancing with glee when Randy was later accepted at Washington University School of Medicine where he later honed into a residency at Barnes/Jewish with an OB/GYN specialty. We were married in the second year of Randy's medical school in August of 1981.
Those were the building years. Randy's knowledge of medicine took off with leaps and bounds with those 4 years of medical school and then 4 years of residency at Barnes/Jewish Hospital. Randy decided OB/GYN was his life choice for a specialty one night when he worked at the County Hospital in St. Louis. He called me at about 2:00 A.M. after delivering a baby and pronounced that this is what he wanted to do, be a part of the miracle of life by delivering babies into this world and taking care of the women who delivered them.
I worked as a tax accountant full-time, sometimes 60+ hours during tax season and my family's law business as an estate accountant at night to pay the medical school bills. Randy also worked band jobs with his trombone on weekends to pay the bills when his schedule allowed. In residency he would be on-call in the hospital every third night, sleep the next night and we spent time together at night in-between call nights. We had our first child, Sean, in 1987, the last of year of Randy's residency at Barnes/Jewish Hospital.
What got us through those years was sheer grit, determination and dreams.  Our faith was not front and center.
I chose to stay home and raise our family. We were blessed with two more children, Shannon in 1990 and them Sammi in 1994:
 Then a medical disaster struck our family in 1997 (Sammi, our youngest, was 2 years old at the time). Randy was diagnosed with Cushing's disease (caused by an overactive pituitary gland) and along the way, when an MRI was performed to discover which side of the pituitary gland was tumorous, a lesion the size of a small baseball was discovered over his left eye. Randy walked into the radiologist's office at Barnes and unbeknownst to them, he was listening to their diagnosis about HIM: "It looks like Dr. Tobler has a malignant tumor over his eye!".
The neurosurgeon was going to perform a craniotomy to excise the tumor and then a plastic surgeon was going to put his head back together with a titanium plate. And then, a month later, he was going to surgically scoop our 60% of his pituitary through his nose. In addition, since the doc had a fishing trip planned, it would be 2 weeks before the surgery was performed.  
I will never forget sitting in our driveway for hours in St. Louis together after that meeting with the surgeons, both of us in SHOCK about Randy's coming foreboding surgeries and at the same time VERY anxious that we had to wait an additional two weeks to get the results!
At this point my faith was very childlike. I was raised in the Catholic Church and later confirmed in the Lutheran faith when I married Randy. But the type of faith itself doesn't matter. I did believe in God and prayed to him on a regular basis, but the relationship was at arms length, only to be called upon in times of trouble.
I knew God was in charge and that I had no control over Randy's surgeries. The only thing I could do was pray and leave it up to Him.
Randy and I got the good news after the first surgery.   The tumor-look-alike over his left eye was only a hemangioma or a blood balloon that mimicked a tumor.  We were so relieved and thanked the skilled health professionals that saw Randy through this life-altering surgery AND everyone for their prayers!  He then went through his second surgery a month later and then the long process of recovery.
That year and ½ of recovery was a real test of the strength of our marriage and family. It was tough!! Randy had a number of other unrelated but related medical problems pop up after the surgeries, like double vision and carpal tunnel syndrome.  Randy looked inward and became much closer to God. I, however, still stayed with my childlike faith, believing in God but not searching for a more in-depth relationship. But we came out on the other end much stronger as a couple and family!
What got us through this trying time was certainly God, but again, I had not graduated in faith, I steadfastly held onto my childlike faith.
The blessing from God we didn't realize at the time was when Randy was not feeling well after the second surgery.  You can imagine though, 2 major head surgeries within 2 months! Most people would not be at their best! So  Randy looked to complementary/alternative medicine when his traditional doctors told him antidepressants were the answer to feeling better. Through that search we both embraced complementary/alternative medicine, A/K/A lifestyle medicine, as being an excellent tool for overall well-being, specifically nutrition, movement, recovery (stress relief and sleep) and supplements. Not that traditional medicine should be ignored. Prescription medicine and surgery as Randy experienced, are a necessary part of the medical tool chest, just NOT the only tools! Through this discovery, I started a company called Body of Health. I did lectures and taught others about the power of lifestyle medicine. I was finally personally on the right page with food. Food is medicine for your body, not to be played with just to show the right number on the scale, as I had done repeatedly in the past.
We later moved to Northeast Missouri after buying a farm there. My husband's goal was to serve an underserved area with his specialty of OB/GYN. And he has done just that at Scotland County Hospital in Memphis, MO, helping many women with their babies and women with their gynecologic problems and now moving the hospital forward as the CEO.  Again though, it was God's doing that moved us from our childhood home. I can name about 10 things that pointed us in the direction of moving that coalesced at the same time! Our girls were just starting 10th and 6th grades. Our son had already moved onto college.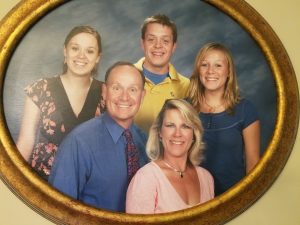 As you notice with this picture, our children were in the midst of their teen years.
This is when my trial with God came to a head. You've already heard from me that I believed in God and prayed to him when times were tough. With Randy's surgeries I felt that is all I could do. It was totally out of my hands. However, raising teenagers, to me, was a whole different ball of wax! Since I was predominately a stay-at-home Mom in those days, I believed (I know, errantly) that I was solely responsible for every action of my kids. And as you know, teenagers spread their wings in different directions to find themselves, not always following the roadmap you personally would choose for them.
It was during these teenage trials that I finally figured out that my childlike, arm's length faith was woefully lacking. I was beside myself. There was no solace in praying to a God you really don't know. I didn't get it at the time that my children were not really mine, they were on loan from God. All we can do as parents is show them the way.
There is a dear lady in our town. A retired math teacher named Terry Sommers, whom my daughters had taken tutoring from. She had this amazing little room in her house filled with Bibles. I noticed this room when I waited for my daughters during their tutoring lessons. Now, mind you, I had always shunned actually reading a Bible. It never had any meaning to me because I thought that was the clergy's job, they were supposed to tell me what scripture means. I believed I was not educationally equipped to read the Bible.
But honestly, at this point in my kids' teenage lives, I couldn't shake the thought that there must be something to this reading of the Bible "thing" that I wasn't getting. Something that gives insight to what God wants from us, thus giving me insight to the relationship with God that I was in dire need of!
I asked Terry Sommers if she could be my Bible mentor and she agreed. We started meeting at her house in the fall of 2010. Terry would not like me to give anyone credit but God on this one but I can say, those Bible sessions with her opened up the world of scripture reading to me, totally changing my entire life purpose from being predominantly world-pleasing to God-pleasing and I will be forever grateful!  Terry has become a dear friend AND spiritual mentor!  In addition, this knowledge equipped me to know how to pray to God for my kids, husband, family, friends and community in a much more meaningful way.
I usually start each early morning with a bible reading. My latest challenge is to read the entire Bible cover to cover. In addition Terry and I have gone through a number of Beth Moore's bible studies. Those studies have had the effect of bringing the Bible to life for me. I know that everyone's walk with God is different, but for me, when Bible passages are brought to life in real life circumstances, I retain and apply those scriptures more readily to my everyday life.
Case in point James: Jesus's little brother.  James is just five short chapters in the Bible.  Witness James 1:19:
"My dear brothers, take note of this: Everyone should be quick to listen, slow to speak and slow to become angry, for man's anger does not bring about the righteous life that God desires."
Now you might say to yourself, "Who is this James guy that is telling me how to conduct myself? What gives him the right to do that?
When you think of James remember that a former skeptic can be your best advocate. So let's frame this for you: Jesus was the perfect big brother, never sinning and constantly saying all these wise words about the Father in heaven that just didn't resonate with his brothers. John 7:5 says "even his own brothers did not believe in him." Now we don't know but Jesus might not have let his brothers in on his true identity. And as far as Jesus's crucifixion, the only family member around to witness it was his mother Mary, not one of Jesus's four step-brothers: James, Joseph, Simon or Judas. What an absolute family slap in the face that must have been for Jesus!!! However, Jesus brought his brother James back into the fold by appearing to him after His resurrection (Cor. 15:5-7). NOW James was a believer and a mighty and steady advocate for Jesus and His Father in heaven! James also realized that he had really messed up by not believing in his brother Jesus in the first place, or being present for his crucifixion.
NOW James's words come to life for me in the Bible! James was not only admonishing us as sinful and how we can correct ourselves, he was admonishing HIMSELF, for not believing in his brother, Jesus Christ!
FINALLY, I graduated to a daily relationship with God I cannot live without. It's made me a better person, more grateful and aware of what God wants from us and how He loves us . However I'm still very aware I'm sinful and just a toddler in the world of understanding scripture, which I intend to keep reading and delving into until the day I die.
I'm going to end with one of my favorite passages in the Bible. It tells of the joys of perseverance and how it matures us as a human being. Also, how God is generous to give us wisdom but only if we ask it from the heart, truly believing that God will give it to us. However, we must also truly believe that Jesus Christ is our Savior, God is our Creator and the Holy Spirit is there to fill us with God's love:
James 1:2-8 "Consider it pure joy, my brothers, whenever you face trials of many kinds, because you know that the testing of your faith develops perseverance. Perseverance must finish it's work so that you may be mature and complete, not lacking anything. If any of  you lacks wisdom, he should ask God, who gives generously to all without finding fault and it shall be given to him. BUT, when he asks, he must believe and not doubt, because he who doubts is like a wave of the sea, blown and tossed by the wind. That man should not think he will receive anything from the Lord, he is double- minded, unstable in all he does.
If you personally notice that your relationship with God our Father is a not a rich and inviting one, try a bible study with a friend, either in person, on the phone or over the internet coupled with a daily delving into the Word.  I promise you it is worth the investment of time! It has a way of focusing you on what is important, negating all the other material "stuff of life"! 
And now, Randy and I are really enjoying sitting back, watching the lives of our grown children and the life mates they've chosen unfold.   We are both older and wiser, always trying to make God the center of our lives, from whom all good thing come!