Yes, I've  entered that period of my life when I'm officially a grandma!  This is our sweet bundle that was born on January 3rdof this year, named Genevieve Margrethe Trabue (A/K/A Evie):
Their parents (our daughter Shannon and our son-in-law Tracy):
are now in the process of adjusting to those all night marathon feedings, which you experienced Moms and Dads know can be tough.  But you also all know, those tough times, including the teenage years are more than worth it!
So what is a newborn capable of (besides sleeping, eating, crying, tinkling and pooping-lol)? They can see best about 8-12 inches away, no more, no less. Contrasting sounds come in loud and clear after being in the protective bubble of mommy's tummy. Newborns can taste and smell, preferring sweet tastes to bitter and sour ones. But human touch rules as the true love language of the newborn, capturing that feeling of warmth and protection.
But stop for a moment and think about this miracle of conception, pregnancy and finally birth.  Everyone on earth shares this commonality of beginnings. 
Here is picture of my new granddaughter Evie as a newborn: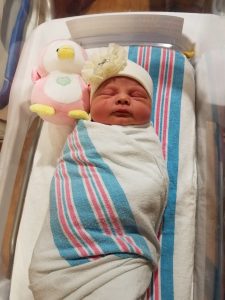 Shannon (Evie's Mom) as a newborn:
And a picture of my Grandma Brown holding me at 3 weeks:
So the question I'm asking you today is:
What can we learn as a new beginning to our lives in this first month of the New Year from newborn babies?
1.Newborns have so much promise gifted to them because they start with a clean slate. This is the art that says it all that my daughter created for Evie's nursery:
Just imagine the anticipatory elation we have as parents, grandparents, teachers and for that matter, any child we see (I'll bet you can tell I've never gotten over the "Mommy" phase-lol).  We are all excited about the prospects of what they can do and be in with their lives.
Think about it:  For newborns, there is no baggage of self-doubt, physical or mental limitations, the effects of sub-par parenting and any other human constraint you can think of that adds to our mind's "baggage" that limits us being the "best we can be".
What we can learn:
Why can't we all give ourselves the benefit of the doubt and bestow ourselves with a clean slate?-
For a great majority of us, our worst enemy is ourselves.  We limit what we can do, be it personally, by ignoring our health needs, being hopelessly unorganized or putting up with bad relationships as just a few examples.  How about professionally? Are you taking the steps to improve job performance, making that leap to get the education you really want to get the job you really desire or even having the gumption to make the jump to a new job, OR, are YOU holding yourself back?  Remember, we are in charge of our own fate. Blame and shame for whatever has happened in our past only constrains us from accomplishing all the good things we look forward to doing in the future!
ACTION:
Make one new step this week toward the goal of improving yourself, with the plan of following through the entire year (remember many baby steps really add up)!  You know I needed a tune-up with my fitness after the marriage of both of our daughters in 2017 so I signed up for my daughter's plan, Sammi Gregory Fitness (Instagram.com/sammig), and I'm so happy I did!  My fitness and energy levels are right on target! My new progressive step in 2019 is to blog in Drtobler.com TWO times per month. THAT will take some organization on my part, and I'm working on that in the New Year too! Please join me by making a step toward cleaning YOUR possibility slate in 2019!
2.There's always a first time with a new baby.
It has been quite a few years since I've thought about the logistics of taking care of a baby. So I was momentarily at a loss the other day when I visited my daughter Shannon, along with my other daughter Sammi and my new grandchild when we took a day trip to Walmart.  So what is the best way to transport an infant into the store?  Ah, that's it! Give her a grocery cart of her own and push another one for groceries!
What we can learn:
Try something new, it will help you grow- One of the best pieces of advice my husband Randy has ever given me is to always be trying something new, never be happy with the status quo.  That is but one of the quality mottos he lives by, but I must admit, it's one of the toughest things for me to do!  My nature is to live by a rote routine in what I eat, where I go, the way I go there, the magazines/books I read, the television I watch (you know, Saturday night and Hallmark Channel are made for each other!) and on and on….
But do you also know, when I do step out of my box and try something new, I always grow and add another tool to my mental or experiential toolbox, even if the outcome is not always optimal. The journey and new people I meet are always a kick! How about you?
What I found really interesting was that science is squarely behind humans being more susceptible to the fear of uncertainty than an actual bad outcome, that's what's at the root of us not venturing outside of our routines.  In a March, 2016 study published in Nature Communications, participants played a computer game where they had to figure out which stones they overturned had snakes underneath them, and which did not.  If they picked the stones with the snakes, a painful shock was delivered.  By measuring certain physiological measures (pupil dilation, skin sweatiness) and verbal reports of stress the findings soundly were conclusive that participants were the most stressed when the uncertainty of being shocked was the highest, not the actual bad outcome (painful shock).  Take that to another level.  When are you the most stressed?: When you think you are going to miss your flight because you might not make it through traffic to get to the airport OR if you are definitely going to miss the flight. The key is to assess the situation and play the "What's the Worst Outcome" game with yourself.  Most of the time we imagine a terrible outcome that is not in touch with reality. Hey, I'm one of the worst offenders of this thought process, but I'm working on it!
Enough said….
ACTION: 
But we aren't going to let a little uncertainty rule our lives, will we?  One of toughest things I did years ago was to take the leap into public speaking.  I'm not a born orator, I really have to work at it, but I figured I would never get any of the messages I wanted to get out, like health on a just a one to one basis. So I joined Toastmasters, International when I lived in St. Louis, making scheduled speeches on a regular basis.  And yes, I did fall on my bum with speeches occasionally, but it was and is an amazing growth experience.
Here is a recent speech I made at a MACA event or Midwest Ambassador's Of the Culinary Arts, where I am the Founder and Executive Director.  MACA raises money through our gastronomic events at the Willows to raise scholarships for culinary education and program grants:
We've had 8 events since 2016 and have raised over $10,000.  The only way I can cheerlead for this organization is to be confident with my speaking abilities.
This was a new piece of equipment I tried recently at Scotland County Fitness Center.  It absolutely kicked my tail, but I'm getting better at it the more I try it!:
Here is a picture of my 88 and 89 year old parents, my sister Rachel and her husband Dan and I enjoying ourselves at last fall's Octoberfest in Wisconsin.  My Dad and Mom have come here for years to see my sister.  I decided to take the leap and come too this year for the first time.  Time is short, I don't want to miss these opportunities with my parents!
And new beginnings happen in the later years of life too. Sometimes a chapter ends in one's life but a new one opens.  This is Rachele Hoskins, owner of Vic's Cleaners these last almost 40 years.  They are closing their business next month:
Rachele's new beginnings are to be a more present great-grandmother!
What I'm encouraging you to do today is expand your portfolio of new tries in life. Today it could be just parting your hair on the other side or memorizing bible verses, but you need to expand that to "new tries" that push your limits.  Just remember, you're on the right track with memorable new tries if you're a little uncomfortable, that's how you grow!
3. Babies respond to touch because that is their true love language.
 There is nothing more beautiful than seeing your daughter and son-in-law love and care for your new granddaughter.
This is Shannon after a sleepless night:
This is Tracy playing Bob Seger to Evie to soothe her:
What we can learn:
Everyone needs a (physical and virtual) hug, not just babies.
Physical and emotional hugs are not just for babies, they're for and from our furry friends too!  I captured Mia & Randy in this cute embrace:
AND they're for adults!  One of the best MACA events we've ever had was this last one:
It wasn't because it was all about the food, the food was as fabulous and culinarily delightful as ever.  No,  it was because this time, we felt more than ever, all of the guests genuinely enjoyed each other's company .
These are two of my dear friends, Jill Peeler, my best friend from 7thgrade and Terry Sommers, my Bible-study mentor (they are the two in the middle at a recent Bible study with Beth Moore):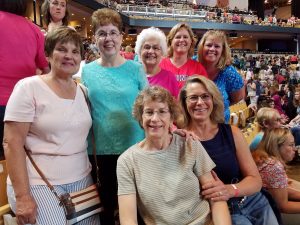 They both have been there for me when I needed those emotional hugs in my life.  Jill has been there through our childhood, marriages, sicknesses, kids and now empty-nest periods and Terry opened my eyes to The Truth in the Bible when I was struggling with personal strife in our kids' teenage years.  Jill is a very busy traffic manager for a large painting company but she always finds time to to always reach out to others. She's also a 2 year veteran grandma!  Terry is a retired math teacher/grandmother that leads a Bible study to anyone in need and she finds time to teach orgami to church youth.  Both of these women live by and have inspired me to continue to live by God's two greatest commandments: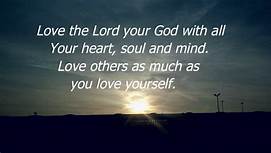 ACTION:
Do you reach out to others and give them those emotional and/or inspirational  hugs when you can? I truly believe, everyone you meet is not by chance; you were meant to have each and every interaction you have, be it at the grocery store or the hospital.  Most recently I was at the fitness center when a man who had just suffered a stroke was slowly making it around the walking track.  I tried to encourage him by saying everyone has a different fitness walk, and that I was proud he was there trying. Again, everyone needs encouragement,  We must give it freely when we have the opportunity because our Lord has gifted us with so much.
I'll close with a picture of a clock I gave to Randy for his recent birthday.  The message I had inscribed was  from Winston Churchill.  It summarized God's second command to a tee:
Recap of New Beginnings For A New Year:
1.Newborns have so much promise gifted to them because they start with a clean slate.
 What we can learn:
Why can't we all give ourselves the benefit of the doubt and bestow ourselves with a clean slate?
 2.There's always a first time with a new baby.
What we can learn:
Try something new, it will help you grow.
3.Babies respond to touch because that is their true love language.
 What we can learn
 Everyone needs a (physical and virtual)hug, not just babies.
 Do you need a simple soup recipe that will definitely warm you up in this cold frigid weather AND it definitely has all the taste magic that will keep you coming back for more?  This is the soup I recently prepared (I doubled it) for Shannon and Tracy so that they could enjoy some leftovers and take care of that new grandbaby!  Enjoy!!
 QUICK GREEN CHICKEN CHILI
 Serves: 4
 Equipment:
Dutch Oven (note that you can also use a large soup pot with a lid)
 Ingredients:
1 T. extra-virgin olive oil
1 cup finely chopped onion
¾ tsp. pepper
¼ tsp. salt
3 garlic cloves, finely minced
2 tsp. ground cumin
4 cups chicken broth
2 (15 oz.) cans of cannellini beans
1 jar green salsa (I used Mrs. Renfro's Jalapeno Green Salsa, 385 ml, because Randy and I like it hot, but that is up to you)
24 oz. (3 cups) of shredded rotisserie chicken
4 T. chopped cilantro
4 T. non-fat Greek yogurt
1 T. lime juice
Chopped cilantro for garnish
Procedure:
Heat oil in a Dutch oven over medium heat until shimmering. Add onion, pepper and salt and cook until translucent, about 4 minutes.  Stir in garlic and cumin and cook until fragrant, about 1 minute.
Increase heat to medium-high. Stir in broth, beans and salsa and bring to a boil.  Reduce heat to medium-low and simmer until the flavors have melded, about 10 minutes.
Using back of wooden spoon, ,ash some beans against side of pot until chili is slightly thickened.Stir in chicken and cilantro and cook until warmed through, about 2 minutes.
Stir together Greek yogurt and lime juice. Serve with a dollop of yogurt sauce and sprinkle fresh cilantro on top. Enjoy!
*Recipe lightened (adapted) from Cook's Kitchen
Nutrition Info: 448 calories per serving/7.6 g Fat/48.8 g Carbohydrate/45 g Protein/11.g fiber