So what do you think of when you hear the word "Spain"? Do words like spicy, burritos, mariachi bands or flamingo dancers come to mind? How about only the well-known locations of Madrid or Barcelona? That is what I thought Spain was all about; nothing too deep, but maybe a nice place to visit. What I was pleasantly surprised to find was an entire wealth of life's richest treasures at every turn. However, the Spain I discovered was off the beaten path, not the Spain you'll find by reading about in Fodor's Travel Guide, but a much more cerebral destination.   First a little background. I was introduced to a culinary program in Southeast Iowa (Indian Hills Community College) by my husband Randy, who gave me a Christmas gift of basic culinary lessons by the department director, Chef Gordon Rader.  I absolutely love to cook, so Randy gave me the best gift I could have ever wished for. Over the ensuing year I also became involved with the program.   One word I heard repeatedly with awe was the word "Spain", echoed by everyone in the culinary department.  Every year the students make a summer trek to Escuela Internacional de Cocina, in Valladolid, Spain: a world-renowned culinary school that has attracted students around the globe because of the world-class chef tutelage and facilities it offers. Everyone that had been there raved about it, not just the about the school but the area's food, wine, culture, history, scenery and on and on. A great number of the alumni students cited this trip as being the meteoric turning point in their careers.  I was intrigued. The more I heard about it, the more I wanted to go. I wanted to not only attend the culinary school, but to see all the treasures of Spain that everyone in the department was talking about. Please also know that I do love to cook, but I am a novice. I was assured before the trip that there would also be novices like me in the culinary classes in Valladolid. So I signed Randy and I up for the trip. Randy did NOT want to go. It was a two-week trip. He couldn't think of taking that long of a vacation and his "thing" was NOT cooking. However, I didn't listen to his grumbling because I knew in my heart that we both would have a great time. A "great time" is really an understatement defining the trip we were about to embark on:
The Regions we explored:
1.  Castilla Y Leon (A/K/A "Land of Castles")- The name originates from the castles that the Christians built in the 8th and 9th centuries to defend themselves from the Moors. This is the largest region in Spain, composed of 9 provinces. It has the distinction of being one of the primary food producers in the European Union. It has been dubbed "The Largest Museum In the World" for greater than ½ of the Spanish cultural heritage resides in it's nine provinces along with a plethora of traditions, nature, gastronomy, wine, history, trails, etc.  "Castilla y Leon is Spain without sterotypes. While package tourists head for the beach, discerning travelers looking for a window on the Spanish soul make for Castilla y Leon" (Lonely Planet: Castilla y Leon).
2.  Galicia– The name originates from Galleaci: the Celtic people in the last millennium BC. You might think you are momentarily in Scotland for they portray their heritage with customary kilts and bagpipes.  It is located in the northwest corner of Spain, just above Portugal. Beautiful ocean landscapes are evident throughout, keeping that old world feel. Galicia is thankfully lacking the commercial tourism feel of a seaside location.   Their economy relies primarily on fishing, farming and tourism. We took a tour boat and witnessed the process for growing mussels on a "Batea".
                  We then had the treat of our lives, consuming the fresh bounties of the ocean, i.e. barnacles,mussels and crabs.
Cuisine: I made some general observations about the overall quality of the food in Spain. There were no artificially processed foods like America's pressed deli meats or boxed macaroni & cheese in sight.   Every bite that I took was a high quality, primarily farm to table source.   There are also no "to-go" cups for drinks or "take out" meals like we Americans are used to. If you want a cup of coffee, it will be brewed right there for you to see in a tiny cup (not the big gulp variety) and you are expected to converse with others while SLOWLY drinking your coffee. This took a little getting used to, but I have to admit, Randy and I loved the relaxed pace of eating high quality meals with rich conversation.
 Side Note-Not only do the Spanish consume high quality foods, they also embody the whole package of a healthy lifestyle, as evidenced by the statistics, the Spanish have the highest healthy life expectancy in Europe,  beating out the U.S., Australia, Canada and Norway.
Different styles of eating were there for the choosing:
1.  Tapas– This is a wide variety of snacks or appetizers, served hot or cold in Spanish cuisine. Tapas can be served in a tapas bar where the entire meal is derived from these little Spanish "bites," served family style.   Tapas can also be served like appetizers before the main meal.  This is the main dish called cuttlefish ("sepia") at a tapas bar aptly named…..Sepia, in Valladolid.  We could have devoured these delicate and tender cephalopod chunks, sauteed in olive oil and served with a garlic aoli, every night!
  Another of my favorite "tapas" dishes was a cured pork product that looked a little like prosciutto, but it was actually a world apart in flavor and texture.  This product originates primarily from the Castilla y Leon region.   It is called jamon Iberico de Bellota.   It is derived from free-range black-hooved pigs that feast on acorns before slaughter. It is a true delicacy because each pig requires 2 acres of land for foraging (see Eight of the World's Most Expensive Ingredients). The "ham" is then dry-aged an average of three years before consumption. In restaurants or shops, it is shaved paper thin right off the whole leg. This sumptuous dish has just the right amount of antioxidant-rich, silky smooth fat that melts in your mouth with the tender meat.
2.  Fine Dining– Randy and I ate like royalty everynight, but on those extra special nights, the gastronomic fare rose to stratospheric proportions. Trigo Restaurante, located in Valladolid was one of those experiences.   Randy and I used to frequent a French restaurant in St. Louis, Missouri starting in the 90s called Fio's La Fourchette. Randy had just started  practice, we had small children at the time and we never took vacations. The vacation we did take though was to frequent Fio's for special occasions and take up to three hour dinners. Trigo is the only restaurant that equals the quality of our beloved Fio's. The restaurant is small, dimly lit and inviting. Chef Victor Martin, along with his wife Naomi and a world-class waitstaff serve the finest cuisine and accompanying wine imaginable.   This is an example: lobster covering perfectly sautéed sweetbreads with a complimentary sauce.
  Each dish of the meal offered a totally different palate profile, but it also hit the excellence mark on the nose. The wine on this night though was a special gift from our Spanish hosts Master Sommelier Jose Carlos Arroyo and Chef Fatima Perez. Vintage Petrus and other of the finest wines from their cellar were served.  It was infinitely beyond an exceptional accompaniment to our meal.
    3.  Russian Style-Our first meal introducing us to Spain was at Meson de Candido in Segovia. It has a warm, medieval feel, opened in 1786 and located at the foot of the world-renowned Roman aquaduct. The food was served Russian style, with obvious extra care by all of our servers. This is a picture of the ceremony that took place right before we feasted on roasted baby pig. The skin had just the right amount of crispness, yet the meat was moist and flavorful.
Wine: Spain is (surprisingly) the third largest manufacturer of wine in the world, followed only by France and Italy.  I say surprisingly because quality Spanish wines are relatively unknown where we reside in the Midwest. These are three very diverse examples of wineries we visited:        
 1. Bodegas Terras Gauda embodied the high-tech application of wine production.        
 2. Adegas Tollodouro vineyards are planted on roughly 52 hectares (roughly 130 acres) of prime hillside land. We were allowed to enter the tasting room facility of this prestigious winery. As you can imagine, the landscape just knocked us all out!
3. Winery at the Palacio D. Canedo created by Prada a tope, a maverick in this part of Spain that demands excellence in everything he does.Prada a tope's facility embodies a first class winery, manufacturing plant of select products, i.e. honeyed chestnuts and roasted peppers, a restaurant and "palace" of hotel rooms fit for a king and his queen. His establishment's credo is "having the highest respect for the environment." So even though there is a language barrier between us, Prada a tope translated extreme pride and dedication in his establishment, which is well deserved.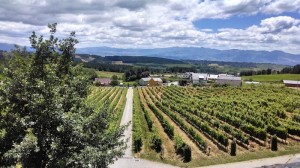 The Chefs: It was a thrill of lifetime for me to attend Escuela International Cocina in Valladolid. Angel Moreton, Director of Escuela has done a fabulous job in not only bringing top-notch chefs to the students, those students attending from all over the world, but additional side trips (i.e. wineries, bull-fighting, corporate fish facility, sea-side locations and breathtaking vistas) that further cements the love that the students come away with for not only the cuisine, but Spain itself. Brushing shoulders with world-class chefs that were not only at the top of their field, but also were modest and down-to-earth was a humbling experience for me. With each chef, the students tackled roughly six recipes per session. The master chef would begin by explaining each recipe, along with unwritten nuances and methods of cooking that could only be experienced by being in the chef's presence. Assignments were then made to the students.   The sessions then took on a real learning environment, not only between the master chef who would intermittently offer his/her pearls of wisdom to the students as a class AND one-on-one, but also between the students, who would offer their sagacity to other students. Below is just a brief outline of a few of the chefs. Please know that it was tough for me to pick any one chef to highlight.   They all were absolutely at the top of their game but all offering different perspectives:
1.  Chef Victor Martin-Owner of Trigo Restaurante offered intuitive precision and artistry to each of his creations.  When we were adding oil to the emulsion in the thermomix for the Cod Brandad, he taught me what to "listen" for, to measure it's completeness. His recipe creation of "Violet Oil Cake, Olive Oil Ice Cream and Jellies" was unprecedented AND delicious.
2.  Chef Julian Arranz–Owner of Julian Arranz's Pastry Shop, is a perfectionist to the "Nth" degree, as evidenced by his many awards. At the same time though, he is a very humble man that celebrates his family heritage. He told me a story about his childhood memories of consuming chocolate with a spoon of olive oil. The recipe "Spoon of Chocolate and Olive Oil" we were creating that night was inspired by that childhood memory. It was unique and exceptional in presentation and taste.
3.  Chef Ruben Alonso-Chef at Las Tapas de Gonzalo, had very simple Spanish ingredients in his recipes that he transformed into artistic creations that had both eye appeal with spectacular taste profiles.  A prime example?  "Vacuum Bacon with Almond Cream Infused with Truffle." Simple ingredients like toasted bacon and herbs that offered that "fat" mouthfeel, coupled with a sweet almond cream base had a mouthwatering effect.
4.  Chef Fatima Perez– Chef and Coordinator at Escuela International Cocina offered a light-hearted perceptive perspective to the artistry in her creations.   Chef Fatima just intuitively knew what ingredients and what amounts worked for each of her dishes. Her two creations of "Crayfish" and "Scallop Rolled in Bacon and Basil" embodied whimsical, yet delectable taste profiles.   We were especially thrilled to watch her revel in the joy of cooking, just as she had in our modest home kitchen when she was snow bound at our house for a weekend during her last trip to teach at Indian Hills.  She and hubby Carlos have become very special friends indeed.
Culture: Music, dance, architecture and sculpture artistry are also alive and well in Castilla Y Leon , Spain!:
1.  Paco Diez– This was a surprise event on many levels. We entered a clay dwelling about 20 miles away from Valladolid proper and proceeded to descend the stairs to find ourselves in a small, underground cave. We met our host, Paco Diez, who was cooking up a tasty lunch of chorizo sausage, bread, potato tortilla and blood sausage (morcilla). We all drank wine out of the same traditional spout-type flask that took some maneuvering to hit our mouths. This was again, a "new adventure first" for Randy and I.   After the meal we were truly treated to the silky-yet-bold, mesmerizing voice of Paco Diez, world-renowned musician.  Finally, we sang along to cap the event!  He is not classically trained for his intuition was his sole trainer. Yet he's on faculty at University of Vallodolid and has performed at Kennedy Center.  His pitch was perfect, along with his timing.   This man truly has the gift of a beautiful voice along with being a consummate host. Yet another encounter in Spain, off the beaten path, that was exceptional.
 2.  National Museum of Sculpture in Valladolid- This is a wealth of sculpture treasures dating from the Middle Ages to the 19th century. Most of the sculptures left me open-mouthed and starry eyed, overcome by the intricate artistry.
3.  Jesus Moises Nunez Quintanilla and Pillar Cabrera- Randy and I just happened to walk in the Catedral de Valladolid the day before we were scheduled to leave and we walked right into a rehearsal of a world-class picolo trumpet player and organist.  Their majestic sounds , coupled with the spectacular acoustics and beauty in the Catedral brought tears to my eyes and captivated Randy.  This was just another example of the rich culture that is a constant in Spain; off the beaten path.
Pride in Production:  The pride that we saw in the people that originated the small production artisanal products was palpable. These businesses were built on the toil of their ancestors, but they were all stepping up to gratefully fill those shoes. They were all following the format of marrying the old world customs with new world techniques.
1.  Teresa Mate Pinones De La Tierra-Pine Nut Production
 2.  Julian Arranz's Pastry Shop
 3.  Joyeros Zuniga's Jewelry Shop
 People:  There was a common thread that tied all of our experiences in Spain together. The thread that made this trip north of spectacular. It was the people of Spain. They invited us into their world with a generosity that we all could learn from.
 THE PEOPLE OF SPAIN ARE SPAIN'S GREATEST RESOURCE!!!
                        Left to right: Randy, Gordon Rader, Jose Carlos Arroyo and Fatima Perez Andres
So I am looking back at the Summer of 2014  Spain trip with the culinary students of Indian Hills Community College in Ottumwa, Iowa and their magical Director, Chef Gordon Rader.   He has built a program that was recognized in Food Service Magazine as one of the top 20 culinary professional training programs in the country!  Every year, IHCC students gain a glimpse "behind the curtain" of  his network of extraordinary friends and colleagues in Spain's heartland, Castilla y Leon.  I am truly thankful Randy and I could experience this trip with them.  It was a true life changer for us personally.  The ultimate highlight however, was to see these kids with a glint in their eyes, carrying back a whole new understanding of not only culinary knowledge but a greater understanding of the world through the eyes of the people of Spain and their rich traditions.