Part I-
Tomato History & Misconceptions
There is nothing quite as personally exciting as viewing something you've taken for granted your entire life, but now viewing it from a fresh eye perspective.   
 That something for me was the humble tomato: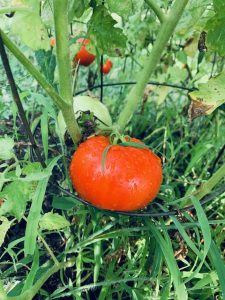 which has just been a jackpot of beautiful, lycopene-rich goodness in Randy and my garden this year!
Our grandchild Evie took no prompting by recently grabbing her first tomato and relishing every bite:
Yes, I've taken this orb of succulent, juicy goodness for granted, from the time I was a wee lassie eating the tomato pizza sauce slathered over Shakey's pizza (they had a viewing area of the chefs making the pizza AND offered a nightly sing-a-long with a bouncing ball-lol):
Through my adolescence when everything tasted better with catsup all over it, young adult life when I discovered tomato salsa and chips, mid-life and now mature (lol) adult life. All the while the tomato was always standing in the background of my life, just waiting for my recognition in a cacophony of culinary delights, from tomato based spaghetti sauce: 
A simple slice of juicy umami beefsteak tomato on a sandwich with a side of tomato bisque soup: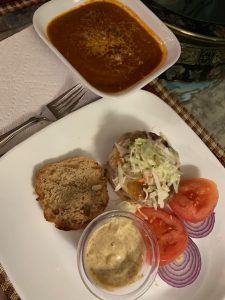 A quickly simmered tomato sauce for Jalapeno Salmon with Melted Tomatoes:
And now starting my own tomato traditions by making tomato sauce based pizza with our granddaughter Evie:
I'd like to take you on a brief tomato journey of it's history and misconceptions (in Part I), it's superlative health benefits  (Part II- Tomatoes Are Just What the Doctor Ordered!)  and finally some tips on how you can easily enjoy your tomato-based or tomato-complimented favorites with simplicity and boosted flavor without the calorie/macro load that traditional recipes call for (Part III-Put On Your Chef Hat For Tomatoes!).
 I'm doing this because I hope that you, like me, will start looking at this plump, juicy culinary wonder with a bit of awe, that I now have, of all the cuisine possibilities that make the tomato the king of healthy fare!   
 A. The Tomato's Family-The tomato is in the Solanceae or nightshade family, a flowering family of 2000 plants strong. It's been a misunderstood vegetable for centuries, classified as poisonous, but for good reason.  The family's natural defense system contains the alkaloid solanine, used as protection from it's predators.   These nightshade non-ripe (green) vegetables/fruit and their leaves and stems from this family should be avoided for they are indeed poisonous to humans (I'll tell you later in Tomato Trilogy-Part III-Put On Your Chef Hat for Tomatoes! about how you can prepare a green tomato safely).  There's one particular member of the Solanceae family, atropa belladonna:
a native European plant, that gave the nightshade family a huge black eye because the berries (which are deadly poisonous) were used for nefarious purposes!  Claudius the Great, Roman emperor from 41-54 B.C. was reportedly poisoned and killed by them, and King MacBeth of Scotland, (again, supposedly) killed an army with this plant's poisonous berry, to thwart an imminent invading attack to his country!
But I digress! Let's talk about the good members of the family.  We all have members of our family that don't quite fit in at different times (remember the teenage rebellious years?-lol), but that doesn't mean the whole family is bad, right? The same is true in this instance: The family also includes white potatoes, eggplant, and peppers, which we've all pretty much accepted as part of our family food choices!   
 B. The Tomato's Long Road to Acceptance-The tomato originated in South and Central America with the explorer Hernando Cortez in 1519 discovering them in Montezuma's garden,
and bringing them back to Europe as strictly ornamental curiosities, not to be eaten! From then on, for hundreds of years, the tomato didn't get it's culinary due! The French botanist Tournefort provided a latin name for the tomato (Lycopersicon esculentum) meaning wolf peach or palatable poison package used to kill wolves, errantly quoting from a reference from the writing of the 3rdcentury Roman Empire's Galen of Pergamon, a noted and esteemed physician, surgeon and philosopher, not truly referring to the innocent tomato. The Southern Italians did start to embrace the tomato in their cooking and referred to it as pomodoro, or golden apple or apple of love.  Note the first tomatoes were yellow and orange in color,
not our iconic red you see today and the "love" reference came into play because the Italians thought it had aphrodisiac properties.  Still it was slow to catch on.  In the 16thcentury, just when the tomato was starting to gain acceptance, another poisonous misconception surrounded the red orb in Europe. This time it had to do with the flatware used for consuming the tomato.  The affluent used pewter flatware when consuming their food, compared to their indigent counterparts that only could afford wood flatware.  The acidity in the tomato created a chemical reaction with the pewter flatware and did result in many of the rich losing their lives, however, the poor, who only ate on wood, didn't suffer the same fate.  But again, that wasn't the tomato's fault!  
In the 1800s, finally the tomato was widely accepted in Europe (the creation of the pizza with it's necessary tomato sauce in that time frame made the tomato a  permanent culinary treasure in Italy) and was actually brought over to the Americas en masse.  Again, the same round of misconceptions occurred in the Americas for years, partially because of the "stinky" smell of both the unripe fruit and the leaves and the errant history baggage it came with.  However, President Thomas Jefferson, our third president, considered a pioneer gardener, (here is a pic of his plentiful garden in Monticello that is maintained today):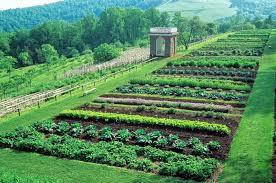 embraced the tomata's diversity, and left us his daughters' recipes for tomato inspired dishes: cayenne-spiced tomato soup, gumbo soup, tomato omelettes and tomato pickles.  Tomatoes even earned a place on the presidential dinner menu by 1806! However, the tomato earned a permanent place at the dinner table in the United States when canning took off after the Civil War, because it held up beautifully to the canning process and happily filled the bellies of the Union Army. And the rest is tomato history…. 
 To date in the U.S., Americans have ranked tomatoes as the top non-starchy vegetable consumed (overall potatoes are  #1 and tomatoes come in at #2 for vegetables ) at roughly 19-20 lbs. per year (from all sources)
And globally, according to the World Atlas, tomatoes are currently the most popular vegetable on earth!
So the slow start of tomato acceptance around the world was definitely worth the wait!!
C. Is the tomato a vegetable or a fruit?–We're going to visit some botanical and culinary definitions coupled with legal history to get the real story here.
Botanically, the classification of fruit or vegetable comes from which part of the plant it originates. Fruits contain seeds and come from the flower of a plant, while vegetables come from the root, stems or leaves of the plant. As a matter of taste and culinary classification, fruits are considered sweet, yet vegetables are savory.
So according to the botanical definition then the tomato is a fruit, however the culinary usage has always been more on the vegetable side. There is more of a savory flavor to the tomato than a sweet taste.
It took the Supreme Court in 1893 to finally weigh in on this.  They classified the tomato legally as a vegetable and you can guess the only reason this issue would have risen to these highest levels in our courts: TAX MONEY!  In the case of Nix vs. Hedden,the plaintiff (Nix) was trying to prove the tomato was a fruit because fruit was exempt from tariffs. Nix was one of the largest sellers of produce and exporters in New York and was suing for a refund from the tariff authorities, Nix used the botanical definition of the tomato as his primary defense.  However, the Supreme Court sided with the common sense practical usage of tomatoes, as vegetables (remember when it comes to levying taxes, the govenment always wins-lol), and that's how they're classified today!
 So next, I'd like you to ponder the next couple of questions:
1. Are tomatoes an excellent choice for everyone's overall health and longevity OR are they only good for the prostate health of men (as we've seen in the popular health media)?
2. Since tomatoes are in the nightshade family, should they be avoided at all costs if you have arthritis because they are reported to increase inflammation and arthritis symptoms?
For these and other Health Tomato Treasures see:
The Next in this Tomato Micro-series : Part II-Tomatoes Are Just What The Doctor Ordered!
Recap of : The Tomato Trilogy-Part I-Tomato History & Misconceptions
A.The Tomato's Family
B.The Tomato's Long Road to Acceptance
C. Is the tomato a vegetable or a fruit?
In these crazy semi-quarantine conditions we all have been living under these past months and I'm sure, an undefined amount of months in the future, comfort in the home is of primary importance. The food we eat is one of those creature comforts we gravitate toward and the classic restaurant dishes have comfort stamped all over them!  But, we don't have to add all the classic calorie/macro load to enjoy them!  So the recipe I'm offering you below is my skinny version of a classic Italian dish that traditionally comes with twice the calories.  My husband loved it!  I also fixed it for my Mom & Dad for their 63rdanniversary this past month (Mom's favorite) and they loved it and finally my other sweet Mom & Dad (Randy's parents) along with my sister and brother-in-law also loved it! I hope you can experience a little slice of comfort and love it too! And guess what? The star of the dish is TOMATOES!
SKINNY CHICKEN PARMIGIANA
 Portions:2
 Ingredients:
2- 6 oz.- 1 to 1 ½ inch thick chicken breasts (they can be cut in half horizontally or pounded thin with a mallet )
1 oz. parmesan cheese
½ cup Panko breadcrumbs
1 T. butter
½ cup mozzarella cheese
1 cup Tomato Bisque (see recipe below) or store bought pasta sauce
Cooking spray
Fresh or dried basil
Directions:
Preheat oven to 450 degrees.
Spray a baking sheet with no-stick spray.
Melt the butter and combine with breadcrumbs and parmesan cheese.
Lightly spray the chicken with non-stick cooking spray (so the crumb mixture will stick).
Dip the chicken into the crumb mixture and place on the baking sheet.Disperse any remaining breadcrumb mixture evenly on both chicken breasts.
Place in oven and cook for 15 minutes.
Take the chicken out of the oven (there should be a nice crispy coating on the chicken now) and ladle tomato bisque evenly over chicken. Sprinkle mozzerella cheese on top and put chicken back in the oven for an additional 10 minutes.
Take chicken out of the oven and sprinkle with fresh or dried basil.
 Nutrition Info Per  one serving portion:  500 cal./32 g. fat/ 11/5g. carb./  46.1 g. protein
 HEALTHY TOMATO BISQUE
Portions: 4 (225 g. per serving)
OR
7- One Cup servings (128 g. per serving)
 Ingredients:
1 T. Olive oil
1 finely diced onion  (101 g.)
2 garlic cloves
1 T. dried basil leaves
1 ½ cups chicken broth
2 cans (14.5 oz.) Fire Roasted Tomatoes (or basil and garlic)
1 T. Honey
2 T. Tomato paste
Salt & Pepper to taste
Feta cheese (optional)
Directions:
In a medium sized saucepan, using medium heat add olive oil to pan.When the oil shimmers, add onion and sauté until translucent.  Add garlic and sauté just until fragrant.
Add basil leaves, broth and fire-roasted tomatoes. Simmer on the stove for 15 minutes to marry the flavors.
Add the honey and tomato paste and simmer for another 5 minutes.
Using a blender, blend until smooth. Salt and pepper to taste.  If the taste is too acidic (or too tart) for you, add a small squirt of honey.
If you'd like, sprinkle a small amount of Feta cheese for a tangy , slightly salty finish to your soup!
 Nutrition Information:
Per Serving of 4 (225g):135 cal./3.4 g. fat/18.7 g. carbs./4.2 g. protein
 Per One cup serving (128 grams): 73 cal./10.2 g. carbs./1.8 g. fat/2.3 g. protein