I come to you all today with a heavy yet humble heart, asking you to stop and think about what we as a nation have been through this past year, what we are currently facing and what the future can hold for us.
Don't worry, this little blog is not calling out specifically anyone, anything or any entity. It's just an introspective look at ourselves with hope for the future!
We came together initially as a nation when faced with a pandemic, the likes of which we haven't seen for almost a century. Many lives were lost, businesses were crippled or bankrupted, workers put their own lives at virus risk to help others, jobs were forever lost, and many of our children lost quality educational and socialization opportunities.  By comparison, the fact that some of our American freedoms were momentarily squelched, i.e. mask wearing, social distancing and heightened hygiene, to contain the virus were, and remain, minor nuisances. But we DID have a commonality, a call to action we could stand behind to come together and beat this virus.
However, politics on both sides reared its ugly head in an election year and caused deep political divisions that destabilized that initial pandemic unity. Politics also unfortunately negatively portrayed the amazing speed at which a vaccine was tried and now brought to market. There are many Americans that don't trust the efficacy of the vaccine, falling prey to the political jargon of the day. This thought process has the potential for COVID-19 to cause additional medical heartache that could be avoided.
So what can we count on? What is our HOPE for the future?
The Christian worldview, to me, embodies the definition of HOPE, or a feeling of non-earthly, heavenly expectation. We live in a fallen world, but that's not for us to worry about for we can be part of the hopeful solution. Here's what I base that claim on:
HOPE because God created this amazing world for us to live in:
(if you don't believe He created this world, please visit Reason To Believe for a compelling creation discussion by Vice President of Research and Apologetics Dr. Fazale Rana) and then chose us each individually as His children:
Ephesians 1:4- Even as He chose us in Him before the foundation of the world, that we should be holy and blameless before Him in love.
HOPE because Jesus, the Son of God, part of the Triune God of Father, Son and Holy Spirit, lowered himself to become human:
living a sinless life and then died a martyr's death to save us from our sins:
This was a free gift with no expectation of repayment. All we need to do is accept this gift with grace. So, in accepting it, if we truly grasp the enormity of this precious gift, we strongly desire to please our Lord, modeling His righteous behavior to open the door for us sharing our faith to others so they may be saved!
Ephesians 2:8-10- For by grace you have been saved through faith. And this is not your own doing; it is a gift of God, not a result of works, so that no one may boast. For we are his workmanship, created in Christ Jesus for good works, which God prepared beforehand, that we should walk in them.
HOPE for God left us the Bible, a perfect tome of God-filled information full of history, "how-to" behavior parables from Jesus Christ Himself and many others, including his disciples. There's also a great deal of prophecy that has already come true (giving the Bible additional validation) and some that is yet to be fulfilled. This book has so many pearls of righteous living knowledge, from the first book, Genesis, where original sin was born to the last book, Revelation, where judgement for all of us is described:
Hebrews 4:12-For the Word of God is living and active. Sharper than any double-edged sword, it penetrates even to dividing soul and spirit, joints and marrow, it judges the thoughts and attitudes of the heart.
Our God desires a personal relationship with each one of us (one of the only worldviews that does) for he loved us so much to create us:
Ephesians 3:16-19- I pray that out of his glorious riches he may strengthen you with power through his Spirit in your inner being, so that Christ may dwell in your hearts, through faith. And I pray that you being rooted and established in love may have power together with all the Lord's holy people TO GRASP HOW WIDE AND LONG AND HIGH AND DEEP IS THE LOVE OF CHRIST and to know his love that surpasses knowledge that you may be filled to the measure of all the fullness of God.
God loves us just as much if not more than we love our families:
So by continually reading the Bible we have a better understanding of His Will and through daily prayer we can ask for guidance to do His God-pleasing works. For hope springs eternal with that sacred budding relationship. And with that TRUE acceptance comes a change in our behavior:
1 Peter 3:8-9, 15-16-Be like-minded, be sympathetic, love one another, be compassionate and humble. Do not repay evil with evil or insult with insult. On the contrary, repay evil with blessing, because to this you were called so that you may inherit a blessing…. In your hearts revere Christ as Lord. Always be prepared to give an answer to everyone who asks you to give the reason for the hope that you have. But do this with gentleness and respect, keeping a clear conscience.
We don't need to fight fire with fire. That is not God's way for us and you all can see with your own eyes that it's not working! We need to listen to each other, gently calling each other out only in love (not vitriol) to help each other. We also need to have an answer ready for why we believe in God and the Gospel that can lead us all to be saved. It's the gift that is only for the taking, we don't deserve it!
HOPE, for God not only had a plan for creation and all of the humans he carefully created, He's also planned the final days and that time of eternal glory. AND, He WANTS us ALL to be there with Him:
2 Corinthians 4:16-18- So we do not lose heart. Though our outer self is wasting away, our inner self is being renewed day by day. For this light momentary affliction is preparing for us an eternal weight of glory beyond all comparison, as we look not to the things that are seen, but to the things that are unseen. For things that are seen are transient, but the things that unseen are eternal.
Finally HOPE, that this Truth will prevail for all!
So what can we do with our time now? It seems our lives are on hold during this pandemic or maybe not on hold, for you might be searching for that peace you can't seem to find through earthly "stuff" like drugs, alcohol, social media, food or possessions. Believe me, I've thrown myself a couple of pity parties this past year, but it's almost magical how I can turn that pity-party around when my HOPE returns to our Savior.
Get back to daily spending time with The Word with fervent prayer to pursue the only sustainably worthy HOPE we have, belief in God! Pursue books, Bible studies, radio or podcasts that give you additional inspiration that are God-led. I can heartily recommend Beth Moore's Bible studies, yet there are many more. I asked Terry Sommers, a former math tutor for my girls to be my Bible mentor when all three of my kids' teenage problems of life hit me with full force 10 years ago. She now is also a dear friend.
If you have been burned by or disappointed with someone representing God or can't stand the hypocrisy you perceive in humans that say they are firm Christian believers yet don't follow the 2 supreme commandments, laid out by Jesus when questioned by his disciples, namely:
Matthew 22:36-40,"Teacher, which is the greatest commandment in the Law?" Jesus replied: "Love the Lord you God with all your heart and with all your soul and with all your mind. This is the first and greatest commandment. And the second is like it, "Love your neighbor as yourself.  All the Law and Prophets hang on these two commandments."
Then I implore you, know that humans are human and are sinful, but not God, He will not let you down. You need to move on if the leadership you follow or friends you strongly associate with say they represent or follow God, but they do not follow these two simple rules. For it's not God who has let you down, it's the human sinful condition. We can't rely on humans for both our salvation and true God-led spiritual happiness. That is only through God.
I talked to my 90 year old Dad today about this very subject of hypocrisy:
He pointed me to this Bible verse by the Apostle Paul, addressing his beloved fellow Christians in Phillippi:
Philippians 2:12-16- "Therefore, my beloved, as you have always obeyed, so now, not only in my presence but, much more in my absence, WORK OUT YOUR OWN SALVATION WITH FEAR and TREMBLING , for it is God who works in you, to will and to act according to His good purpose."
So it's our job to live our lives in God's will; we can't rely on anyone but ourselves, looking forward to the eternal glory of God. That means we can't judge others if they fall from that platform of idolatry we all erect. We shouldn't judge others at all (I know, that's tough, but we can do this!) That means leaders of the church, government, or any humans we put on a pedestal.
Dad relayed a story about Arthur Holly Compton, an American physicist at Washington University in St. Louis who during WWII was a key figure in the Manhattan Project, developing the first nuclear weapons: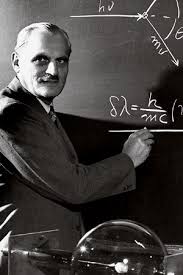 What do you think was one of the first questions from reporters regarding this groundbreaking discovery?……
The reporters asked this gifted physicist: IS THERE A GOD?  See? Like he would know?!? We've got quite a history of mortal worship!
Only God deserves our adoration and only He can judge others and us individually!
THEN, we can do God's work by setting a good example through good works and spreading the Gospel so that others may be saved!
And that, is the ONLY sustainable HOPE for our future, a future that is God-led!
Romans 15:13- May the God of HOPE fill you with all the joy and peace in believing, so that by the power of the Holy Spirit you may abound with HOPE !
God's blessings to you and your family!!