I'm reaching out to you today because you might be thinking  just like me on this. The subject is game day (or any day) fun with food without the guilt…..  
We're still pretty much on lockdown with major social gatherings until this pandemic subsides, (hopefully) when enough people are inoculated or have recovered from Covid.  But in the meantime we all still want to have a little fun and the Super Bowl LV is scheduled for this coming Sunday:
It's just one of those enjoyable opportunities many of us are looking forward to! Maybe it's to watch the actual game OR just the commercials and half-time show (that's me!), all in the comfort of your home.  Just Randy and I will be watching it together.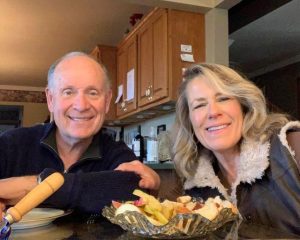 However, there's only one problem with the "comfort of your own home"  (small group, couple or solo) kinda gathering, it's soooooo comfortable, many of  us end up having fu-un with way too much drink and food:
all while we're still recovering from our food frivolity from the holidays.  These are pics of our Tobler family food frivolity for the holidays :
So if you want to enjoy the game, (or my fav, the commercials and half-time show), including your food fare, but also want to feel good about your game day choices on Monday morn, we have a solution!  The following is a guilt free nacho recipe that not only has that decadent taste (Randy and I have used this recipe as our go-to "television meal" on many occasions), but it's a protein/fiber packed meal and oh so filling you won't need to nosh mindlessly the entire game!  Please note, as an alternative to Lavosh bread (outlined below) you can make chips out of corn tortillas.  You can see how I made them.  I cut two tortillas in 8ths, sprayed the pan with olive oil cooking spray and let them toast for 10 minutes (keep an eye on them).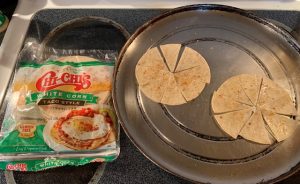 and this is how they turned out: 2 tortillas  yielded 16 chips (100 cal./1 g fat/22 g carb/2 g protein).  
For me, making the chips limits my intake by having it prepared ahead of time, negating the need to grab "just one more" fat-laden commercial taco chip (at typically 8 grams of fat per serving)!  
Please enjoy your Super Bowl LV experience, including your nachos!!!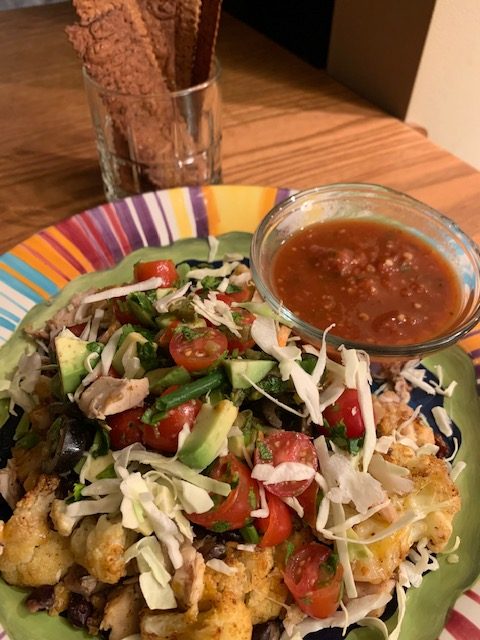 CAULY CHICKY NACHOS
Ingredients for 4 Portions:
2.5 Tablespoons olive oil
¾ tsp. chili powder
¾ tsp. cumin
¾ tsp. onion powder
¼ tsp. salt, divided
8 cups (933 g) large cauliflower florets, cut into 1/2inch thick slices
1 cup (200 g.) chopped tomato
1 avocado, diced
¼ cup fresh cilantro
2 T. pickled jalapeno peppers
4 stalks green onions, cut in ¼ inch slices
½ cup black beans
2 cups (463 g.) shredded diced cooked chicken (I used cooked chicken thighs for this)
¾ cup (69 g.) shredded Mexican cheese blend
1 cup  finely shredded cabbage
16 black olives, sliced
Directions for Nachos:
Preheat oven to 400 degrees F. Spray a large-rimmed cookie sheet with cooking spray.
Combine oil, chili powder, cumin, onion powder and 1/8 tsp. salt in large bowl.Add cauliflower and gently toss to coat.  Spread cauliflower in single layer on the prepared cookie sheet.  Bake until tender and starting to brown, 15-20 minutes.
Meanwhile prepare fresh veggie mix buy combining tomato, avocado, cilantro, green onion, cabbage and the remaining 1/8 tsp. salt in a small bowl.
Top the cauliflower with beans, chicken and cheese.Bake until the cheese is melted, about 5 minutes.
Serve the "nachos" topped with the fresh veggie mix.Scoop up the nachos with the lavosh chips and dip in salsa of choice!
Lavash Bread "Chips" & Salsa:
Ingredients for One Portion:
1 Lavash Bread (I use Joseph's, you can buy it at Walmart)
Cooking Spray
Salt seasoning of choice
½ cup (200 ml.) salsa
Directions for Lavash "Chips"-
Preheat oven to 350 degrees F.
Set the lavash bread on a cutting board and using a pizza cutter, cut the bread into 1 ½ inch strips and if you'd like smaller chips, cut the entire lavash in half.
Coat a cookie sheet with cooking spray.
Gently place (so as not to tear the strips) each strip of bread on the prepared cookie sheet.
Lightlyspray the lavash strips with cooking sprays and lightly sprinkle the seasoning of your choice on the strips (I use Weber's Maple  Bacon seasoning).
Place sheet in oven for 6-8 minutes or until strips are golden brown.
Serve with salsa of choice.
Nutrition:
Per Serving of "Nachos": 551 calories, 37.2 g. carbs, 33.9 g. fat, 29.3 g. protein
Per Serving of "Nachos" With Lavosh Chips and Salsa: 739 calories, 66.7 g. carbs, 36.9 g. fat, 41.3 g. protein
*Recipe adapted from 2/20 EatingWell Magazine