Who doesn't remember that beginning song from the movie Grease when Sandra Dee and Danny Zuko are reminiscing about their fleeting summer romance:
Summer lovin', had me a blast
Summer lovin', happened so fast
I met a girl, crazy for me
Met a boy, as cute as can be
Summer days, drifting away to oh, oh those summer nights….
I recently unknowingly tuned into this movie while I was working out at our fitness center.  Thank goodness I was all alone because I was singing loudly along with the song and dancing on the elliptical!
But what happens after that? Reality sets in.  Sandra Dee, after moving from Australia finds out she's actually going to the same high school as her summer love, Danny Zuko: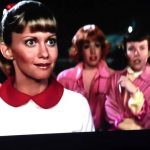 Sweet Sandra Dee finds out Danny is part of the greaser gang who ends up acting like a tough guy, too good to go out with only one "chick".  The remainder of the movie they both try to recapture the nascent love they experienced at the beginning, yet stay true to themselves.
I believe we can draw some pearls of wisdom from the plot of the movie to the season we are now all experiencing: SUMMER!
What I'm going to briefly explore in this blog is how we can enjoy these months to the maximum with our family and friends, yet still stay true to ourselves with our health, while keeping the "reality" lens of our lives firmly in place.
As a young mother I remember the summer months being the absolute toughest.  But now that I look back, it wasn't that I didn't enjoy being with our kids or their activities.  No, it was because I was too caught up in all the fun activities that were available during the summer months for our kids. So even though our kids were still very active in all their regular activities in the summer months like baseball, dance and horse riding, there was the extra pressure to do even more fun and educational activities.  You add those activities to family functions and the regular stuff of life and you can truly end up a hot mental and physical mess at the end of the summer, as I did, with the end result of not taking care of yourself mentally or physically.
I've since looked back and rethought things.  I put that pressure on myself, so it's not summer's fault, I just needed a different frame of mind!
Now Randy and I are in a different season in my life, the empty nest season.
There's still grass to mow in our vineyard:
Birthdays to celebrate (please don't judge, we never remember candles so we do the next best thing, lol!:
and even fun Grandma responsibilities (like granddaughters to bathe)!
I remain very busy but I've adopted the acronym K. I. S. S. to get the most out of that Summer Lovin':
K   Keep
I     It
(A)
 S    Simplistic
 S    Summer 
 Tips for K. I. S. S.– Keep It (A) Simplistic Summer
 I. Stop putting so much "heat" on yourself and schedule some sacred free-time…Allow yourself some empty slots on your calendar. First line out those "must-dos" on our calendar, be it vacations, family celebrations or business/community commitments. For Randy and I, a must-do was line out our vacations in the winter months for summer, because it's almost too late once summer is upon us to think about.  But once you make the "must-do" calendar list, be very choosy for all of the extras.  And think of another option if some commitments are too much to make every year, maybe make them biannually!
So what does your calendar look like now that summer is upon us? I promise you, allowing yourself time to just stare off and quiet your mind, is like a band-aid to your soul!!:
 II. Even though it's hot, you don't have to get out of the kitchen or put your workout on hold–I'm not sure where you are in your personal fitness journey but I can tell you from experience, having some summer-time-saving tips for both food prep and fitness workouts significantly reduces that little "guilt" demon that sometimes sits on our shoulders. Remember the goal is to make it easier for us to make those healthier choices when our fun summer time is at a premium.
Nutrition is front and center on this.  You might have heard of the 80/20 rule of dieting if your goal is to lose weight.  Another way to put this is you can't outrun your fork. It takes a 3,500 calorie deficit to lose one pound, said simply, it's much easier to reduce your calories for weight loss than rely simply on exercising.  Let's take an example, if you were to run 7-10 miles per week with no adjustment to your diet, you'd only lose 1 pound per week!
Think of food as the gasoline that fuels your human engine.  You want the highest grade of fuel to not only perform all of those tasks you love physically (like running after your kids and/or grandkids, or enter your first marathon, or keep that summer garden in tip-top shape) but mentally too (remember you have that presentation you still need to give to your boss, co-workers and clients and you still want to start writing that book ) !
At least 3 square meals per day are my go-to for optimal health. Note that for all of these options there is always some source of protein for power packed satiation! You might say I'm "full of it".  Guilty as charged.  Full of protein to fight overeating.  For both breakfast and lunch I have 3-4 easy-to-prepare options that are always my go-to to alleviate boredom but not overcome my busy summer with food prep.
But please understand, even though protein is important, my overall nutrition regimen includes protein (30%), carbohydrates (40%) and fats (30%).  This is the secret sauce to not feeling deprived and keeping my fat loss in check,  by having a balance of all three macronutrients, allowing myself those occasional "treat" foods that are so available in the summer months.
First comes breakfast, having non-fat greek yogurt, berries and just a sprinkle of granola on hand is always a standby or oatmeal prepared with almond milk and added protein powder to get me through to lunch.
Other options are Maple French Toast topped with Peaches with a side of Apple Chicken Sausage (Multigrain Bread soaked in a mixture of a splash of almond milk and egg, lightly seared in a Pam sprayed sauté pan, topped with one peach and 1 Tablespoon of Real Maple Syrup with a side of Apple Chicken Sausage, available at Walmart).
I promise, it's the perfect marriage of sweet and savory! Nutrition count 476 cal./25 g. protein/62 g. carb./15 g. fat.
Another quick option, is the marriage of meat and fruit (remember sweet and savory). I had some leftover ham from the weekend (you can use any type of sandwich meat for this) so I rolled them in apple slices topped it with 1 Tablespoon of Real Maple syrup and pumpkin spice.
Nutrition count: 272 cal./22 g. pro./41 g carb./2.5 g. fat
Notice the prominent protein content in both instances, yet there's plenty of palate pleasing sweet and enough fat for inviting mouth feel too.
At lunch my usual go-to is a salad with lots of veggies, fish or chicken and light dressing.  But you probably don't even have time to do all that prepping and cutting this summer, do you?
Try my Faux Snap Pea Salsa Walking Taco! First you need a healthy protein that has this type of packaging:
Then you cut the top, put in just a couple veggies and salsa for flavor, add a crunch element like sugar snap peas or sweet peppers and VOILA, a Faux Snap Pea Salsa Walking Taco!:
Nutrition Count: 270 cal./26.4 g. protein/37.8 g carb/4.2 g fat
Finally dinner.  I usually spend a little more time prepping and preparing with this because Randy and I get to have some quiet time together after a long day, so I want to make it special. A time saver for this option is to make double the serving for leftovers for another day!
One option for summer dinners is a hot meat entrée with a warm salad, like this Crispy Trout with Roasted Butternut Squash (it's delicious)!:
Nutrition Count:368 cal./25.5 g. protein/26.3 g. carb/19.3 g fat
Or this simple Flounder with Vegetables and Lentils in Papiotte (translation: flounder or any fish steamed in parchment paper with vegetables and grains/beans with a handful of fresh herbs, and splash of white wine and broth for flavor baked in the oven till done); add a side of seared broccoli for an easy to fix and inviting plate:
Nutrition Count for Flounder in Papiotte: 276 cal./ 29.1 g protein/25.2 g carb./7.5 g fat
But movement is still crucial for good health.  Some form of movement everyday is optimal.  For me, since our 14 year old dog Lucee died, Mia, our 2 year old boxer/pitbull mix has been in a state of depression.  Since our yard is not fenced and we have a busy street in front of our house, a daily walk is just what the doctor ordered for Mia and my movement routine!
The most I walk with Mia is 30-40 minutes per day.  That's just the right amount for both of us in this hot weather.
Let's also not forget core exercises to optimize our mobility and reduce our chances of injuries as we age (see Core Strategies For Practical Wellness! Part I-Core Strength).
These can easily be done in sets of 3 or 4 with 15 reps or in the case of a plank, holding it from 10-60 seconds.
Finally I have a set of weights available at home if I can't get to the gym for those weighted resistance exercises 4 times per week, along with my go-to tapes for additional aerobic movement.
As mentioned in earlier pieces, my daughter's plan SammiGregoryFitness  opened the world of regular weight training for me (see You've Got the POWER… With Weight Lifting Part 1 and You've Got the POWER…With Weight Lifting Part 2). Routine weight training has the effect of increasing muscle mass, thereby increasing your metabolic rate at rest, boosting your calorie burning power!  The direct mind lift is a really nice plus too, not to mention the indirect affirmation that sustains me as that image in the mirror keeps improving!!
The two together, Nutrition + Movement, with that 80/20 rule in your mind, are a dynamic duo for mental and physical health!
III. Bring down the temperature in your schedule with a summer strategy– Finally, accept the fact that summer usually has more fun surprise dates you didn't plan on (as in Randy asking me today, "I'd really like you to help me plant those vines at the Willows this week", this is also the getaway week before vacation, so I have a lot of prep before that happens!) and those "have-to" dates that just come up unexpectedly in your calendar.  When this happens, and you know it will, try to plan on the fly as much as you can but have a resolve that you still have control over your choices. I'm talking healthier choices of nutrition and movement that many not be optimal but you still feel in charge.
As an example, Randy and I had an unexpected memorial service to attend to last week. I also had promised my daughter I'd babysit our granddaughter that night at our farm.  The only way I could pull that off is by eating right after the service with Randy in town, buy groceries for the weekend and then head off to our farm to babysit.  In the past, I would have waited till very late at night to eat a meal, when I am past starving, usually eating everything in site!  What I did was look at the menu online for the nutrition info for a restaurant in our town before the meal, so I could have an idea of healthier choices.  I landed on this for the meal, along with a veggie heavy side of salad with low-calorie dressing:
Randy liked it too!
The food was great but the best part of the meal was my mental "Atta-girl" for taking the step to be in charge of my choices for me and my husband's health!
The same goes for movement, you might not have the perfect amount of time you usually devote to movement you do in other times of the year, so if time is a at a premium, give yourself 15 minutes of movement as a present, one to two times per day if time permits.  Maybe it's just a 15 minute walk with your dog or vigorous weed pulling in your garden.  Just know, it's another little step toward taking charge of your health and guess what, your future self will thank you!
We can all learn something from Grease's naive Summer Lovin' that Sandy and Danny first experienced before reality comes crashing down.  We can be armed with a K.I.S.S. mentality and make this our best summer ever!
This is my motivation for keeping myself in top mental and physical shape, my new granddaughter Evie!!! So worth it!!!
Recap: Summer Lovin' With A K.I.S.S. (Keep It (A) Simplistic Summer:
 I. Stop putting so much "heat" on yourself and schedule some sacred free-time.
II.Even though it's hot, you don't have to get out of the kitchen or put your workout on hold.
 III.  Bring down the temperature in your schedule with a summer strategy.
This recipe lends itself to gathering those fresh herbs in your garden.  I have a bushel of basil so I amped up the flavor in this recipe with it.  There's nothing like fresh herbs to give a summer recipe super "pop"!  I seared a chicken thigh one night for this dish and with the leftovers a week later, I steamed cod (both pics are below).  You choose your protein of choice! Enjoy!
Dijon Basil Brussels Sprout Salad
With Your Protein of Choice
Servings: 4
Ingredients:
2 cups (50 g) Basil Leaves
4 minced garlic cloves
4 T. (60 g) Olive oil
2 T. (30 g) Dijon Stone Ground Mustard
2 T. (30 g) Balsamic Vinegar
1 tsp. ground mustard
1 T. (15 g) Olive Oil
2 minced garlic cloves
Chicken broth
(531 g) Brussels Sprouts
2 slices fully cooked bacon-cut in thin slices
1 can of Butter Beans
1/3 cup (45 g.) Toasted Almonds
Procedure
Combine all vinaigrette ingredients into a blender or food processor: basil leaves, 4 minced garlic cloves, olive oil, Dijon mustard, balsamic vinegar and ground mustard. Process until smooth.  Reserve roughly 4 tablespoons of vinaigrette to top your protein of choice.
Cut off bottom core from each Brussels Sprout, then thinly slice.
Heat a large sauté pan on the stovetop. When you can feel the heat by putting your hand over the pan, add the first portion of olive oil. Saute second portion of garlic and when fragrant, add the Brussels Sprouts.  Constantly move the pan so that all sprouts are cooked and soak up the olive oil and garlic. Add a small amount of chicken broth if liquid is needed (I use this as a sub for additional olive oil).
Add the bacon and butter beans, heat them through.
Lightly season with salt and pepper.
Add vinaigrette to Brussels sprouts and heat through.
Top with protein of choice (you can use chicken, beef, fish or just make it meatless)! Spoon on 1 tablespoon of reserved vinaigrette on your chosen "meat".  Top with toasted almonds.
Nutrition Info per Serving: 393 cal./30 g carb/ 26.5 g fat/ 13.1 g protein