I have a very "out of the box" inspiration for this text you are going to view, and here it is:
 This is a core of a cauliflower. We'll call it the C core. 
You will not believe this but I have a mouthwatering recipe for cauliflower soup (you will see it at the end of this blog) that I recently lightened up, that is packed with amazing flavor.  The reason for that flavor, THE CORE! It imbues the soup with flavor without relying on more calorically dense ingredients (like cream).
Then I started thinking about all aspects of the core that surround us, like the Earth (or the E Core):
Did you know that our planet's mostly iron core outermost portion is around 2000 miles down from our feet?  The farthest man has ever reached is a pitiful 7 miles! As you can see, there is an inner core, with a 768 miles circumference comprised of solid iron and nickel, yet the roughly 1,400 mile outer layer is that liquid (molten layer) of iron and nickel.  I think the coolest thing about the Earth's core is the magnetic field it's responsible for.  By achieving the "dynamo effect" which is the harmonizing of continual movement of the partially molten core, with that constant expanding and contracting between the two cores, working in perfect harmony with the Earth's planetary rotation, our powerful magnetic field is formed.  The magnetic field thus expands to atmospheric proportions, allowing us mere humans and everything else on earth life-saving gravity and protection from the Sun's harsh rays!
Now let's jump to our human core, we'll call it the H Core:
 As noted, this is our midsection that encompasses the muscles of our front, side and back. And just like the Earth's core there are specific muscles with specific functions for the inner and out core.  The inner core of our body, those muscles closest to the spine and in the deepest portions of your abs:
 These primarily protect & stabilize the spine.
The outer core muscles also protect and stabilize the spine but their individual functions are more specialized, specifically the abdominals, hip flexors, lats and glute complex:
 The primary function of the H core?  It limits excessive movement in any direction by creating stiffness, to again stabilize and protect the spine! To take that a little further, a stabilized and strong H core can help you avoid accidental injuries, protects your central nervous system, inner organs, arteries and veins, can prevent  back pain AND can gift you with that amazing strong and confident posture!
What do these three cores, (C, E and H) have in common? You can't visually see them (unless you turn the cauliflower head upside down-lol) yet they undergird the very essence, impact  and sustainability of their more visible and palpable outer elements. 
As I've mentioned in my prior blogs (see Time to Think About a New You?), I needed a tune-up for my individual wellness plan after the marriages of our two daughters, so I enlisted my daughter Sammi of SammiGregoryFitness to be my coach. The information I'm sharing with you now is what I've learned that works for me and people I've helped over the years since I started Body of Health in 1999 and now, augmented with more practical wellness from my new coach.
And that's what I'd like to very briefly explore with you in this blog, 3 strategies for Core Muscular Strength:
 I. Go for a Stable Inner Core First-Remember those inner core muscles I talked about above, those muscles closest to the spine and in the deepest portions of your abs:
 Including your pelvic floor, diaphragm and deep cervical muscles, lumber multifidi (small powerful muscle giving support to the spine) and transverse abdominus (deep front and side muscles of the abdominals). Your prime objective, before strengthening your core should be to stabilize your inner sanctum.  Physiotherapist Martha Purdy, from the Hailifax Health Centre, recommends 2 amazingly simple but effective exercises for this (I call these the Secret "2", no one knows you are even doing them!)
 A. Simple Stomach Strengtheners– You are targeting those deep front and side muscles of the abs by drawing in your stomach muscles (your belly should pull away from your pant line), hold for 5 breaths and relax. Repeat 10 times per day.
 B. Kick it up with Kegels– Here you are targeting those deep cervical muscles and pelvic floor. I don't have to tell you that these also help with incontinence and bowel control and as a bonus for women and men, some added sexual enjoyment.  Use this resource from the National Association for Incontinence as a guide for those exercises.  They recommend 2 sets of a exercises, a fast twitch and slow twitch set, 10 times per day. 
 II. A Small Time Investment Can Yield Large Strong Core dividends!-I've shared with you since adopting resistance training (including weight lifting) 4 times per week (30-40 minutes per session) with some form of cardio at least 30 minutes, 5-6 times per week (that cardio might just be a quick walk with my dog Mia), I actually spend LESS time exercising with better fitness (I'm talking fat loss) results! Here are some of the top core exercises mingled with my weekly weight lifting routine:
This is the Plank.  I hold this position 60 seconds.  I recommend starting out with just holding it as long as you feel comfortable (maybe just to the count of 10), then work up to longer periods.
My coach (Sammi) like to call this Down Dog Abs.  Start out with the leg to the sky and bring it in to touch your elbow. Repeat on the other leg.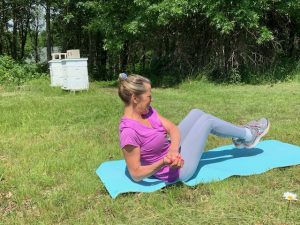 This is the Russian Twist.  You twist to each side with legs on the ground when you first start and then advance to legs in the air.  You can add a weighted ball to your grasp and twist for an additional challenge.
This is a Seated Leg Scissor.  You scissor each leg back and forth. 
A repetition of 3 sets of 15 for these (except a timed period for the plank) 4 times per week would be a great start toward a strong core! And here's a terrific resource for additional core exercises you might want to challenge yourself with: Bodybuilding.com.
 III. A Strong Confident Posture (Core) = A Confident You-I'm going to ask you a question now: When you see someone walk by and you think they have an air of confidence, what kind of posture do they also have?  Is it tall and upright, or slumped over?  I think I know what answer you gave……
Here is a picture of me at a recent Midwest Ambassador's for the Culinary Arts (MACA) "Taste of France" Event we had this last month at The Willows. MACA is a 501 (c)(3) that Randy and I started to support culinary arts education and awareness in the Midwest:
You'll notice that my posture is tall and upright.  I have to give a small talk at each of these events, to let everyone know how much we appreciate their support. I'm not a person that loves giving talks (unlike my husband Randy, who thrives in the limelight, lol!), but it's imperative I give the message each time.  My erect posture, I know, gives a boost to my confidence to give just the right message of appreciation!
I wasn't always like that.  My mother, when I was a pre-teen noticed I had a slumped over posture but she smartly fixed that and said to me one day, "Heliene, I've made an appointment with an orthopedic surgeon to fit you for a brace to correct the difficulty you're having with your posture." Guess what? I straightened up that day, and haven't looked back at a slumped position since!  To date my stance is even better, thanks to my weekly core exercises and a continual recognition of it's worth.
If you need a wake-up call with your comportment, start by sitting up straight anytime you sit down, even in your car.  Here is a resource for the proper sitting alignment to check yourself. I promise, this will be natural to you after you practice it continually.  AND, a definite added bonus will be leaving behind your defeated looking carriage and replacing it with a more confident-looking you!!
CORE STRATEGIES FOR PRACTICAL WELLNESS!-
Part I- Core Strength
 I. Go for a Stable Inner Core First
 II.  Small Time Investments Can Yield Large Strong Core Dividends!
 III. A Strong Confident Posture (Core) = A Confident You
Stay tuned for the next edition of  CORE STRATEGIES FOR PRACTICAL WELLNESS!
 Here's that Lightened version of Cauliflower Soup I promised you!  I also promise that the flavor is just stupendous!  Randy agrees with me on this everytime I fix it!  I actually posted this recipe in 2015 under SUPERFOOD RECIPES: Allium Vegetables with 2x the fat content!  You will not miss the additional fat because, guess what saves that day for the flavor of his soup???  THE CORE!!!!  Happy eating heathfully!!
 LIGHTENED
CREAMY CAULIFLOWER SOUP
 Serves: 4
Ingredients:
1 head cauliflower (697 g)
1 T. olive oil
1.5 T. unsalted butter, cut in to 5 pieces
1 leek, white and light green parts only, halved lengthwise, sliced thin, and washed thoroughly
1 small onion, halved and sliced thin (113g)
1 shallot
Salt and pepper
4 ½ to 5 cups vegetable stock
½ tsp. sweet sherry (6 ml)
3 T. minced fresh chives
Procedure:
1.Pull off outer leaves of cauliflower and trip stem. Using a paring knife, cut around core to remove; thinly slice core and reserve.Cut heaping 1 cup of ½ inch florets from head of cauliflower, set aside.  Cut remaining cauliflower crosswise into ½ inch thick slices.
2. Melt 1 T. butter with 2 T. olive oil over medium heat. Add shallot and onion and 1 ½ tsp. salt; cook, stirring frequently, until they are softened but not browned, about 7 min.
3. Increase heat to medium-high; add vegetable stock, sliced core and half of sliced cauliflower; and bring to simmer. Reduce heat to medium-low and simmer gently for 15 minutes. Add remaining sliced cauliflower, return to simmer, and continue to cook until cauliflower is tender and crumbles easily, 15 to 20 minutes longer.
4. While soup simmer, melt remaining 4 T. of butter in 8 " skillet over medium heat. Add reserved florets and cook, stirring frequently, until florets are golden brown and butter is browned and imparts nutty aroma, 6-8 minutes. Remove skillet from heat and use a slotted spoon to transfer florets to a small bowl. In this version, there is not an extra amount of butter to pour over the top as a garnish, but I promise, the presentation is just as nice! 
5. Process soup in blender until smooth, about 45 seconds. Rinse out pan. Rinse out pan.  Return pureed soup to pan and return to simmer over medium heat, adjusting consisting with vegetable stock as needed (soup should have a thick, velvety texture but should be thin enough to settle with flat service after being stirred) and seasoning with salt to taste.  Serve, garnishing individual bowls with browned florets,  and chives (or sliced snap sugar peas) and seasoning with pepper to taste.
 *Recipe adapted from Cook's Illustrated
Nutrition Info per serving of 4: 140 cal, 13.8g carb/7.9g fat/5.2g protein