Whole grains and legumes should be an important part of the majority of your meals.   Not only do they offer you important B vitamins and magnesium (legumes) but their  fiber and protein punch over white flour products and rice leaves you with that satiated feeling after a meal that keeps you from coming back for more.
Highlights and tips for whole-grain/legume dishes:
1. TWO-GRAIN PORRIDGE WITH TOASTED COCONUT, PECANS AND APPLES- The grains I picked for this satisfying breakfast are gluten-free: amaranth and quinoa.  You can substitute any whole grains, i.e. freekah, wheat berries, buckwheat (a gluten-free choice) or farro, the sky's the limit.  The topping of the toasted coconut, toasted with coconut oil coupled with the addition of cinnamon apples and pecans with a touch of honey makes it the perfect breakfast.  
2. VIETNAMESE TILAPIA WITH TURMERIC AND WHEAT BERRIES WITH PICKLED POBLANO PEPPERS AND PECANS- Wheat berries are true culinary gems.  When they are allowed to first simmer with a flavorful broth until fully absorbed the finished product has a nutty, yet chewy consistency. Then the addition of toasted pecans and pickled jalapeños (just add in what you can handle) gives this dish just the right amount of heat and crunch.  The Vietnamese Tilapia pairs well with wheat berries, just make sure to not skimp on the marinade time for the fish (even an overnight marinade is okay) for it really adds to it's depth of flavor.    
3. PORK CHIMICHURRI KABOBS WITH QUINOA AND RED BEANS-You can use any leftover grains for this dish with the beans of your choice.  I just chose to amp up the flavor by first toasting coriander and cumin seeds to further release the flavors of the spices and add a little crunch and then adding it to the bean/quinoa mixture, along with sautéed shallots.  The chimichurri sauce for the kebobs reminds me of the well-known salsa verde sauce, without the anchovies and capers.  It is truly a flavorful dish when (again) you allow that marinade time of pork with sauce.  Another idea for those grill marks on the kebobs, if you don't want to barbecue outside, is  buy a small griddle pan with grill marks.  It has all the looks of those coveted grill-marks!  
4. PORT WINE REDUCTION GRASS FED BURGER WITH ROASTED KALE AND CHICKPEAS-This is my answer to the standard "Burger and Fries."  The roasted kale and chickpea duo have just the right amount of crunch, similar to your standard french fry but with the addition of that earthy taste of parmesan that is added to the kale mixture.  I recommend grass-fed burgers as opposed to grain-fed, for it's many health benefits (see The Grass-Fed vs. Grain-Fed Beef Debate: You Are What You Eat, Eats) but with a small amount of pungent melted cheese, i.e. blue cheese, stilton or sharp cheddar for that additional umami "hit" and a reduced port wine for that sweet finish.
TWO-GRAIN PORRIDGE WITH TOASTED COCONUT, PECANS AND APPLES
Servings: 4
Ingredients:
1 cup quiona

¾ cup amaranth

6 cups of water

½ tsp. kosher salt

1 T. virgin coconut oil

¼ cup unsweetened coconut flakes

1 large sweet-tart (such as Honeycrisp) apple

¼ tsp. ground cinnamon

¼ cup pecans, chopped

2 T. honey, add more to taste
Procedure
Bring grains, salt and 6 cups of water to a boil in a medium pot. Reduce heat, partially cover, and simmer, stirring occasionally, until cereal is the consistency of porridge (softer and thicker than the usual bowl of oatmeal) and water is absorbed, 40-50 minutes.
Heat coconut oil in a medium skillet over medium-high. Cook coconut flakes, stirring often, until toasted, 2 minutes, transfer to a plate.
Add apple, cinnamon, pecans and 2 T. honey to skillet and cook, stirring occasionally, until apples are browned in spots and tender, about 3 minutes.
Serve porridge topped with apples, coconut and pecans.
*Recipe adapted from Bonappetit
VIETNAMESE TILAPIA WITH TURMERIC AND WHEAT BERRIES WITH PICKLED POBLANO PEPPERS AND PECANS
Vietnamese Tilapia with Turmeric:
Serves: 4
Ingredients:
¼ cup sliced shallots

1 T. chopped fresh dill (or 1 tsp. dried dill)

1 T. minced garlic

1 T. grated peeled fresh ginger

2 T. fish sauce

1 T. dark sesame oil

1 tsp. ground turmeric

½ tsp. freshly ground black pepper

4 (6 oz.) tilapia fillets, each cut into 4 pieces

2 T. avocado oil

cooking spray

4 cups vertically sliced sweet onion

4 green onions, cut into (2 inch) pieces

1 T. lower-sodium soy sauce

8 lemon wedges
Preparation:
Combine first 8 ingredients in a large bowl, stirring with a whisk until smooth. Add fish; toss to coat. Cover and chill 2 hours.
Remove fish from marinade; discard marinade and solids. Combine fish and peanut oil in bowl; toss to coat.
Heat a large heavy skillet over high heat. Coat pan with cooking spray. Add onion and green onions; stir-fry 3 minutes. Add soy sauce and sugar; stir-fry 1 minute. Arrange onion mixture on a platter. Return pan to high heat. Add half of fish to pan; cook 3 minutes. Turn fish over; cook 1 minute or until fish flakes easily when tested with a fork. Place fish on platter over onion mixture. Repeat procedure with remaining fish. Serve with lemon wedges.
*Recipe adapted from Cooking Light
WHEATBERRIES WITH PECANS AND PICKLED JALAPENOS
Servings: 4-6 servings
Ingredients:
3 ½ cups Chicken or Vegetable Broth

1 cup wheat berries

4 fl. oz. (1/2 cup)Extra Virgin Olive Oil

6 oz. Chopped Pecans

**1-2 T diced pickled jalapeno

Salt to taste
Procedure
In a saucepan, combine all ingredients. Bring to a rolling boil, reduce heat, cover and simmer for one hour or until tender. Heat the olive oil in a sauté pan.
Lightly toast the pecans in a pan on the stovetop (no need to add oil but watch carefully for burning).
Add the pecans and diced jalapenos. Saute about 1 minute.
Add the cooked wheatberries. Toss over heat until the mixture is hot. Season to taste.
*Recipe adapted from Professional Cooking by Wayne Gisslen
** The amount of jalapeno added depends on your taste preference.
 PORK CHIMICHURRI KABOBS WITH QUINOA AND RED BEANS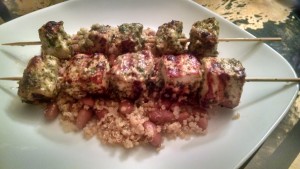 Servings: 4
Ingredients:
Chimichurri sauce:

4 garlic cloves, peeled

¼ cup onion, chopped

1 T. fresh lemon juice

1 T. dried oregano, crushed

½ bunch fresh parsley

¼ cup expeller processed avocado oil

2 T. sherry

½ tsp. salt

¼ tsp. crushed red peppers

¼ tsp. black pepper

1 lb pork loin, boneless, trimmed

1 cup Red beans

1 cup Quinoa (already prepared)

½ tsp. olive oil

1 small shallot

¼ tsp. coriander seeds

¼ tsp. cumin seeds
Procedure:
Combine the sauce ingredients in a food processor fitted with a metal blade and pulse until the ingredients are thoroughly blended, but not pureed. The mixture should be slightly coarse.

Cut the pork into 1-inch cubes and place them in a glass pan. Add approximately ¾ of the chimichurri sauce and stir thoroughly. Cover and refrigerate for 4 to 6 hours. Reserve the remaining sauce to serve with the kabobs.

Toast both seeds until fragrant. Crush them (put them in a coffee grinder).

Saute shallot until soft in extra virgin olive oil.

Combine softened shallot, crushed spices, quinoa and red beans in a small cooking pot and heat at low for 5 minutes, stirring occasionally. Salt and pepper to taste.

Remove the pork from the marinade, discarding any marinade left in the pan. Arrange the pork on eight skewers. Cook on a hot grill, turning as necessary to cook thoroughly and brown evenly. Serve with quinoa and red bean mixture and the remaining chimichurri sauce.
* Recipe adapted from On Cooking-Fifth Edition
PORT WINE REDUCTION GRASS FED BURGER WITH ROASTED KALE  AND CHICKPEAS
Portions: 4
Burgers:
1 lb. grass fed ground beef

1-2 T. Seasoning of your choice

**1 cup port wine

*4 oz. pungent or sharp cheese sliced into 1 oz. servings
Procedure for Burgers:
Put ground beef in a bowl and work the seasoning through the whole mixture.
Form 4 burgers.
Grill or pan-fry burgers. In the last few minutes of cooking, melt the cheese on the burgers.
Reduce the port wine in a small pan to 1/3 cup, using medium heat.
Dribble the port wine reduction on the burgers.
*A pungent aged cheese like a stilton, blue cheese or sharp cheddar works well.
**The port wine does not have to be a high-end purchase, I usually pick a fairly inexpensive port for this.
Ingredients:
Kale-3 little or 2 large kale bunches

2-3 T Weber Smokehouse Maple seasoning (or theseasoning of your choice)

½ cup expeller processed avocado oil

½ cup parmesan

honey balsamic vinegar to taste
Directions for Kale:
Preheat oven to 400 degrees F.
Mix kale with seasoning, olive oil and cheese. Massage with your hands for a while to break down the fibrous leaves.
Dribble a small amount of olive oil to coat baking pan.
Spread out kale mixture in a thin layer.
Put in oven for 15-20 minutes, when you remove it, kale leaves should exhibit some browning but should not be overly burnt.
Sprinkle the kale with the roasted chickpeas.
Sprinkle each serving with honey balsamic vinegar or sweet vinegar of your choice
Ingredients:
Chickpeas-1-12 oz. can chickpeas

2 T. Expeller processed avocado oil

salt, pepper and cayenne pepper to taste
Directions for Chickpeas-
Preheat oven to 450 F.
Blot chickpeas with a paper towel to dry them. In a bowl, toss chickpeas with olive oil and season to taste with salt, garlic salt and cayenne pepper (if desired). Spread on a baking sheet and bake 25-30 minutes, until browned and crunchy. Watch carefully the last few minutes to avoid burning.
* Chickpea recipe adapted from allrecipes.com