Are you one of the millions that has vowed to make working out more of a regular routine in the New Year but you just can't get yourself "off the couch" so to speak?
Are you dreading this promise to yourself?
Maybe one of these fits your workout deficits:
*Too tough to fit into my busy schedule
*True time-waster; "I could be doing something more productive!" (this is my husband's favorite excuse- LOL!!)
*Injuries/age have limited the exercises I used to love to do!
*I'm bored out of my mind doing the same old routine!
*The weather is keeping me inside, so I'm a non-movement prisoner in my own house!
Have I hit on any touch points with you?
First off, I've been there with all of those cop-outs at one time or another! However, I wanted to share a different way of thinking when you embark on your next workout regimen that (I hope) will put a smile on your face during and after your workout, and even anticipating the next one!
This training revelation just came to me recently when I spent time with my husband at our farm with our dogs.  Randy and I have recently adopted a new dog from the Humane Society, which they said had been abandoned on the streets.  We gave him the name "Simba".  We've found Simba to be FULL of energy, needing walks on a regular basis. He's also settling in to be good buddy to our other dog Mia who recently lost her life-long buddy Lucee (our 14 year old pointer).  The bad part? We live on a road that has sporadic heavy traffic, so walking with them any distance around our home, at will, is a no-no without strict supervision!
However, when we get to the farm, there is no traffic and our dogs can just be dogs, leaping and running with unmitigated GLEE!!
Note, these dogs didn't need a computer readout that you commonly see on fitness machines to see the calories burned to have that dog smile on their mug!:
They just run around, leap and bound, frolicking simply because it makes them truly happy!!
Then I thought about our granddaughter, Evie. The only time I've truly seen her cantankerous is when she's confined, especially in her car seat!  She just wants to move at will and explore! That's what rings her bell!
Evie recently hit the one-year old mark! This is her showing off her new unicorn.  She got on and immediately starting rocking back and forth:
Why can't we adults be like that?  Enjoy movement just for the sake of it?
We all know it's really good for us! Here's just a mere sprinkling of the many advantages of movement:
*The aerobic benefits of boosting our cardiovascular health.
*Avoiding undue injury with the strength that comes from core movements.
*Weight bearing perks of strengthening our bones.
*Anti-depressant benefits of aerobic and resistance training over prescription drugs (that includes kids; see Pediatrics for a compelling study of 6-10 year olds!)
***Brain booster-To put a big (brain) bow on it, the latest emerging science demonstrates that exercise promotes the birth of new neurons and increases existing connections.
Scientific American's latest issue highlights this science:
BDNF, or brain-derived neurotropic factor is the big brain player here. BDNF is a protein that promotes neuron growth and survival. With increased exercise, BDNF production is enhanced, inducing neuroplasticity, or the boosting of the brain's reorganization abilities to form lifelong neural connections.
Stay with me here when I give you my lizard analogy.  When we lived in St. Louis, we had iguanas and bearded dragons as pets. Our son Sean was cleaning out the iguana cage one day and the iguana got away. Sean grabbed for the iguana and the tail came off in his hand!:
Sean was traumatized!
We have since learned that iguanas are one of a select group of reptiles that can grow back their tail.
Try to think of your brain and exercise like that lost iguana tail.  Yes, we all lose neurons and connections to those existing neurons as we age, but we have the power, through exercise, to regenerate some of our brain cells and their connections, ultimately improving the quality of our lives!  Pretty cool!!
This is a rather new way of thinking about our grey matter but it's backed with solid science. The first studies were on mice in the 1990s at the Salk Institute for Biological Studies in La Jolla, CA. It showed that the exercise of running increases the birthing of new hippocampus neurons.  Note that the hippocampus is our brain center for memory.  Later many human studies confirmed these same results:
In a randomized trial conducted at the University of Illinois at Urban-Champaign by Dr. Kirk Ericson and Dr. Arthur Kramer, 12 months of aerobic exercise led to an increase in BDNF levels, and increase in the size of the hippocampus and improvements in memory in older adults.-Scientific American January 2020.
To further prove the increased neuron/movement connection for the older generation, a compelling study in the Journal of Physiology conducted at King's College London and the University of Birmingham in England makes a stand.  Older elite recreational bicyclists, 85 men and 41 women, between the ages of 55 and 79 were put through a large array of physical and cognitive tests. The results? The oldest cyclists had the same balance, reflexes, memory and metabolic health on par with the younger generation!
BUT that's not all folks! Now human studies are confirming that there's a link between sustained aerobic exercise (at ALL AGES) and the expansion of the prefrontal cortex. That's the portion of the brain that sharpens executive functions like decision making, multitasking and planning.
 You'll note, I didn't say anything about improvement in our appearance when we follow a physical workout plan we enjoy, but I'll say it now, we all walk with a little better posture and more confidence!
SO, movement is the next best thing to the Fountain of Youth for our bodies AND brain! 
This all makes sense because we were born to move! It's absolutely counterproductive what our predominantly sedentary lives have done to our physical AND mental health!
No wonder it's a lurking public health crisis that less than 1/4th of American adults get in the federally recommended 150 minutes of aerobic exercise (that's  only a little more than 20 minutes per day), coupled with 2 days of strength training.  Rural areas are even worse with their moving quotient, lagging behind urban areas:
So how can we change our mindset to embrace physical exercise, within the time limits we have in our fast-paced society?
We all need to draw an ACE, from our workout cards!
Adaptive
Challenging
Efficient
I. Adaptive–If you've been injured in the past, you might not be able to do all of those same aerobic activities you once enjoyed. Or maybe it's not an injury, it might be you simply can't do your old favorite movement routine the way you used to.
You know my story, I used to LOVE running!  I'd run for hours, either outside or on our treadmill at home.  Well that didn't work out too well.  Here I am doing resistance exercises after my second foot and ankle surgery: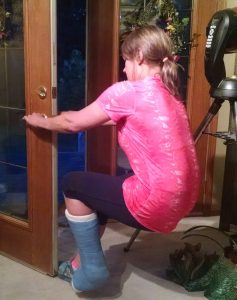 I really had no business all those years, ignoring the pain in my feet and ankles from running on my two very FLAT FEET. Well I paid the ultimate price for that: both of my feet have been reconstructed with additional tendon transfers!
However, injuries, arthritis or age shouldn't stop you from some type of physical exertion.  You can embrace any number of movement exercises like weightlifting, yoga, core strength movements, walking, biking, swimming, gardening and the list goes on and on!
When I embraced weight lifting as part of my weekly exercise regimen, I can't tell you how many times I either couldn't figure out the exercise, so I had to keep re-playing the demonstrations over and over, or I fell on my bum because I didn't yet have the strength to do core exercises.
As I've mentioned before (see Time To Think About A New You?), my exercise mindset has been tweaked for the better, when I adopted my daughter Sammi's program (Sammi Gregory Fitness).  Gone are the days of an hour plus long cardio session with no core/strength movement.  I really don't have time for that, and I know you don't either!  Now it's a concise regimen of strength training 4 days per week (30+ minutes per sessions) and an average of 20 minutes per day of cardio coupled with daily tracking  of my input or macros (carbohydrates, fat & protein).  I know I'm in better physical shape now than I was decades ago when I did those daily looooooonnnngggg cardio sessions!
But here's one of my new all time favorite aerobic activities, walking with my granddaughter Evie in a modern-day papoose!:
Just DON'T be afraid to try some fresh activity that fits with the new older you!  Yes I know it takes time to learn something new but your body and mind are at stake here!
II. Challenging-When we challenge ourselves and succeed, our confidence grows. You might not be looking for an exercise challenge because you feel your plate is full or you just don't feel like it. However, just small changes in your current routine, have a way of putting an extra pep in your step!
Here are a few ideas:
A.Workout Routines-The app world is breaking out of the old way of workout thinking! Workout DVDs truly are going to be passé because you can get a new physical routine everyday with these gems, wherever you are with your phone!  If you can't get to the gym, these workouts cover all aspects of movement, from aerobic HIIT to resistance to yoga workouts! The Johnson & Johnson Official 7 Minute Workout app has gotten rave reviews for any age and ability and you can always spare 7 minutes (it's also free)!
B. Your Local Gym- Try a different weight lifting routine or a different aerobic machine. This is the latest new aerobic equipment at our gym I've tried, Jacob's ladder:
This challenges everyone at our local gym!
C. Buy One Piece of  Workout Equipment for Your Home You Know The Family Will Use– If the gym isn't an option because of long work hours or all of your family members agree you'd like a particular piece of equipment you all can use, go for it if it's in the budget! If you all want a treadmill, make it a family gift!
This year Santa gave Randy and I a Pelaton.  It gives us a great workout that challenges us for a limited amount of time according to our schedules for the day.  It's also a better physical fit for both of us now than the treadmill (we've had for the last 25+ years) because the bike is non-impact.
D. Mix It Up- The same old daily aerobic, weight lifting, core, yoga, swimming, pilates or whatever routine you currently do will leave you not only bored but more prone to injury! You have to mix it up! Hey, I used to follow that logic and now I've (thankfully) changed my ways! Try a different walking route one day, the next day try an app workout on your phone and the next day for fun, have a romp in the snow with your dogs!:
E. Challenging Mind & Body In Tandem– The new emerging science is actually pointing to challenging your mind WHILE you exercise for that extra mind/body boost, per Active Body, Active Brain-  Scientific American, January 2020:
In fact, a growing body of research suggests that exercise that is cognitively stimulating may indeed benefit the brain more than exercise that does not make such cognitive demands. For example, Gerd Kempermann and his colleagues at the Center for Regenerative Therapies Dresden in Germany explored this possibility by comparing the growth and survival of new neurons in the mouse hippocampus after exercise alons or after exercise combined with access to cognitively enriched environment.  They found an additive effect: exercise alone was good for the hippocampus but combining physical activity with cognitive demands in a stimulating environment was even better, leading to more new neurons. Using the brain during and after exercise seemed to trigger enhanced neuron survival.  We've recently begun to extend these studies from animals to humans with encouraging results…. 
My take on simple mind + body exercises?  When I'm doing resistance training, I visualize the muscles I'm working to get that extra mind boost.  If I'm taking a long walk in the woods, I always marvel at the beauty of nature and how it all works together perfectly.  If I'm swimming laps in the pool, I usually let my mind wander to creative ways I can prepare different culinary dishes OR work on a new drtobler.com blog to pen to you all!  The key is to let your mind wander to creative, stimulating and positive ideas that can make you a better person, which will certainly be a mind/body boost!
III. Efficient-  Strapped for time? I'll bet you are! We all are trying to make that perfect balance of emotional, physical and spiritual health a reality, while excelling at our professional lives, caring for our loved ones and giving back to our community.  Lots to balance there, isn't it? So our time is at a true premium!
Just 15 minutes or even 30?  Make the most of it!
A. Make it Count–Focused weight lifting (3-4 days per week) coupled with 20ish minutes of daily intentional aerobics is what I do. As I've said before, just make sure to mix up the type of movements you do weekly! When I say focused and intentional, make sure you are moving those muscles productively and with good form with the limited amount of time you have!
B. The Gluttony Trap–  Be aware of the mindset that you can out exercise anything you eat. To give you a reference, it takes 5 miles of walking or 50 minutes of running just to burn off a 250 calorie 20 ounce soda! This is a trap I've recently (thankfully) erased from my life by daily tracking my macros.  It makes you think twice when you know the actual count of indulgent foods.   Only elite athletes that train for many hours per day can consume mass quantities of food, but even they only want the most nutritious foods for maximum performance!
C. Make Your Workout A Priority– Routinely plan your workout session in your mind, or pen it into your daily schedule, a day ahead or at least that morning so you can insure "the other stuff of life" doesn't take priority!  Remember you are worth spending this time on, NO GUILT!
I promise, your smile should be just a little brighter before, during and after your workout when you realize the present of well-being you've given yourself  for the day! You are actually embracing the gift of life God ultimately has bestowed on you, all to have the energy and love to give back those gifts to others and to show our love to Him!!
Recap of: Time to Re-Think Your Humdrum Workout Routine?
Try ACEing it!!
 I. Adaptive
II. Challenging
III. Efficient
Now we all know, man does not live by exercise alone, there must be substantial sustenance to look forward to (lol)!!!  The following is an adapted (lightened) version of the Monte Cristo sandwich that Randy and I used to eat after he'd play a late band job in St. Louis when we were dating (in the 70's), at a place named JoJo's. Jojo's was one of those places that was open all night and had that indulgent food you only dreamed about! THAT sandwich was loaded with butter, huge pieces of bread, fatty slabs of meat and lots of cheese with a side of fist-sized onion rings! This is the lightened version that Randy and I really enjoy for a quick prep night in the kitchen.  The cauliflower steaks are also really satisfying with any dish.
I'll bet you'll feel like you've indulged yourself, just like we did! However, the difference is the guilt factor is not there!!!
 MONTE CRISTO SANDWICH
SERVED WITH
CAULIFLOWER STEAKS WITH TOASTED PINE NUTS AND GOLDEN RAISINS
 Monte Cristo Sandwich
 Portions: 2
Ingredients:
2 eggs
¼ cup almond milk
4 slices whole grain bread (I used Oatnut Bread)
8 oz. smoked turkey breast (I used the deli style, you can mix this up and have ½ ham and turkey too!)
2 slices Extra Thin Swiss Cheese (you can also use lower fat swiss)
2 tsp. Dijon mustard
1 T. butter (preferably grass-fed)
2 T. honey (or any jam would be good too!)
Directions:
In a large bowl, whip two eggs with the almond milk.
Spread 1 tsp. Dijon on two of the bread slices.
Construct each sandwich: on the Dijon slathered bread, place one slice of cheese, 4 ounces of meat, then lay a plain slice of bread on top. Construct the other sandwich in the same manner.
Heat up a large griddle pan.
Dip on sandwich at a time in the egg/milk mixture. Let the bread soak momentarily on each side so that ½ of the mixture is soaked in. Then do the same with the next sandwich.
Once the pan is heated up, melt ½ of the butter and place each sandwich in the heated pan.
Each sandwich should be turned over at about the 2 minute mark, but keep an eye on them, you a want a deep golden color on each side.
Take both sandwiches out momentarily and melt the remaining butter.
Return the uncooked side of the sandwiches to the pan and cook until golden.
Serve then cut on the diagonal with a toothpick and olive garnish if desired. Have the honey or jam ready in a small dish for your sandwich slathering moment! Enjoy!
Nutrition Info per serving: 580 cal./57.9 g. carb./22.1 g. fat/36.6 g. protein
CAULIFLOWER STEAKS WITH TOASTED PINE NUTS AND GOLDEN RAISINS
 Portions: 2
Ingredients:
1 head of cauliflower (757 g.)
salt and pepper
1 T. grass-fed butter
¼ cup sliced pine nuts (30 g.) (slivered almonds and pumpkin seeds work well too!)
2 T. golden raisins  (30 mls.)
¼ cup parsley-chiffonade cut
 Directions:
Preheat oven to 425 degrees F.
Cut cauliflower into steaks about 1 to 1 ½ inch thick (I usually can get 3 out of a head). Note the ends will not cut into steaks so don't worry about them, just use the "crumbles" for snacking!   Do not core the cauliflower before cutting, that will be part of the steaks!
Line a cookie sheet with parchment paper and place the steaks and extras "crumbles" on it.
Spray the steaks with olive oil spray, then salt and pepper.
Put in oven for 10 minutes and turn over, then roast the other side for 10 minutes, until golden brown.
While the cauliflower is cooking, toast the almonds in a dry saute pan. Constantly stirring until toasted.
Melt the butter and add the raisins and almonds, cooking for about 1-2 minutes, until thoroughly coated.
Serve cauliflower steak with a drizzling of raisins/ pine nut mixture and finish with a sprinkle of parsley on top.
*Adapted from Valerie Bertinelli's Food Network Recipe
Nutrition Info per serving: 276 cal./31.6 g. carb./15.3 g. fat/9.8 g. protein