But really, is there any question? Since spring is already upon us and summer is close behind, one of the heavenly bonuses of finally getting outside in the sunshine after the cold winter weather is cooking our meals, but specifically our meats, on the grill outside. Just think, the aromas of the meat of your choice, sizzling on the grill, making your mouth water with anticipation……
This is one of our annual Christmas "play on words" cards, just to show you the Tobler family's love of both barbecue AND red meat!!:
Okay, gotta stop this gastro-tempting talk and get to the "MEAT" of the matter.  What really "lit my fire" to take literary action was a recent proclamation by the International Agency for Research on Cancer (IARC). This is a group of international experts scrutinizing over 800 studies for evidence of cancer causing agents. This lead to listing red meat (meaning beef, pork or lamb) in the #2 spot for "probably causing cancer" in this case of colorectal cancer:
The IARCs conclusion was that for every 3.5 ounces of red meat eaten daily, the risks of colorectal cancer increase by 17%. Now this is a comparative number meaning that, compared with those eating the least read meat, those eating the most had a significantly higher risk of bowel cancer.
BUT, even the scientific world doesn't know the exact reason for this "red meat eating" higher risk conclusion. Dr. Andrew Weil, Harvard trained and world-renowned integrative health specialist weighed in on this issue, "It's still unclear exactly how red meat raises cancer risk, but we know that cooking these products can produce chemicals that are known or suspected carcinogens."
While the cancer-red meat connection has been beat to death in the popular media, the key phrase in Dr. Weil's pronouncement is the one about the cooking of the meat product.  It's important to realize that ALL animal flesh has the potential to be carcinogenic.  That means not only red meat, but poultry AND fish ALL can produce cancer causing chemicals, also known as HCAs and PAHs when cooked, especially grilled meats, because of barbecue's high temperature.  The question is, can we reduce our risks of chronic disease, in this case cancer, but still enjoy those luscious barbecued meats that we all crave??? You've come to the right blog! I'm going to give you some information that will arm you with the know-how to not only increase your culinary pleasure of barbecued meats but also possibly lower your risks of cancer.
First, definitions of the dastardly cancer-causing chemicals are in order. HCA or heterocyclic amines and PAHs or polycyclic aromatic hydrocarbons are both chemicals that are by-products adhering to muscle meat (beef, pork, chicken and fish) when high cooking temperatures (greater than 300 degrees Fahrenheit) are attained, as they are in grilling, pan-frying and broiling. HCAs and PAHs are chemicals that have been deemed by the National Cancer Institute as "genotoxic" or capable of damaging our DNA, causing mutations, thereby increasing the risk of cancer.   HCAs are formed during the Maillard reaction (a culinary term for the beautiful browning that occurs when proteins are heated in the presence of sugar) when creatine (a compound formed in protein metabolism), amino acids and sugars react to the high cooking temperatures. PAHs are created when the juices and fat of the meat drip onto the fire and the flames come back and "Velcro" themselves to the meat.
So HCAs and PAHs are the two bad-guy chemicals that we need to tame in our barbecuing cooking process plus offering other food offsets that mute their effects. These chemicals are only a problem for muscle meats, not fruits and vegetables.
These culinary suggestions will decidedly decrease the amount of genotoxic HCAs and PAHs in your barbequed meats AND increase your meat-loving enjoyment:
1.Less grill surface time with more "wrist action" is key- Let's limit our grill "grill" time (and demarcate our HCA and PAH exposure) with two simple steps:
a. Cut your meat in smaller pieces- You can see the bigger pieces of meat will take longer to cook:
Less surface area means less cookin' time AND as the big wolf said to Red Riding Hood, "The sooner I can eat (you), my dear!"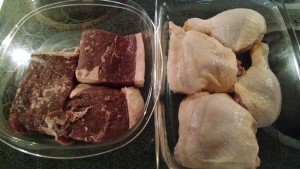 b. Flip the meat continuously- Give your wrist a good workout AND lower your genotoxic potential by continually flipping the meat until done.
2. Marinades and rubs made in heaven-There is substantial science behind specific ingredients in marinades and rubs that not only give your meat a distinct "one-two punch" of flavor but substantially decreases the amount of HCAs and PAHs levels in your chosen meats.
a. Herbs and spices-Including herbs and spices like rosemary (associated with a 90% reduction in HCA formation), basil, parsley mint, oregano, sage and turmeric ( 40% reduction in HCAs) adds a "Superman" health punch to those unwanted grilling chemicals AND incredible flavor.
b. Allium Vegetables-One of my favorite "flavoring" family of vegetables, the allium vegetables, ,i.e. onion, garlic and chives, not only are super-duper anti-inflammatory and cancer fighting qualities when added to food, they also significantly lower HCA formation by up to 70%. I like to use the old phrase that Rodney Dangerfield always used for these under-appreciated but lifesaving culinary vegetables: "I get no respect!" See SUPERFOOD RECIPES-Allium Vegetables for recipe ideas.
c. Acid Based Marinades with Key Ingredients-Lemon, lime, vinegar and wine are excellent HCA fighters for the base of your marinades. Add to that some of the herbs and spices I've mentioned above and you have both a more healthful and flavorful winner!   A study of three such marinades: Caribbean, Southwest and Herb, having a mixture of healthful herbs, spices, vegetables and acid base were successful in decreasing HCA formation present in grilling by 88%, 57% and 72% respectively (See Effects of Marinades on the Formation of Heterocyclic Amines in Grilled Beef Steaks).
d. Virgin Olive Oil-Olive oil has excellent antioxidant qualities and reduces charring. However, please use either virgin olive oil or an even more refined olive oil.   Never use extra virgin for high heat because it has a lower smoke point.
e. Dark Beer Marinade- You know I've already said that wine is an excellent base for reducing HCAs, however, beer kicks wine's proverbial tush in marinades when it comes to reducing key types of HCAs (see Effect of Beer/Red Wine Marinades on Formation of Heterocyclic Aromatic Amines in Pan-Fried Beef).
But I will go one step further! Studies have also shown that dark beer (like Extra Stout Guiness) marinades (because of their higher yeast concentrations) wins over light beer marinades (i.e. light Pilsner) in decreasing HCAs, as much as 40% more!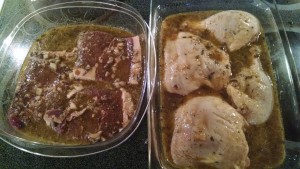 3. Re-think you old song of "doneness". There is a correlation between the level of doneness in your barbecued meats, HCA formation and yes, cancer. In this International Journal of Cancer study, different levels were doneness (and increased HCA formation) correlated with stomach cancer. Compared to rare/medium beef, well done beef had a 3 fold greater risk. See Risk of Adenocarcinoma of the Stomach and Esophagus with Meat Cooking Method and Doneness Preference.
 Below is a list of three types of meats you are probably pretty familiar with as your go-to barbecue favorites with varying levels of doneness. Each meat level has been tested for HCA formation after grilling and the number represented by each is the mean concentration of HCAs:
 Chicken HCAs ng/g (skinless, boneless chicken breasts)-
 Just Until Done       9    
Well-Done               48      
Very Well Done   164
Source: Sinha et al 1995
Steak HCAs ng/g
 Rare                            1
Medium                      3
Well-Done                 4
Very Well-Done     16
 Source: Sinha et al 1998
Salmon HCAs ng/g
 4 min.                          1
6 min.                           2
9 min.                         23
12 min.                       24
 Source: Gross & Gruter 1992
You can see that there is a strong, direct connection between the doneness of the meat-no matter the source- and its resultant genotoxic HCA levels. If you are one of those people that prefers the very-well done choice, why don't you try, as of today, making the rarer choices of meat. I promise, the meat really is more flavorful and juicy with the more rare choices. I also recommend buying meats, when you can, from closer farm to table sources. That way you know the source (and quality) and can feel a little more relaxed about grilling your meats with a rarer hue:
4. When it comes to barbecue, FAT is not where it's AT!- You know I'm not a stranger to fat in the diet.   I embrace them! The right fats in healthful quantities are absolutely good for you!!! However, too much fat on your meats will definitely increase those genotoxic HCAs and PAHs in the barbecued meats that you will eventually eat. Case in point, chicken skin. In a 2011 issue of Meat Science, Kansas State University conducted a study with an international research team lead by Professor Scott Smith measuring the amount of HCAs on ready to eat meats like pepperoni, hot dogs, bacon and rotisserie chicken. What they surprisingly found was rotisserie chicken meat had one of the highest HCA counts (1.9 ng/g) BUT only to be outdone by the winner, rotisserie chicken skin, at a whopping 16.3 ng/g HCA per serving!! You see, as fat is exposed to those high heats, it dehydrates and concentrates those HCAs. So what I'm saying is now that you know how to increase the flavors of your meats with marinades, it's also time to take that old chicken skin off too, before it hits the barbecue!!!
This also goes for fatty meats in general.  Pick the leaner version of your meat choices! What I can definitely endorse is a farm to table source, when you can, of the meat you eat.   As an example, grass-fed beef has anywhere from 1/3 to ½ less overall fat, less saturated fat, more of the good Omega 3s and a better Omega 6 to Omega 3 balance than the grain fed version AND it truly is more flavorful (for more see The Grass-Fed vs. Grain-Fed Beef Debate: You Are What You Eat, Eats!)
5. Veggies to the rescue!- So do you automatically think of the side of veggies you will be serving with your barbecued meats?? The answer (should be) an unequivocal YES!!! The perfect serving of vegetables should be almost double the amount of barbecued meat for your perfect dining pleasure! And yes, just like spices, herbs and allium vegetables you add to your marinades, vegetables you consume with your grilled meats, mitigates some of the possible genotoxic effects of HCAs and PAHs. In studying the incidence of cancer in the Mediterranean versus other select European Countries the author argues "it is not the consumption of a single food product or an individual component of diet, but rather a proper ratio of vegetable to meat consumption that is responsible for cancer prevention" (see A Vegetable to Meat Consumption Ratio as a Relevant Factor determining Cancer Preventive Diet.) Science suggests that ratio is anywhere from 2:1 to 3:1 (vegetables to meat) for that cancer preventative factor.
My choice, hands down for the majority of our meals is preparing cruciferous vegetables with the meats we enjoy. Cruciferous vegetables (kale, swiss chard, broccoli, cauliflower, cabbage, bok choy) have the highest ORAC values or cancer fighting properties of all the vegetables. For more ideas for preparing these garden wonders, check out SUPERFOOD RECIPES: Cruciferous Vegetables.
RECAP OF: TO GRILL OR NOT TO GRILL, THAT IS THE QUESTION!
 1. Less grill surface time with more "wrist action" is key.
2. Marinades and rubs made in heaven.
3. Re-think your old song of "doneness".
4. When it comes to barbecue, FAT is not where it's AT!
5. Veggies to the rescue!
The recipe outlined below is the perfect opportunity for you to imbibe the remaining Guiness Stout you didn't use in the marinade while barbecuing. If your loved one asks you what you are doing, while you are sipping the dark beer and grilling,  just tell them you are thinking of them by doing a good thing for your health (and you are)! Enjoy!!!!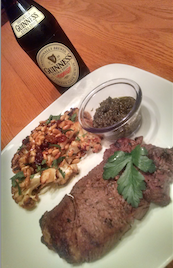 GUINESS STOUT MARINATED SIRLOIN STEAKS
SERVED WITH
ROASTED CAULIFLOWER STEAKS
WITH GOLDEN RAISINS AND PINE NUTS
 Ingredients:
2-4 lbs. of Guiness Stout marinated meat (see below for marinade)
 Procedure:
1. Fire up the grill.
2. Place meat on grill and constantly flip.
3. Keep your meat thermometer handy and check meat, depending on types, for doneness of your choice (beef steak is rare at 125 degrees and medium rare at 130 degrees ) and safe temps. (165 degrees for poultry).
Serve with the sauce of your choice (we served it with Salsa Verde: a parsley, garlic, olive oil, lemon juice, capers and anchovy based sauce that complimented the meat to a tee), or no sauce at all!
 GUINESS STOUT MARINADE
 Ingredients
*1 cup of Guiness Stout
**½ cup olive oil (not extra virgin)
1 T. Dijon mustard
¼ cup lemon juice
3 cloves minced garlic
¼ cup shallots, finely minces
1 T. Herb de Provence
1 tsp. salt
½ tsp. pepper
4 lbs. of your choice of meat
 Procedure:
1.Mix all ingredients together with a whisk.
2. Add the meat, cut up into servable pieces and poke the meat with a fork. Flipping the meat until thoroughly coated
3. Marinade in refrigerator for at least 4 hours but overnight is even better!
 *Note- You can use another dark beer of your choice but remember, the darker beers have the greatest abilities to decrease cancer-causing compounds from cooking.
**Extra Virgin Olive oil is not meant for cooking at high temperatures, pick virgin olive oil for this step
***Recipe adapted from kitchenstewardship.com
CAULIFLOWER STEAKS WITH PINE NUTS
AND GOLDEN RAISINS
 Portions: 2
Ingredients:
1 head of cauliflower
salt and pepper
1 T. grass-fed butter
¼ cup pine nuts (or sliced almonds)
¼ cup golden raisins
¼ cup parsley-chiffonade cut
 Directions:
1. Preheat oven to 425 degrees F.
2. Cut cauliflower into steaks about 1 to 1 ½ inch thick (I usually can get 3 out of a head).   Note the ends will not cut into steaks so don't worry about them, just use the "crumbles" for snacking!   Do not core the cauliflower before cutting, that will be part of the steaks!
3. Line a cookie sheet with parchment paper and place the steaks and extras "crumbles" on it.
4. Drizzle the steaks with olive oil, salt and pepper.
5. Put in oven for 10 minutes and turn over, then roast the other side for 10 minutes, until golden brown.
6. While the cauliflower is cooking, toast the pine nuts in a dry saute pan. Constantly stir the pine nuts until toasted.
7. Melt the butter and add the raisins and pine nuts, cooking for about 1-2 minutes, until thoroughly coated.
8. Serve cauliflower steak with a drizzling of raisins/ pine nut mixture and finish with a sprinkle of parsley on top.
 *Adapted from Valerie Bertinelli's Food Network Recipe
*Cauliflower Steak Nutrition Info per serving: 265 Calories/29.3g carbs/13.6g fat/10.6 g protein